What To Know About The New Mass. Law Banning Flavored Vapes And Menthol Cigarettes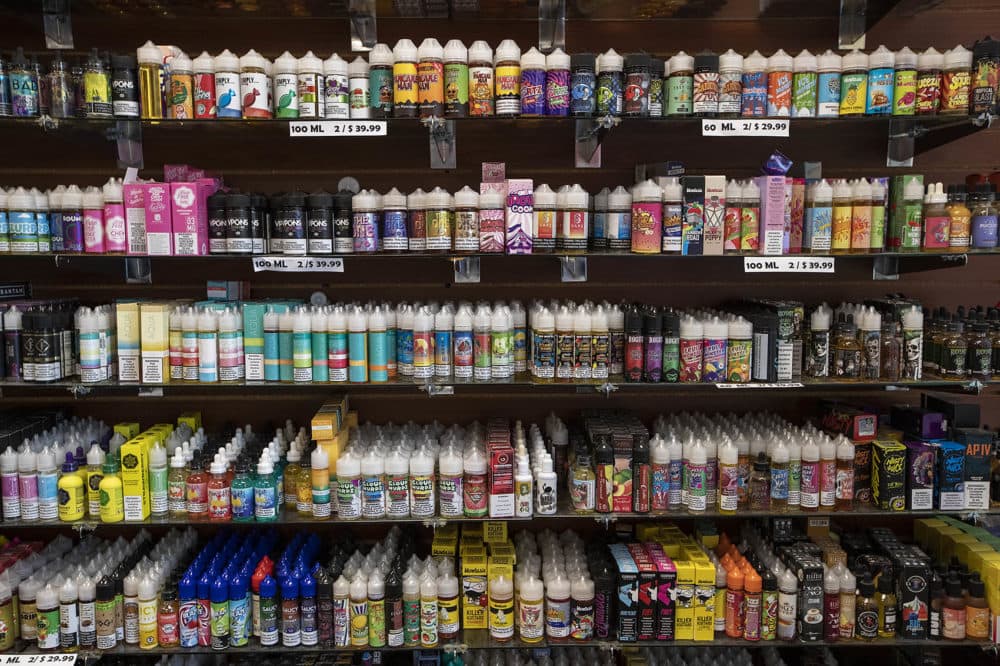 This article is more than 3 years old.
Gov. Charlie Baker has signed the country's broadest prohibition on flavored tobacco into law. The measure makes Massachusetts the first state to permanently ban retail sales of all flavored tobacco, including menthol cigarettes and vape products.
The ban on flavored e-cigarettes takes effect immediately, while sales of menthol cigarettes will cease on June 1st, 2020.
At the signing ceremony on Wednesday, Baker framed the law as an effort to restrict underage use of nicotine products and protect people from the vape-related lung injuries that have killed at least 47 people in the U.S., including three in Massachusetts.
"Today we are here to sign a bill as a response to this crisis," he said. "The bill goes a long way toward restricting access to the most addictive kinds of nicotine products. Longer term, the bill will keep kids and teenagers from getting their hands on vaping products, especially flavored products."
The move comes two months after Baker declared a public health emergency on Sept. 24 that temporarily banned all vape product sales in the state following an uptick in vaping-related illnesses and deaths.
The state's Department of Public Health initially set out to impose Baker's ban for a period of four months, but the governor's office announced Wednesday it will lift early, on Dec. 11, while his administration drafts additional regulations.
Here's what you need to know about the new law:
What's being banned?
Once the temporary ban is lifted, retailers will no longer be allowed to sell flavored vape cartridges. They will be able to sell devices that deliver nicotine, but not flavored nicotine. Backers of the law argue that flavored vapes have enticed younger users into vaping. Other flavored tobacco products are also being banned.
Will I still be able to buy menthol cigarettes?
No — not in Massachusetts, anyway. There was some debate about exempting menthol cigarettes from the ban, but backers of the law prevailed, arguing that including menthol as a banned flavor will help the new law be more effective.
How about flavored chewing tobacco and snuff?
They will no longer be available for sale in Massachusetts, either.
Will I be able to purchase cannabis vape products?
Eventually, yes. Cannabis vaping products were included in Baker's original temporary ban. But a judge ruled that only the Cannabis Control Commission (CCC) has the authority to regulate medical cannabis products.
The CCC, however, opted to quarantine marijuana vaping products, effectively continuing the ban on sales until it can be determined that they are safe. The commission also intends to draw up regulations clarifying the steps it can take in the event of future public health concerns.
When does this new law take effect?
The ban on flavored vaping products takes effect immediately. The prohibition of flavored tobacco products kicks in on June 1, 2020.
Will nicotine vape products cost more under the new law?
Yes. When passing the law, legislators placed a 75% excise tax on all electronic nicotine delivery systems. Supporters of the law said imposing the tax will price vaping out of the reach of underage users.
With additional reporting from The Associated Press