Piebald The Band Is All Grown Up And So Are Its Nostalgic Fans
This article is more than 3 years old.
Over two nights at the Middle East Downstairs in 2008, emo-rock band Piebald gave their fans a pair of sweaty, no-holds-barred final performances before they said goodbye. Twenty-one year old me was there for both, screaming lyrics about being part of it, and nobody's robot.
A month later, I graduated from college, that unofficial threshold into adulthood. I thought my Piebald days — and really, my youth — were over.
Turns out, so did Piebald.
"I very much thought that was truly going to be the end of Piebald," lead singer Travis Shettel said this month. "I thought, 'Well, we'll be friends forever. But these are really legitimately the last shows this band is going to play.'"
The band grew out of Boston's indie/emo scene that flourished in the mid to late 1990s. They threw a rocking Christmas show at the Andover Town Hall every year with other local favorites like Cave In, and toured with bigger acts including My Chemical Romance and Minus the Bear.
Since 2008, life, and their fans, moved on. Shettel lived in Los Angeles, then moved to New Orleans where he now works in a bar. The rest of the band — drummer Luke Garro, guitarist Aaron Stuart and bassist Andrew Bonner — started families and settled in New England with non-music jobs. Luke works in marketing, Andy at Cambridge's Atwood's Tavern, and Aaron in construction.
But despite their best intentions, they couldn't seem to quit altogether.
There were one-off shows, including two sold-out nights at Royale in Boston in 2016 and a Boston Calling set in 2017. Each of those shows felt like an extra special, ephemeral gift, a "one night only!" return.
This year is different. They have new music — three Christmas-themed jams that the band put together over a few days this fall. And after a string of local shows starting on Dec. 18 — at Great Scott in Allston, Pearl Street in Northampton and The Press Room in Portsmouth, N.H. — they'll support Dashboard Confessional for some of that band's 20th anniversary tour.
Piebald, and their fans, have changed, but — save their three new songs — the music is the same. And some of it might seem odd for a band of guys with families and day jobs, singing to a crowd full of fans who probably haven't gone barhopping in Allston for more than a decade.
Take "The Monkey Versus the Robot," a song that bemoans the life of office drones, those cogs in the machine just living for the weekend. The men of Piebald, they sing, are no such drones. "We have the best job ever/yeah we really got lucky/we're nobody's robot/we're nobody's monkey."
"I sort of am just a cog, really," Shettel says now. "But I guess most of us are … you just gotta have fun being the cog."
And, no shame, because so am I. I'm not the same sweaty, pierced-nose, pixie cut college senior who took selfies on a point-and-shoot camera in the basement of the Middle East. Piebald's older and its members are interested in different things now, but so are its fans.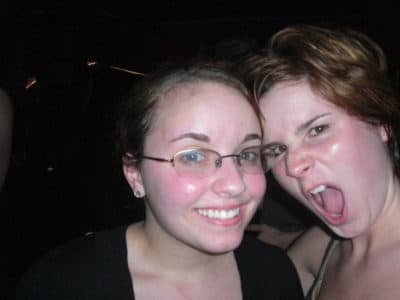 Take "King of the Road," a wistful ballad dedicated to Piebald's touring van, a yellow school bus named Melvin, that opens with the fictional moving on of the band mates ("Andy went back to school/He got sick of Newbury Comics/Aaron still rides a lot/Except now, now he's just fatter …"). It's a throwback for us fans, but also for Shettel.
"We will never be able to write [the album, 'We Are The Only Friends We Have'] again," he said. "It's just not possible. We're not the same people. But yes, it absolutely takes me back to that time and place. Being in Boston. It was fall, about to get cold. And we had a month in the studio and it was magical. Those songs always remind me of that time."
They remind us, the fans, of that time, too. For me, it's driving over the Zakim Bridge late at night with my three best friends in high school, on the way home from a Piebald show in Andover. The music reminds us of a specific time in our lives -- and it's just plain fun to sing.
Getting back together for a few days, and making music, made the band realize that perhaps they weren't done. The songs they wrote aren't classic "Piebald songs" per se — a Piebald song in Shettel's words is a "quirky, annoying, obnoxious, loud rock song." Writing the new songs felt lower stakes. And they showed Shettel and the rest of the band that, maybe, they could make music together again.
"I bet there will be more music," Shettel said. "I don't know how or when exactly yet. But I bet it will happen."
The band can tour when it wants, and put out music when it feels right, Shettel said.
"It feels to me like now we're just gonna be doing this on our own schedule for the rest of our lives," he said. "I think we got to a new, more mature place where maybe we can just have Piebald be something that keeps going, and we're just living our life around doing the Piebald thing."