Boston Has A New 'Trust Act.' Here's What You Need To Know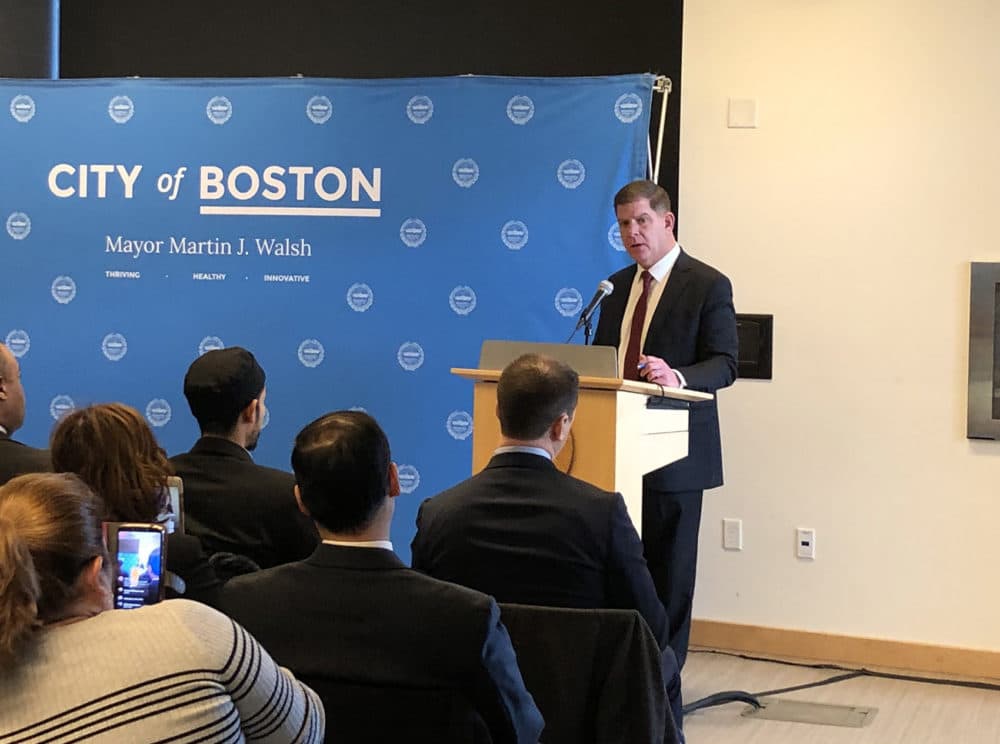 This article is more than 3 years old.
Boston officially has a new Trust Act on the books, outlining how the city's police force may — and may not — cooperate with U.S. Immigration and Customs Enforcement (ICE).
Mayor Marty Walsh signed the amended ordinance into law Thursday, saying one of the strongest changes to the new act is in clarifying the difference between criminal activity and civil immigration violations. The latter of which BPD officials are not allowed to help enforce.
"I think that there are obviously some concerns within the immigrant community over the last year or so," Walsh said, "and I think having an updated Trust Act with kind of everyone paying attention to it, a renewed emphasis on it, is key."
The act mandates that city and BPD personnel and funds not be used to interrogate, detain or arrest a person solely for non-criminal immigration enforcement purposes.
One of the amendments includes prohibiting city police from providing personal information — like names, addresses and physical descriptions, or information regarding a person's release date — to ICE solely for the purpose of enforcing non-criminal immigration violations.
While the new ordinance prohibits BPD officers from sharing information with the ICE division in charge of enforcing civil immigration laws, it also outlines scenarios in which officers are permitted to cooperate with another division: Homeland Security Investigations (HSI). HSI is the branch of ICE charged with investigating criminal operations like human smuggling, drug and gun trafficking and transnational gang activity.
Boston Police Commissioner William Gross, who, according to Walsh, was instrumental in crafting the new Trust Act, said he has no interest in enforcing civil immigration law. The job of the BPD is to protect all of Boston's communities.
"No matter where you hail from, if there is a crime committed against you, that you should feel comfortable enough to come to the police," Gross said.
Unlike the city's 2014 Trust Act, the amended ordinance stipulates BPD must train all officers on the updated requirements.
But civil rights advocates told The Associated Press that the new changes don't go far enough.
"While the updated legislation limits collaboration between Boston police and federal immigration enforcement, it does not end it, and leaves room for Boston police officers to help ICE continue to tear apart families," said Carol Rose, executive director of the ACLU's Massachusetts chapter.
The revisions to the Trust Act follow WBUR's reporting on the 2017 immigration arrest of Jose Martin Paz Flores who was taken into custody shortly after filing a workers' compensation claim. Paz Flores, originally from Honduras, did not have authorization to work in the U.S. when he fell off a ladder, breaking his leg while on the job for Boston-based Tara Construction. The company did not have workers' compensation insurance when he fell.
In February, the U.S. Department of Labor (DOL) filed a lawsuit in Boston federal court claiming Tara Construction retaliated against Paz Flores, triggering his arrest by ICE.
Boston police later confirmed its officers were involved in coordinating that arrest and verifying the identity of Paz Flores. A Boston City Council hearing in April focused on the case. City Councilor Lydia Edwards said during the hearing that if the goal of the Trust Act was to separate Boston police from ICE, "then we need to write a better ordinance."
According to court documents filed in the DOL lawsuit, a so-called "joint ICE/Boston Police Department task force" helped to facilitate the immigration arrest of Paz Flores. Boston police later confirmed Sergeant Detective Gregory Gallagher represented BPD in this partnership, just as other BPD officers liaise with federal agencies like the FBI and the DEA.
WBUR later obtained more than 800 pages of documents further calling into question the nature of Gallagher's communication with ICE, and ultimately leading Walsh to remove Gallagher from the role of ICE liaison.