As Liaison Officer Is Stripped Of Role, Walsh Says BPD-ICE Partnership Is Under Review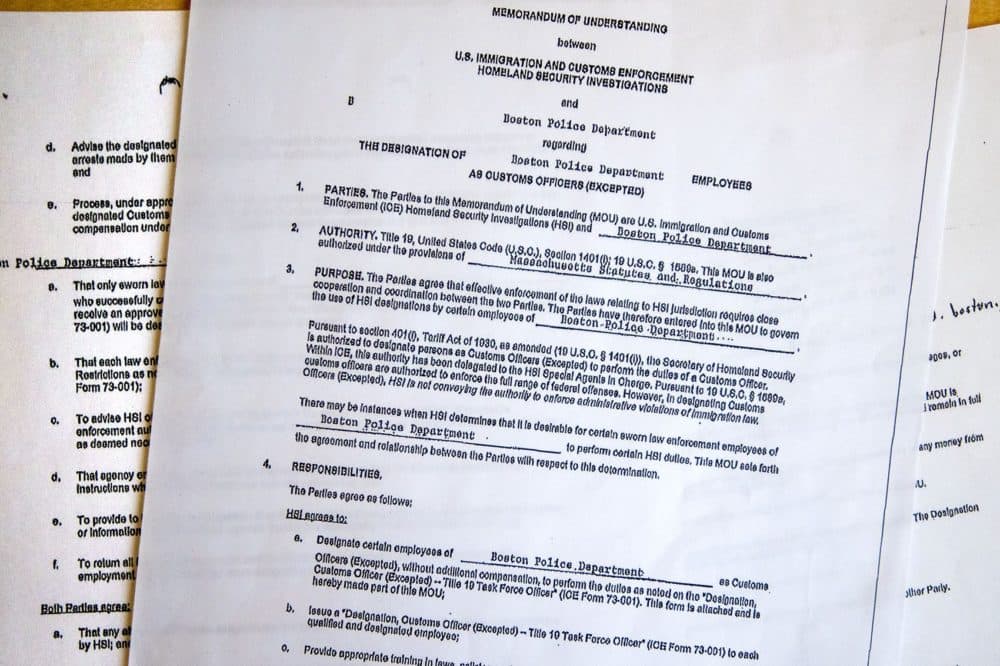 This article is more than 3 years old.
Boston Mayor Marty Walsh said Saturday the police department will uphold its memorandum of understanding with U.S. Immigration and Customs Enforcement (ICE) and Homeland Security Investigations (HSI). Walsh's remarks come one day after the city stripped a Boston police detective designated to execute the roles laid out in that partnership of his so-called "Task Force Officer" duties.
WBUR published a story Friday after obtaining hundreds of Boston Police Department documents that showed several examples of Sgt. Det. Gregory Gallagher — the sole designated ICE task force officer in the department, according to BPD — cooperating with ICE officials in cases involving low-level offenses. The emails and other documents reveal a clear departure from public assertions made by Walsh that his officers do not assist federal immigration officials in performing their duties except for when cases are linked to violent crimes or suspected felonies.
Walsh said the emails sparked "a lot of questions," and said the city is evaluating the liaison role and Boston police's relationship with ICE to ensure it is only focused on "looking for serious criminals."
Walsh told reporters Saturday he is not considering ending the city's 2014 MOU contract with ICE, reiterating that he sees value in working with federal officials to prevent violent crime.
"My responsibility as mayor and the police department's responsibility is to make sure people are safe, and there's a role there to play in making sure that we share and get information, really, from federal immigration officials," Walsh said, "just like we work with the New York Police Department, we work with the State Police."
Walsh said he is a "pro-immigrant mayor," and Boston is a "pro-immigrant city."
"The immigrant community should not be concerned about the relationship between the federal government and the Boston Police Department," Walsh added.
Gallagher's TFO responsibilities were removed Friday, Boston city and police officials announced. He has been reassigned to a Boston police district, according to Walsh, who noted that Gallagher has had a "distinguished" decades-long career on the force.
Gallagher's role as a designated task force officer to ICE first came under scrutiny when WBUR reported in February about a lawsuit filed in Boston federal court by the U.S. Department of Labor (DOL). The suit alleged that Boston-based Tara Construction retaliated against an employee for reporting a workplace injury. The construction company did not have workers' compensation insurance at the time.
Two months after reporting an injury in March 2017, Jose Martin Paz Flores, who was then in the country without authorization, was arrested by ICE after leaving a meeting at the Tara Construction offices. Attorneys for Paz feared the timing of the arrest suggested cooperation between Paz's employer and ICE. Court documents filed by the DOL also alleged a Boston police sergeant was involved in Paz's arrest and had notified federal immigration officials of Paz's location.
Boston police later confirmed that Gallagher was the officer involved in the arrest, serving as "a liaison" between the department and ICE. BPD officials insisted the use of the phrase "task force," as cited in the DOL lawsuit, was inaccurate. In the newly-obtained emails, however, Gallagher uses the title 'HSI-ICE Task Force' in his signature.
Clarification: This story has been updated to reflect that the DOL's lawsuit alleges Tara Construction retaliated against Paz for reporting a workplace injury, a protected activity under the OSH Act, and not for filing a worker's compensation claim. Paz did ultimately file a formal worker's compensation claim.
This article was originally published on October 26, 2019.