Greta Gerwig Brings 'Little Women' Into The 21st Century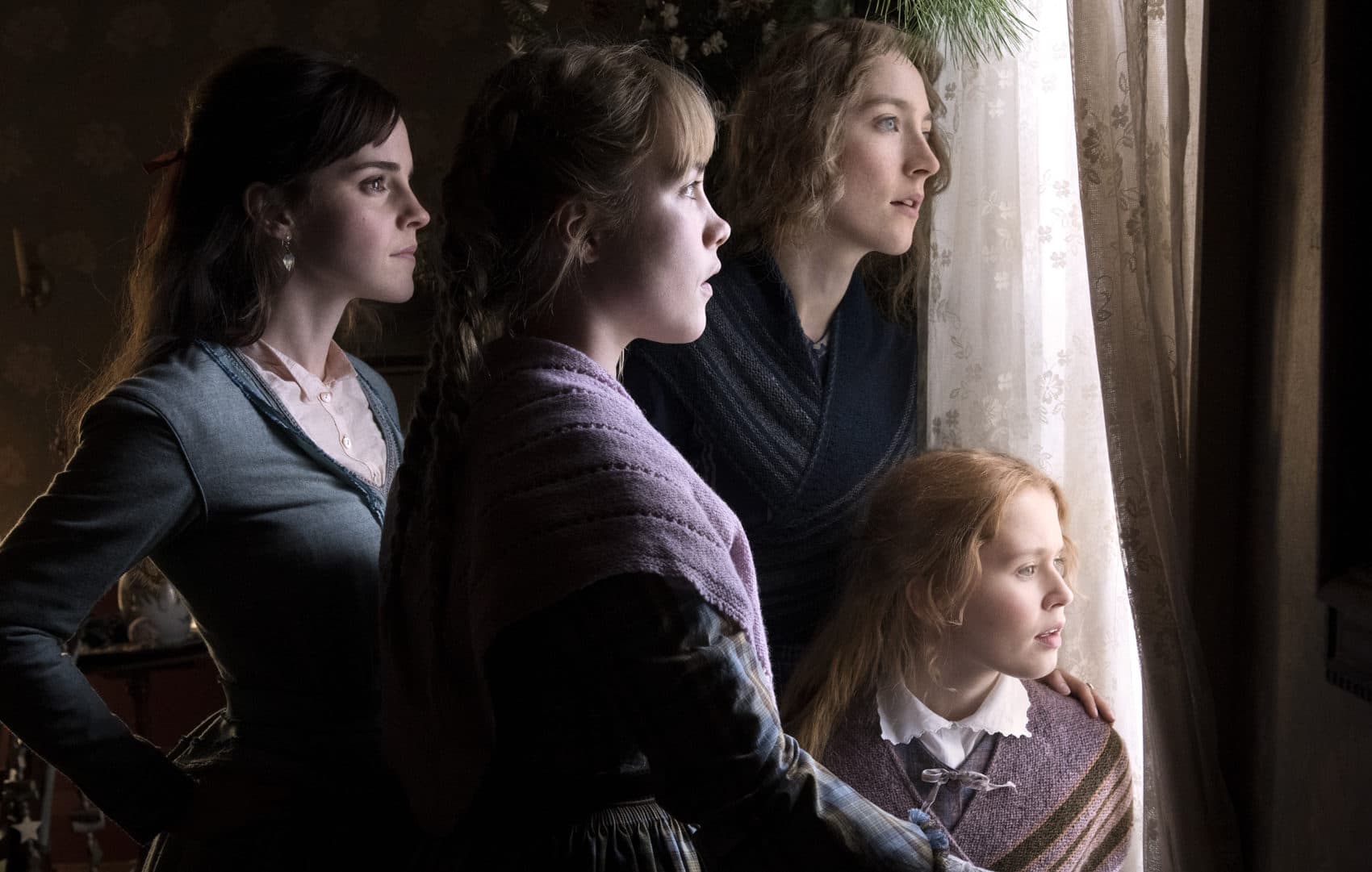 This article is more than 3 years old.
With "Little Women," Louisa May Alcott did something no American novelist had done before. She gave the lead role to a free-thinking, boyish teenage girl who singed off her sister's curls, botched a family dinner, and declined a marriage proposal from the boy next door. Through it all Jo March remained a hero. The book found near overnight success in 1868 by whetting a pent up appetite for stories about girls who go against the grain.
That yearning lives on, as evidenced by the abundance of adaptations that have come since, and by the jubilant celebration of female relationships that writer-director Greta Gerwig returns to the screen this year on Christmas Day. Shot on 35mm at several historic Massachusetts locations, Gerwig's gift comes beautifully wrapped in lilac and chartreuse eye-catching wearable garments. (I've never coveted clothing from the 1860s before. If the Orchard House sold Jo's colorful knee high socks, I'd buy them.) To set her adaptation apart from its predecessors, Gerwig toys with timelines in a way that offers new perspective on the joyful potential of the four March sisters' girlhood while looking back on it from young adulthood.

The movie opens with an adult Jo (Saoirse Ronan) convincing a mulish editor (Tracy Letts, with a gleam in his eye) to take one of her stories. Embodying the physicality so often referenced in the book, Jo sprints home along a crammed New York City sidewalk. Alcott saw herself as Jo and, in this instance, the author's life fuses with her heroine's. That's a tall order for Ronan, only made more so since she played a version of Gerwig in the director's semi-autobiographical "Lady Bird" (2017). Ronan achieves these layers with postures that hover between self-conscious and oblivious. Meanwhile, quiet Beth is growing increasingly ill (a luminous Eliza Scanlen), Meg's an exhausted, penny-pinching mother of two (a properly proper Emma Watson), and Amy has traveled to Paris to study painting (Florence Pugh, coming off her other notable role this year in "Midsommar").
Back in New York, Jo catches the eye of a darkly handsome professor with a French accent. The potential of their pairing — known in novels as "the marriage plot" — burns in the background as the film juts between timelines. Alcott initially rebuked writing about her own life and girls in particular. She hastily wrote "Little Women" at her editor's request. The Civil War-era novel ended with John Brooke's proposal to Meg. Its success prompted a follow-up in 1869, "Good Wives," which begins three years later. That's when Jo declines marriage to the well-off neighbor Laurie who then, somewhat scandalously for readers anyway, marries the younger, self-centered Amy. Many versions of "Little Women" actually combine these two novels under the one title.
Gerwig's script likewise melds the two, staying true to many of the anecdotes within, from Amy falling through the ice to Beth getting dolled up for a fancy Boston soiree. These events unspool quickly and feel more like a collection of greatest hits than a tightly woven, single-minded family epic. Yet it's impossible not to love the raucous time the sisters have roleplaying in the attic, smoking pipes, tapping their canes, and haranguing each other in their "gentleman's club." Or how a sea of little wide-eyed girls, and only girls, watch in awe as the March sisters perform one of their plays.
On the flip side, in the March girls' swirl of togetherness — the arguing, sewing, gathering around the piano — there's an abundance of clinginess, hugging, walking arm-in-arm, and piling on one another in ways suggestive of sleepovers and pillow fights (without ever going quite that far). At times, a fluffed up idea about how girls act behind closed doors replaces how they really do — in my experience anyway.
There's a fine line between sorority and sisterhood and "Little Women" has one foot in each camp. Embedded within a conversation about women's authority both on and off camera, this "Little Women" likewise vacillates, wanting to take a feminist stand ("I'd rather be a free spinster," says Jo) while holding notions of acceptable femininity, and the marriage plot framework, close to the hand-darned vest. Those who enter "Little Women" wanting the messy irreverence of "Lady Bird" will find the blows fall more softly here.

Perhaps the best example of this vacillation is how the film questions and pokes fun at the marriage imperative for women. In a meme-worthy scene Amy schools Laurie (Timothée Chalamet, bobbing along the surface), "Don't sit there and tell me that marriage isn't an economic proposition, because it is. It may not be for you but it most certainly is for me." Amy, Meg and Jo contend with this fact in the book and on screen. With all of this will-they won't-they, imagine if Gerwig had honored Alcott's own choice not to marry by leaving Jo's partnering out of a 2019 version altogether. That may have made her adaptation more relevant and daring. Even still Ronan holds forth with an ability to posture as both youthful and knowing, cocky and vulnerable, and on a spectrum of gender that makes Jo relatable, and of-this-moment.
Two other top films from this year, "Portrait of a Lady on Fire" and "Atlantics," the former a period French drama about lesbian love, the latter a kind of ghost story set in Senegal, also speak to the economic and emotional trade-offs women face when choosing to marry or not. Also by women writer-directors, these two make more directly grievous, and ultimately more impactful, cases about coupling than "Little Women" does. But taken as a trio, with a dash of "Marriage Story," there's grounds for a dissertation on how the institution still fails women in 2019.
When Jo seeks guidance from her mother (Laura Dern) about how to forgive, Marmee surprises her by confessing (the line from the novel), "I feel angry nearly every day of my life." Dern does her best with a script that makes Marmee a bit too giving, her anger too hidden. Yet "Little Women" makes good on the promise that whatever the predicament, these women are in it together. Even the blame Amy has carried for 150 years lessens in this version, when Jo, who has made her metaphorical Pilgrim's Progress, so readily congratulates her for marrying Laurie. The March sisters are people we're happy to see happy. In other words, they're worth a visit over the holidays.