The Year In Boston's Classical Music Scene
This article is more than 3 years old.
Since there's never any guarantee about live performances, I can never be sure that performances that I include in my previews turn out to be as good as they seem on paper. This year some of the musical events I encouraged people to attend turned out to be as at least good as I predicted. Several of them turned out to be among the year's most memorable events. And, as always, there were some very happy surprises!
The Best Of The Best
The performance of Stravinsky's "Rite of Spring" that Gustavo Dudamel led as guest conductor of the Boston Symphony Orchestra in April was an astonishing event. This score is in the BSO's bloodstream. The orchestra first played it back in 1924, under the baton of Pierre Monteux, who had led the notorious world premiere in Paris only 11 years earlier. The BSO has performed it more than 170 times under such legendary conductors as Monteux, Serge Koussevitzky, Leonard Bernstein, and James Levine, and made a justly famous recording with Monteux in 1951. But the success of a performance owes a lot to whoever is in charge. Seiji Ozawa, who conducted it more than anyone else, was energetic in the loud and fast parts, but the slow sections just dragged. Andris Nelsons' version in 2014 was incomprehensibly and unimaginably dull. But under Dudamel, the intense sections were ferocious, the quiet sections ravishing and mesmerizing. The playing was spectacular, and spectacularly beautiful. Unfortunately, an old injury acted up and Dudamel had to cancel the last of the three performances he was scheduled to conduct.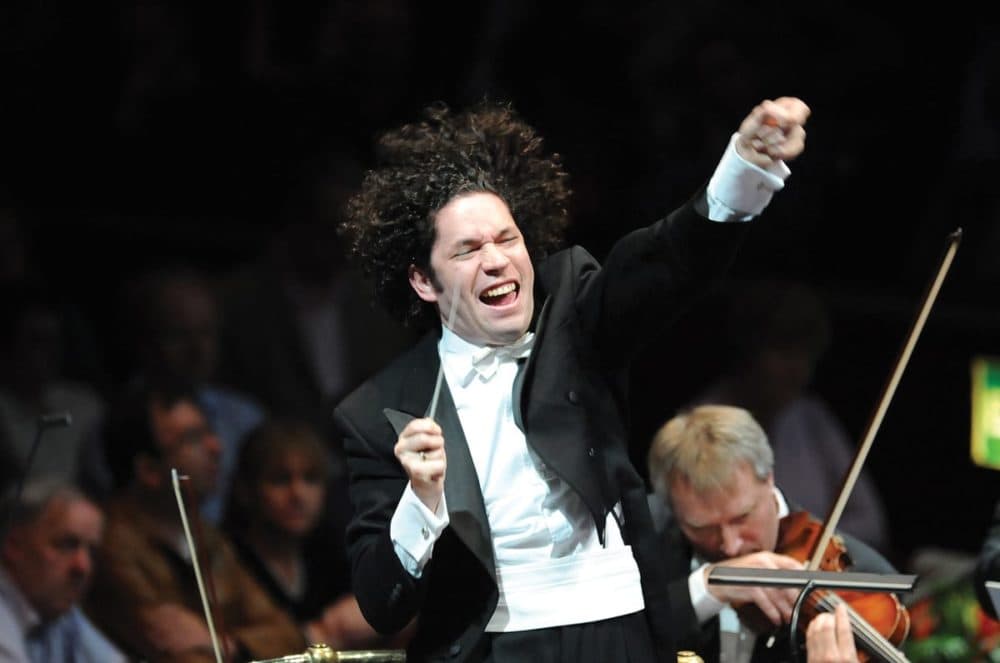 But thanks to the Celebrity Series of Boston, anyone who missed the BSO performance had another chance to hear Dudamel conduct this very score, with his own orchestra, the Los Angeles Philharmonic. This was also a memorable performance — leaner and perhaps louder than the BSO performance, if not as beautiful (few orchestras can match the sheer beauty of the BSO sound), or mysterious, or propulsive. Without such an invidious comparison, it would surely be regarded as a great performance. Those of us lucky enough to hear both performances are most grateful.
Odd, though, how the other items on Dudamel's programs — Schumann's "Spring Symphony" with the BSO, the Argentinian composer Alberto Ginastera's Variaciones Concertantes and the new John Adams piano concerto with Yuja Wang with the LA Phil — simply fade from memory. The Adams performance should have been one of the major events of the year, but the concerto didn't add up to much. In the slow middle section, it offered Yuja Wang a chance to display her most delicate touch, but it was easier to appreciate it in her two encores: her own arrangement of Mexican composer Arturo Márquez's Danzón No. 2 (a piece Dudamel has often led in its orchestral form), and the Russian composer Nikolai Kapustin's Toccatina Op. 36. No one I know guessed correctly who composed these pieces. But practically everyone recognized the composer of the orchestra's encore, John Philip Sousa's "Liberty Bell." Sousa in Boston! Coals to Newcastle? Dudamel conducted not only the orchestra but also the audience, which he had clapping along — even at different dynamic levels!
I was pretty sure Dudamel's Stravinsky performance with the BSO would become my No. 1 concert of the year. But an event in November means Dudamel will have to share first place with another major conductor whose visits to Boston are rare. For many years, Sir Simon Rattle was one of the most popular guest conductors of the BSO. Then suddenly, when he was appointed music director of the Berlin Philharmonic, he almost completely disappeared from the Boston scene. In the past decade, he has led only two concerts in Boston, one with his Berlin orchestra, and the other, a benefit to raise money for a breast cancer cure. His latest Boston appearance was another fundraiser, this time for breast cancer survivors. Both of these benefit concerts were organized by flutist Julie Scolnik, director of the chamber group Mistral, and herself a breast cancer survivor. This latest concert, at Jordan Hall in November, was overwhelming.

It began with a breathless and exhilarating Overture to Mozart's "The Marriage of Figaro," faster and more exciting than I can remember hearing it at a live performance. And even after only one rehearsal, impeccably played by an orchestra that consisted not only of Boston freelancers, but members of the BSO, the Metropolitan Opera Orchestra, and the Philadelphia Orchestra. Boston's own players were among the standouts. The Mozart was followed by the slow movement of Beethoven's Ninth Symphony — odd to take it out of context, yet still moving, in slow waves of sound and feeling. It felt like some heavenly consolation.
But the main event was Brahms' First Symphony — a symphony Brahms struggled to compose and didn't until he was pretty advanced in his musical career (he seemed to have been thoroughly intimidated by Beethoven). In this performance — in some ways very similar to Dudamel's Stravinsky — it was as if we were allowed to enter the composer's head as he was composing the music, participating in his struggles, his setbacks, and his hard won triumphs. It was a profound experience, and the whole audience seemed to have been shaken to the core.
Next Best
Another outstanding orchestral event marked the return to the BSO of someone we need to hear more often, the Finnish conductor Susanna Mälkki (chief conductor of the Helsinki Philharmonic), in what was only her fourth visit to the BSO and her first appearance since February 2011. This program included Fauré's beloved "Pavane," played with exquisite transparency and refinement (helped immensely by Elizabeth Rowe's flute), one movement from an early piece by Messiaen, and the American premiere of an exciting and challenging half-hour long BSO co-commission, Swiss composer Dieter Ammann's Piano Concerto ("Gran Partita"), both written for and played by the Swiss master Andreas Haefliger.

But the big event was more surprising. Debussy's "La Mer" is familiar BSO territory. The BSO played its American premiere in 1907, only two years after its world premiere in Paris, and it has since become a staple of almost every BSO music director and countless guest conductors. The BSO archives lists 327 individual performances of it. But this one was not the familiar run-through with gorgeous playing and little more than merely pictorial content (the waves and the wind). Mälkii delivered a thrilling adventure, layers of wind and sea intermingling, teasing each other, arguing with each other, making love. I can't remember ever hearing a live performance so involving, so thrilling, so thoroughly about so many things.
Benjamin Zander's final concert of the year showed his Boston Philharmonic Youth Orchestra in outstanding form, playing passionate and thoughtful versions of Verdi's Overture to "La Forza del Destino," Mendelssohn's famous violin concerto (with Stefan Jackiw proving that a familiar work doesn't have to be a cliché), and a riveting Mahler Symphony No. 1, showing that in the right hands even a group of talented kids can give us the best Mahler of the year.
But the year's most enthralling and illuminating concerto performance was Norwegian pianist Leif Ove Andsnes at the BSO, playing the greatest Norwegian piano concerto. Grieg's Piano Concerto is such a chestnut it's almost always on auto-pilot, but after years of letting it rest, Andsnes revived it with fresh color, dash, and feeling. Every note meant something, and conductor Andris Nelsons didn't get in the way.
Top Opera
Nelsons proved himself to be more convincing with opera than with orchestral music. Last summer, he led a sweeping concert performance of Wagner's "Die Walküre" with the Tanglewood Music Center Orchestra. I was told they had 35 rehearsals, and what Nelsons must have learned himself he enthusiastically translated to his young players. A stellar cast, including Christine Goerke as Brünnhilde, Amber Wagner as Sieglinde, and Stephanie Blythe as Fricka, didn't hurt.
The most exciting opera production of the year was undoubtedly the Boston Lyric Opera production of Poul Ruders' "The Handmaid's Tale," at a Harvard athletic stadium, which is where Margaret Atwood's novel sort of takes place. The celebrated author and onetime Harvard grad student, in the audience, probably got the biggest hand, but equally deserving was the phenomenal mezzo-soprano Jennifer Johnson Cano as the beleaguered Offred and a superb cast down the line, with inspired staging by Anne Bogart. Conductor David Angus really gave himself to this stunning and sometimes gorgeous score. My headline would be "Boston Lyric Opera (Finally) Grows Up."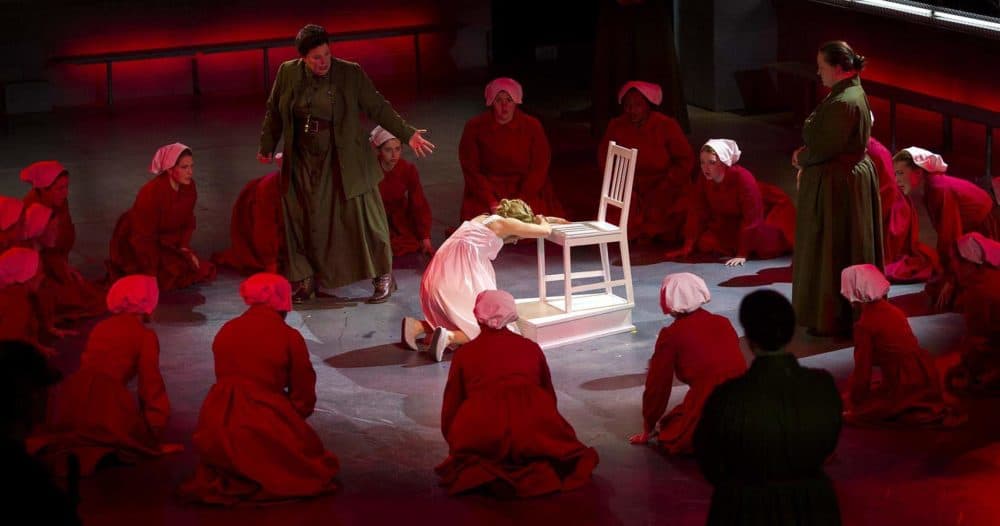 The year's most touching opera production was Susan Davenny-Wyner conducting Rossini's "La Cenerentola" ("Cinderella") for Boston Midsummer Opera, staged with a perfect balance of humor and poignance by Antonio Ocampo-Guzman. And enchanting Allegra De Vita was the pitch-perfect Cinderella.
My gold star for "Opera Company of the Year" still goes to Gil Rose's Odyssey Opera, for presenting superb versions, both staged and in concert, of operatic rarities we'd never have another chance to see. This year we saw the last three operas in Odyssey's Helen of Troy season (Frank Kelley's rib-tickling staging of Offenbach's "La Belle Hélène" had the singers re-creating famous paintings by Offenbach's contemporaries) and the beginning of Odyssey's Tudor season, starting with Saint-Saëns ("Henry VIII") and Giovanni Pacini's obscure "Mary, Queen of England."
Other memorable vocal music includes a magisterial and witty performance by the Cantata Singers of Handel's once popular but now rarely performed "Solomon," with music director David Hoose giving the piece both power and propulsion. And the Boston Early Music Festival's fascinating evening with the the great countertenor Philippe Jaroussky and Boston's beloved Baroque soprano Amanda Forsythe in Jaroussky's composite of arias and duets from early operas about Orpheus and Eurydice, with the best music, of course, being by Monteverdi, but with unforgettable passages by forgotten figures.
Chambers Of The Heart
My choice for the Outstanding Chamber Music Performance of the year is also on an intimate scale, but powerful. At Brandeis, a current and a former faculty member, violinist Daniel Stepner and his teacher, composer Yehudi Wyner, celebrated the latter's 90th birthday. He is also an enthralling pianist with an astonishingly sensitive touch. They gave us a witty violin solo by Stepner (few of us knew he was a composer too), Wyner's 1955 Concert Duo (a turning point in his career, written after he studied with Elliott Carter in Rome), Beethoven's great C-minor Sonata (lifting our spirits, keeping us on the edge our seats, and knocking us out of them), and Bartok's delicious Romanian Dances.
New-ish Music
My vote for the Best New Musical Work goes to the same piece I loved last year, Ethan Iverson's wildly original score based on Beatles' tunes composed for Mark Morris' delightfully enthralling dance-work "Pepperland." Last year I heard it at Dartmouth's Hopkins Center, and this year it arrived in Boston thanks to the Celebrity Series. I couldn't get enough of it and thought it just got better and better with each performance.

R.I.P.
In 2019, we mourned the loss of the beloved singers Sanford Sylvan and Jessye Norman; composers Christopher Rouse, Dominick Argento, Michel Legrand, and Giya Kancheli (whom Sarah Caldwell introduced to Boston in her landmark 1988 Russian Festival); conductors Andre Previn, Mariss Jansons, Raymond Leppard, and Michael Gielen; pianists familiar from so many recordings, Paul Badura-Skoda and Jorg Demus; and the Pulitzer Prize-winning classical music critic of the LA Times, Martin Bernheimer, whose father owned a legendary antique shop in Harvard Square. His New York Times obituary referred to him as "tartly eloquent" and quoted him: "Critics, antagonists claim, should be objective. No way."