What You Need To Know About First Night In Boston 2020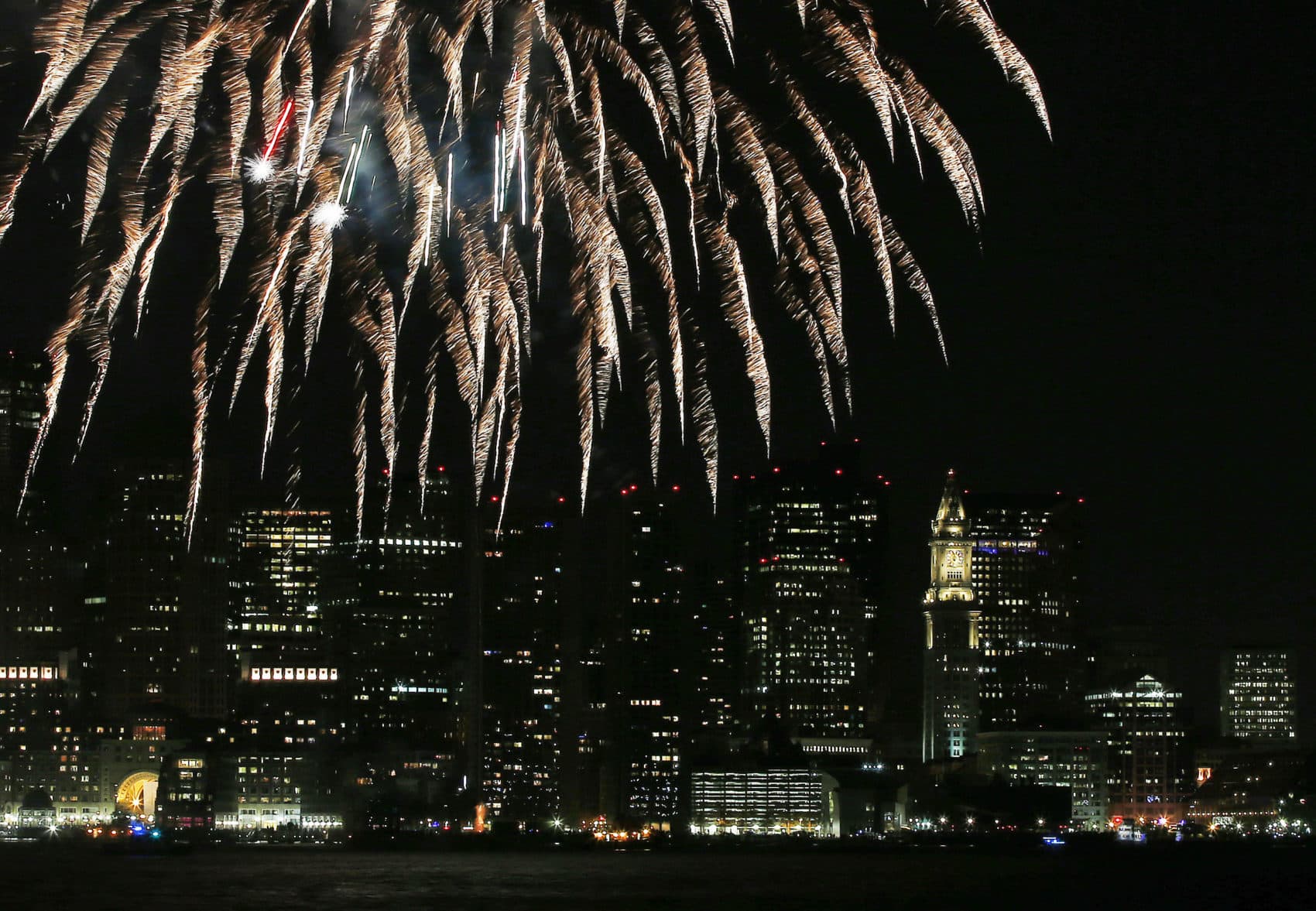 This article is more than 2 years old.
What a year it's been, right? 2020 is looming over us as this year comes to an end and it's time to commemorate it with a big Boston party.
Before a new decade takes over, wave farewell to 2019 at First Night, the annual New Year's Eve celebration in Boston's Copley Square. It bills itself as the oldest New Year's Eve celebration of its kind. Here's what's going on with the music performances, elaborate ice sculptures and fireworks shows this year:
What's Going On
The party starts at lunch time on Tuesday, Dec. 31 and goes until just after midnight on Jan. 1 in Copley Square area. Everything at First Night is free to attend. Most events at the Boston Public Library are ticketed due to high demand — but free tickets could be picked up at the Boston Public Library before the event on a first-come, first-served basis. Get there early if you want to secure your spot for prime performance watching.
Getting Around
Public transit is definitely the best way to get to First Night since parking is limited and some roads are closed. The MBTA is free, including the commuter rail, subways and buses, from 8 p.m. Tuesday (New Year's Eve) until 2 a.m. Wednesday (New Year's Day). Buses, ferries, commuter rail trains and the RIDE will operate on a weekday schedule and subway lines will work on a weekend schedule, then increase frequency after 3 p.m. Tuesday. The Commuter Rail, Green Line, Orange Line and several bus lines all have stops in the Copley Square area.
Areas closed to vehicular traffic:
Dartmouth Street between St. James Ave. and Boylston Street (between 8 a.m. Tuesday until 1 a.m. Wednesday)
Boylston Street between Ring Road and Charles Street (on Tuesday from 4 to 8 p.m.)
Charles Street between Boylston and Beacon Street (on Tuesday from 5 to 8 p.m.)
Parking garages nearby:
Clarendon Garage at 100 Clarendon St. Copley Place
Prudential Center
Boston Common Garage
Cool Things To See
A performance by the Dempsey Sisters in Copley Square kicks off the event on Tuesday, followed by performances by The Responders, The Stephen Bates Quartet and Dancing Buns Studios at the Boston Public Library's Johnson Building.
If you're in the mood for a laugh, ImprovBoston has a number of performances you can catch through the day, starting with one at the Johnson Building. Puppet Showplace Theater at Copley Place Mall and Drumming About You at Johnson Building are perfect for the kiddos and both performances start at 1:30 p.m. Don't worry if you miss the first one because these groups perform several times in the afternoon. Other musical performances in the early afternoon to watch out for are Morningbird, Jonah Bencal, Paco and Jesse McKellar.
With a bevy of activities throughout the event, there should be something for you, all your friends and family to enjoy. Ice sculptures are featured throughout First Night, being placed on site the morning of New Year's Eve and finished throughout the day. The star of the show is the replica Mayflower for Plymouth's 400th anniversary. At night, the works of icy art are being illuminated.
The evening packs as much punch as the first half of the day with great performances and shows. Pan-Latin ensemble Sol y Canto starts their set at 5 p.m. in Copley Square, followed by a capella group Vocal Revolution. At 5:30 p.m., the Skating Club of Boston and an unnamed special guest perform in Frog Pond Skating Spectacular at the Boston Common.
Starting at 8:10 p.m., Copley Square will have nonstop musical performances by Sons of Levin, Najee Janey, Daniel Laurent and more until midnight.
The Fireworks
7 p.m. at Boston Common: The earliest fireworks of the night will go off — so the kids could see fireworks before getting them home to bed.
Midnight in Copley Square: A countdown and pyrotechnics show will ring in the new year.
Midnight at the Boston Harbor: A fireworks spectacular will light up the sky over the harbor.
Safety Reminders
First Night celebration is a family event, and no public drinking is allowed. Smoking, be it tobacco or marijuana, is also prohibited in public places.
Public safety officers and first responders will be out in force during the evening, according to city officials during a press conference Monday. Many officers will be uniformed, but some will be working in plain clothes. Similar to previous years, the Boston Police Department will partner with state and federal agencies to provide coverage.
"The biggest asset or resource that law enforcement has is you, the public," said Boston Transit Police chief Kenneth Green. "The more eyes and ears out there the better."
Mayor Marty Walsh encouraged people to dress for rainy and cold weather. City workers will treat roads and sidewalks to ensure surfaces aren't slippery.
Officials didn't have an estimate of how many people are expected to attend tomorrow, but they believe it will likely be less than the 250,000 that attended last year's First Night celebration.
WBUR meteorologist Dave Epstein says to expect a clear and chilly night, with temperatures in the 30s most of the evening.
Staying Cozy On The Couch?
You could still watch the festivities and the fireworks on NBC10Boston.com, necn.com and TelemundoNuevaInglaterra.com (and on NBCBoston, NECN and Telemundo Nueva Inglaterra's apps) from 6 p.m. to 12:30 a.m.
Carrie Jung contributed to this report
This article was originally published on December 26, 2019.