Warren Slides As Sanders Rakes In Small-Donor Cash
This article is more than 3 years old.
Happy new year! President Trump's impeachment trial still looms over Washington. The big question is: When will it happen? Meanwhile, 2020 campaign cash is flowing ... for some candidates.
Warren Lowers Fundraising Expectations; Sanders Touts Blowout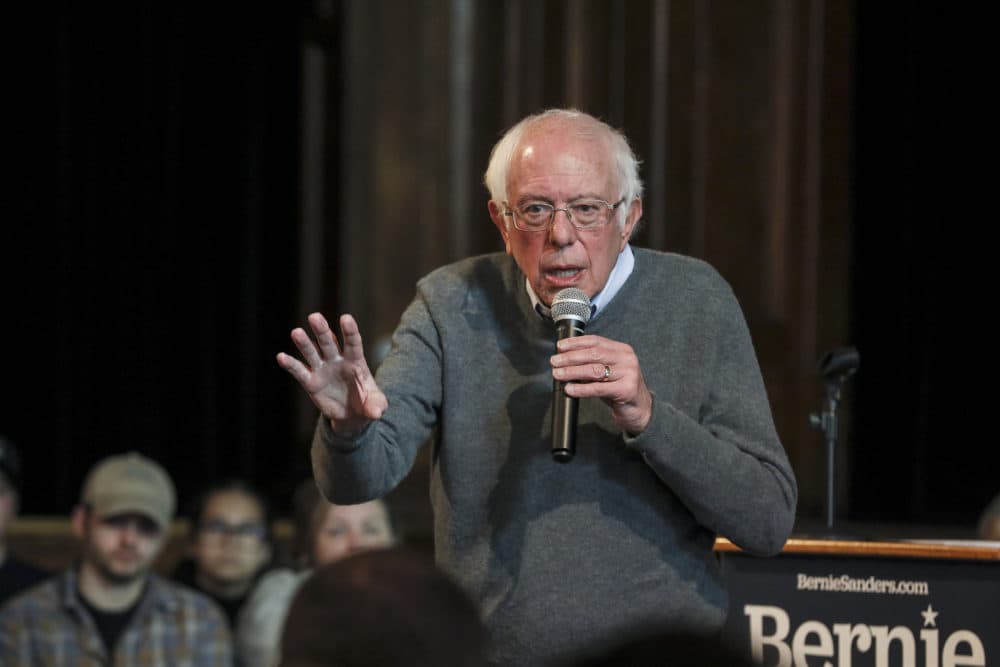 After sliding in polls in recent weeks, Sen. Elizabeth Warren is lowering expectations about her most recent campaign haul. She has yet to post her final 2019 fundraising totals, but, in a Dec. 27 email to supporters, the campaign said it had by then raised just over $17 million. That's about a 20% drop from the previous quarter.
Fellow New Englander Sen. Bernie Sanders today posted a whopping $34.5 million in mostly small-dollar donations for the final quarter.
That news comes as former South Bend Mayor Pete Buttigieg announced his campaign received $24.7 million in donations. Former Vice President Joe Biden pulled in $22.7 million. Andrew Yang netted $16.5 million.
FiveThirtyEight's Nate Silver tweeted: "the 4Q numbers we've seen so far seem broadly in line with reasonable expectations given what else we knew about the race, e.g. that Bernie gained in the polls while Warren lost quite a bit of ground. The exception I think is Yang? (I was not expecting $16.5m.)"
This morning, former HUD Secretary Julián Castro dropped out of the race.
Collins Speaks On Impeachment Witnesses. Will Romney?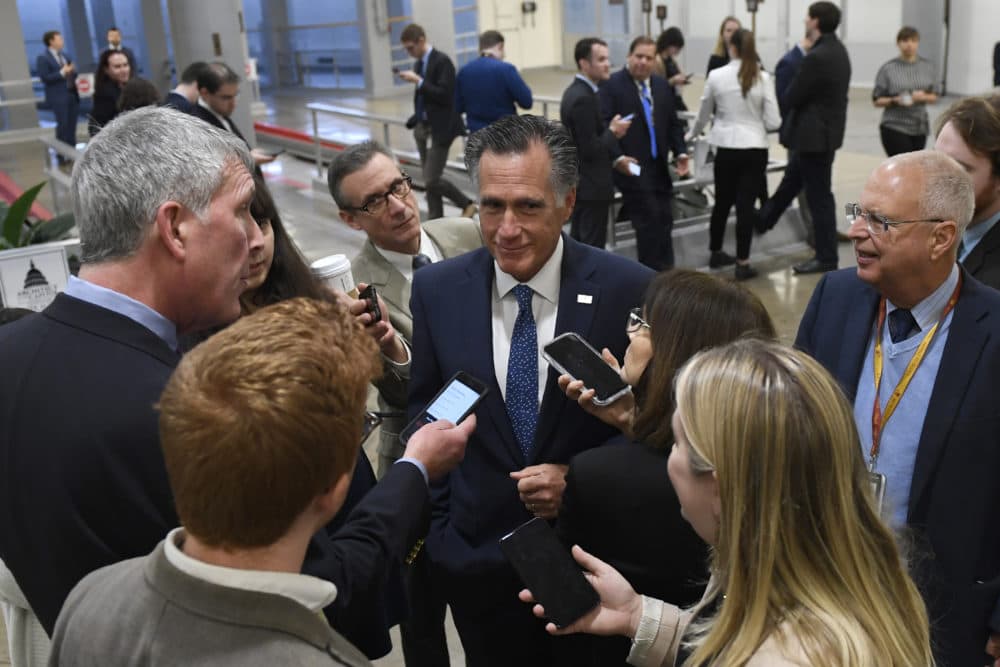 Democrats in the House and Senate remain in a standoff with Republican Senate Majority Leader Mitch McConnell over Democrats' demand that witnesses be called for President Trump's impeachment trial.
Maine U.S. Sen. Susan Collins said in an interview with Maine Public Radio this week that she is open to calling witnesses, but added that it's too soon to say who should be on the witness list.
"I am open to witnesses," Collins said. "I think it's premature to decide who should be called until we see the evidence that is presented and get the answers to the questions that we senators can submit through the chief justice to both sides."
Still mum on the controversy: former Massachusetts governor and current Utah Sen. Mitt Romney, one of several Senate Republicans who could press McConnell to adopt impeachment rules allowing for witnesses.
Markey Banned From Philippines
Sen. Ed Markey is now banned from entering the Philippines by President Rodrigo Duterte.
Last week, Duterte's administration also announced Sens. Dick Durbin of Illinois and Patrick Leahy of Vermont were subject to a travel ban, and threatened to impose visa restrictions on all U.S. nationals. The move followed Congress' passage of a measure they sought denying U.S. entry to any Philippine officials involved in the incarceration of Filipino Sen. Leila de Lima, who the U.S. lawmakers say was wrongly imprisoned for exposing human rights abuses.
"President Duterte is sorely mistaken if he thinks he can silence my voice and that of my colleagues," said Markey in a statement, saying he was banned over his vocal opposition to the imprisonment of de Lima and others. "I stand with the people of the Philippines and with my state's vibrant Filipino-American community in fighting for the highest democratic ideals and against the strongman tactics of the Duterte government."
4 More Things
— No 'magic' formula for Patrick: Those close to former Gov. Deval Patrick say he's struggling to capture the same "magic" on the 2020 campaign trial that led to his 2006 gubernatorial victory. Earlier this week he failed to qualify on Michigan's primary ballot. But Patrick told the AP that it's his Democratic primary opponents whose campaign strategies should be questioned. "So don't ask me why we're not doing what everyone else is doing," he said. "Ask them why they keep doing what they've been doing and haven't locked it down."
— The Bain of Patrick's finances: Patrick's personal financial disclosure report filed this week shows that his largest personal holding consists of a private equity fund from his former employer, Bain Capital, that ranges from $1 million to $5 million, Forbes reports. Patrick reported total assets of $3.2 million to $11 million on the form, which lists ranges of asset values.
— Weld checkmates reporter, acknowledges beating Trump will be harder: The other former Bay State governor in the presidential field, Republican Bill Weld, beat Sinclair's chief political correspondent Scott Thuman in a chess game while speaking frankly about his odds of ousting Trump in the GOP primary: "Well, I think they're better than 1-in-50. If I move as much on Mr. Trump as I did in September for the next two months, I'm ahead in New Hampshire and I've got two months. So there."
— Markey talks Green New Deal in Acton: Markey will hold a town hall on his Green New Deal legislation at R.J. Grey Junior High School in Acton Sunday at 6 p.m.
---
ON MY RADAR
How Will History Books Remember the 2010s? 23 historians weigh in.  (Politico Magazine)
The 2020 Election Will Break History: This year, Americans will almost certainly elect the oldest president, the youngest president, or the only president to ever win reelection following impeachment. (The Atlantic)
'The Resistance' built grass-roots groups across the U.S. Will the Democratic Party put that energy to work in 2020? (The Washington Post)
---
WHERE'S WARREN?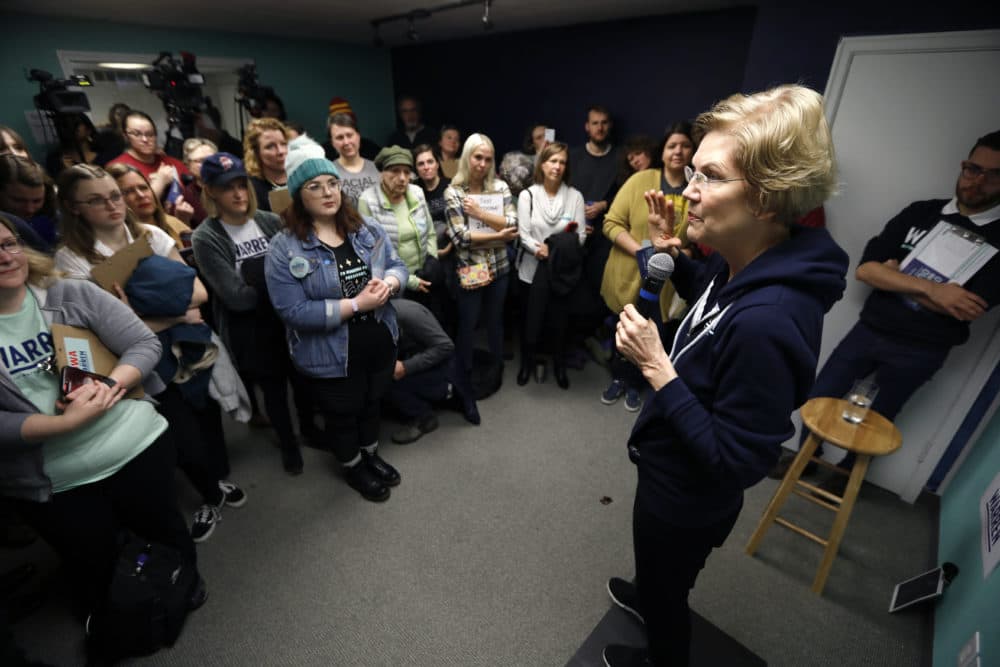 With uncertainty surrounding the timing of Trump's impeachment trial — which would pull Warren off the campaign trail at a crucial junction of the primary calendar — Warren is spending as much time in early primary states as she can now.
Fresh off a swing through Iowa, today she's in New Hampshire for town hall events in Concord and Hanover.
This weekend Warren heads back to Iowa, with events Saturday and Sunday in Manchester, Dubuque, Maquoketa and Davenport.
The Senate reconvenes after its holiday break tomorrow, with its first votes of the new year set for Monday.
---
QUOTE OF THE WEEK
"I did not run for office to try to impeach a president, but if the president is going to keep abusing his office I'm not sure what else I can do."
-- Rep. Joe Kennedy, Sunday on CNN's "State of the Union," when asked if the House might impeach Trump again in the future if the Senate does not vote to remove him.