Organizers Of Planned King Memorial Hope To Break Ground In July
A planned memorial to honor Martin Luther King Jr. and Coretta Scott King may break ground in July.
King Boston, the non-profit behind the project, hopes to time the groundbreaking to coincide with the NAACP conference, which comes to Boston the weekend of July 25.
According to King Boston executive director Marie St. Fleur, the group is working with the city to obtain permits for construction of the 22-foot-tall sculpture on the Boston Common. St. Fleur said the plan needed to pass muster with three governmental bodies: the Boston Arts Commission, the Boston Landmark Commission and the Boston Parks Department. She described the process as routine, though slow-going.
The memorial is intended to honor both Kings, who met in Boston while he was earning his PhD in systematic theology at Boston University and she was studying opera at the New England Conservatory. "This is not simply about Dr. King. It's about Coretta as well," St. Fleur said. "It's a celebration in recognition of the role of women in the civil rights movement."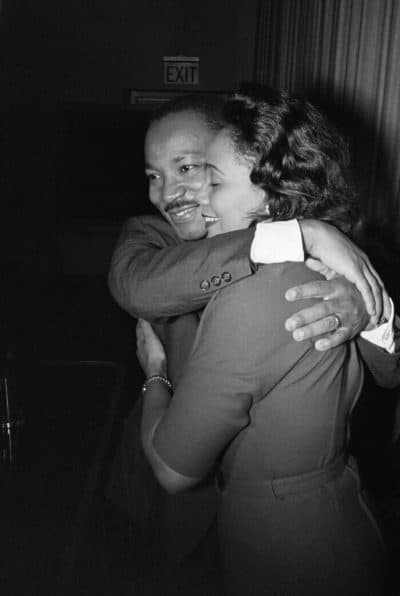 The winning design by Hank Willis Thomas and MASS Design Group was chosen out of five finalists and announced last March. Titled "The Embrace," the bronze-finish sculpture depicts two sets of arms wrapped around each other. The abstracted image is based on a 1964 photograph of the Kings with their arms entwined and their faces pressed together.
The memorial is part of an ambitious project to honor the Kings that King Boston estimated would cost $12 million. It includes plans for the King Center for Civic Engagement and Economic Justice in Roxbury, which St. Fleur said would be located at the Dudley branch of the Boston Public Library. The center's main goal will be "making certain that the people who are most impacted by the economic disparities in the state and in the city have a seat at the table in trying to impact strategy and solutions," she said. King Boston is also in the process of creating a collection of works by African-American authors and civil rights leaders to be housed there.
The effort to memorialize the Kings' time in Boston also includes a film by Boston filmmaker Roberto Mighty that aims to show the Kings as complex leaders rather than with the kindly but flattened narrative that has been built around them. The 30-minute film, "Legacy of Love," and additional online and interactive installation components will also be part of the King Center for Civic Engagement and Economic Justice in Roxbury.