In Fuller Craft's 'Secular Cathedral,' An Artist Pays Homage To Life's Sacred Ups And Downs
It all started with a wooden flat. It was one of those trays for plants stocked at garden centers and nurseries. Artist Stephanie Cole was living in a trailer in upstate New York with two young children while her husband pursued a doctoral degree at Cornell University. Cole needed a moment of freedom beyond the tight space and daily duties that defined her life at that time, so she turned to using the flats for creative projects.
"I could get them for nothing, and I created a wall-mounted dollhouse," she says of the wooden flats. "For me, it was an escape. I made it like a historic house. I always wanted to live in a historic house, which we do [now]. But that should have been a message. Making that really was what I wanted to do."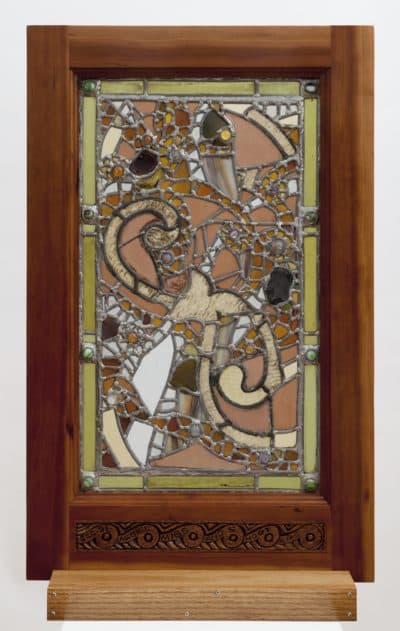 It was a discovery that would pull the artist, now living in Rockport, into a whole new artistic direction. Cole mostly painted on canvas but after that, she says, she began "painting with stuff."
"Painting, at this point, was not enough creatively for me."
Beginning Jan. 25, Cole's "paintings" are on view in "Secular Cathedral" at Fuller Craft Museum in Brockton. Her constructions and intricate assemblages, often fantastical and whimsical, are almost exclusively autobiographical, exploring the daily household victories and tragedies of a lifetime, ranging from mourning the death of the family cat to gratitude for her husband, who often helps her create her work. Working in a range of media that includes mosaic, stained glass, wood and fiber, Cole, now 75, has experienced the joys and sadness that most of us experience, giving her show a universal feel while also a very personal one.
"I don't plan ahead," says Cole of her work. "Something will happen, and my response becomes an artwork."
For instance, Cole's elderly mother lived in California while she lived in Massachusetts. As her mom's health began to fail, she says she found it difficult to cope with the grief, guilt and longing of not being at her mother's side.
"But for me to try to deal with those feelings during the times when I couldn't go and visit, I created a really big piece called 'Mom,'" says Cole. "It looks like a deity in a way… So, it's that kind of thing. Something in life pops up and I need to work on it."
"Mom" isn't in "Secular Cathedral," though it was the central figure in Cole's show "My Life in Pieces," held at Gloucester's Cape Ann Museum last year. In this exhibition, however, the organizing principle is around church and sacred spaces, for which Cole says she has a special affinity.
"We took a family trip to England when the kids were old enough to appreciate that, and Winchester Cathedral. Some of the carvings in that place! I love that art," she says. "I love the mark of the hand, I call it. And you see a lot of that in the old cathedrals."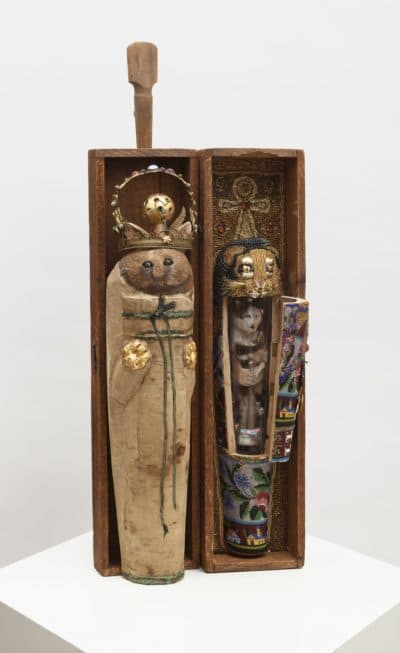 At Fuller, Cole displays seven stained glass windows (her husband created the frames) that show not saintly faces and biblical scenes, as one might expect, but fragments of memories from everyday life. The piece "Aggies, Mibs and Shooters," for example, refers to Cole's childhood pastime of marbles.
"It just had a look to it when I put it together," she says of her decision to create a window around the kid's game. "Those curved shapes, which come from an antique window somewhere…and I put it together with sea glass and then incorporated the marbles. It just looked like someone playing the game."
Another window was inspired by a favorite painting, Vincent Van Gogh's "Starry Night," and yet another by the simple request of Cole's husband for a knob that might fit a door he was working on back in 2013. Cole went out to her studio and found a knob that had belonged to a sideboard in a dining room, inspiring the piece "Dining Room."
"When you look at that window, there are things that actually came from our house, like the base of a beautiful goblet that broke," she says. "And there's a big dish in the middle that my husband's mother couldn't bear to throw away. And that ended up in the window."
Other pieces were created in direct response to life events. Cole's "Grief Piece" was created between 1995-96 after the death of her cat Hazel, which she says "was like a person." It features a 28-inch tall box reminiscent of an Egyptian sarcophagus. Decorated with metal "milagros," a religious folk charm used for healing and blessings in Latin America, the box opens like a book to reveal a cat-like visage fashioned from a coconut with glass eyes. The face is topped by a crown. Two golden paw prints are stamped on the body. On the facing side of the box, we see a cat shape that appears to be another beaded sarcophagus, opening to reveal yet another wooden cat inside. The paw prints that are part of the piece were cast from wet cement that Hazel stepped in while she stalked the earth. The internal cat incorporates some of Cole's own hair and Hazel's fur.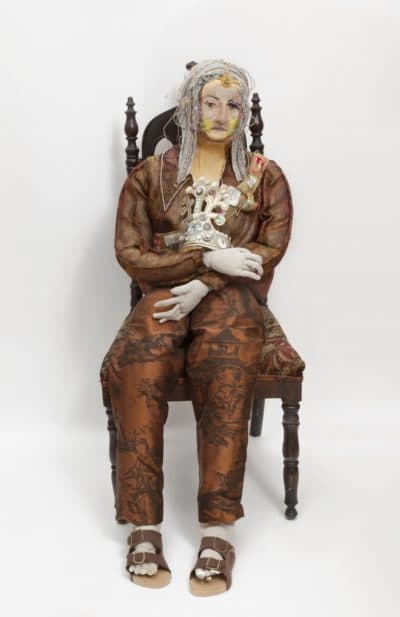 "If my studio was on fire, that would be the one thing I would grab and run with," she says.
There is a self-portrait of Cole at 50 and another at 70. The figure, age 70, sports a beaded face and beaded gray hair, a crown fashioned of 70 buttons and Birkenstocks on its feet. The back of the piece displays an inset of a curved spine of buttons, mirroring Cole's curved spine due to polio.
"My only intention there was to depict myself as realistically as possible," she says.
There is also a golden mosaic reminiscent of a Byzantine altarpiece entitled "My Golden Man," a more recent piece (created in 2018) that is a tribute to Cole's husband.
Cole's personal work is fashioned with care and love. Touching on the large and small concerns of life, it holds a talismanic quality infused with its own vibrant energy.
"I guess it's like a catharsis and other people relate to it, especially women," she says. "My art gives me joy. It's a relief to be able to work on a project when there is something really sad going on."
And for the public, "Secular Cathedral," is a joyful relief, too.
---
"Stephanie Cole: Secular Cathedral" runs from Jan. 25 to Oct. 25 at the Fuller Craft Museum in Brockton.