Warren To Bloomberg: 'Let Reporters Do Their Jobs'
This article is more than 1 year old.
The House is in recess, the Senate is locked in an impeachment trial and the Democratic 2020 contenders are getting heated as the first primary contests near. Yes, there's a lot going on so this newsletter is brought to you by caffeine and this song. Happy Thursday.
Warren Blasts Bloomberg
Fresh off of efforts to publicly squash a beef with fellow senator and Democratic presidential primary opponent Bernie Sanders, Sen. Elizabeth Warren is now taking aim at Mike Bloomberg.
In a twitter thread yesterday, Warren blasted a Bloomberg News policy that bars reporters from investigating Bloomberg. She also pointed to an ABC News report that Bloomberg's former mayoral race opponent Mark Green filed an FEC complaint alleging the policy amounts to "illegal corporate in-kind contributions" to billionaire former New York mayor's presidential campaign. Bloomberg's campaign declined to comment.
"If Michael Bloomberg wants to be the Democratic nominee, he should let reporters do their jobs and report on him, and everyone else, as they see fit," Warren tweeted. "And he should divest from Bloomberg News so there's no question about his influence over news coverage of presidential candidates."
Earlier this week Warren criticized the 45-day extension Bloomberg received to file his personal financial disclosure, telling reporters in Iowa: "If he has entanglements with China, serious conflicts of interest, business interests in other parts of the world or other corporations when are we going to know about that? Not until after Super Tuesday. That is not how democracy is supposed to work, and we need to shut that down."
Whose On The Stump While Warren Is Stuck?
It's the final weeks before the early primaries, and Warren's campaign is relying heavily on surrogates as the senator sits as a juror in President Trump's impeachment trial in D.C.
Among them is Ashley Judd, who will head to New Hampshire to host campaign events for Warren in Dartmouth, Lebanon and Nashua. The actor, activist and author endorsed Warren last month, she said, "because of her plan to end the rancid corruption in Washington that makes government work for the well connected and leaves the vast majority of Americans behind."
Also campaigning for Warren this week and weekend:
Marathon bombing survivors and activists Jessica Kensky and Patrick Downes
Rep. Ayanna Pressley
Rep. Joaquin Castro
Former HUD Secretary Julián Castro
Rep. Joe Kennedy
Rep. Jim McGovern
Warren's husband Bruce Mann
"Queer Eye" host Jonathan Van Ness
WBUR Poll Shows Age, Gender Divisions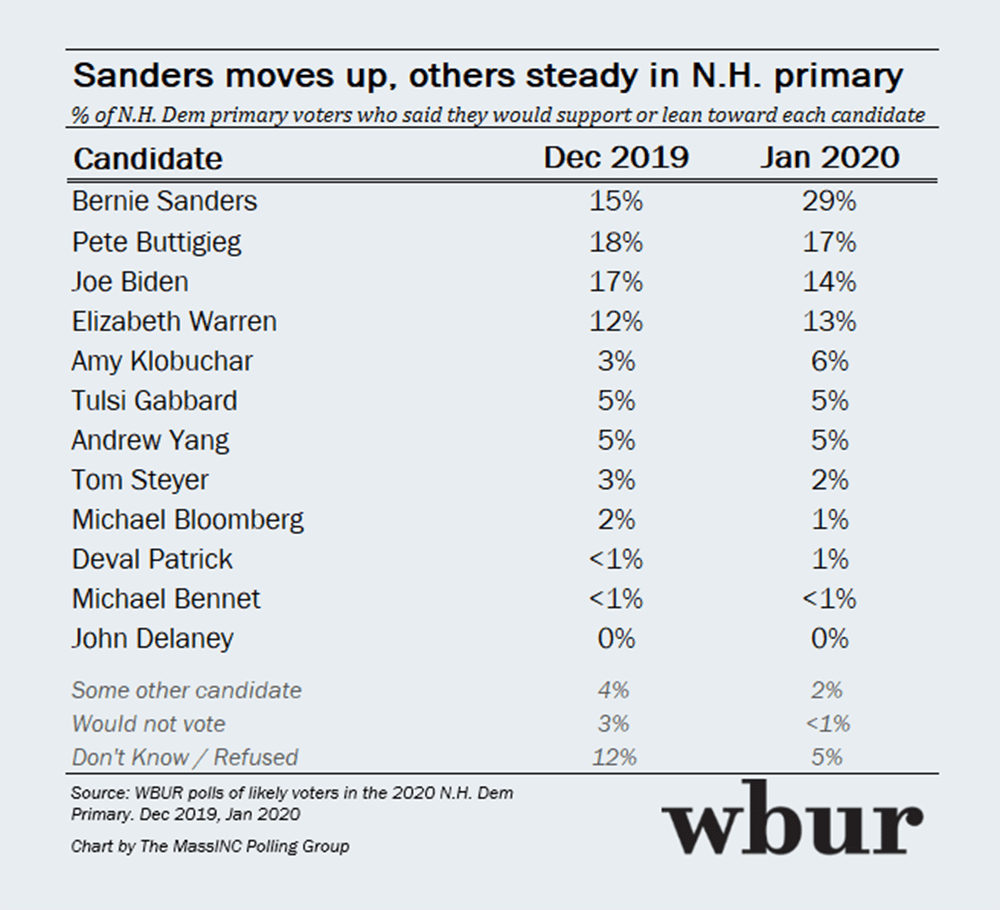 All this tension comes as Sanders is pulling away in New Hampshire, according to the latest WBUR poll.
But the poll also provides a bit of insight in some gender and age divides in some candidates' support. For example, while overall 60% of Democratic voters in the state view Warren favorably and 29% unfavorably, among male Democratic voters only 53% view Warren favorably and her unfavorables jump to 40%.
And while former Vice President Joe Biden's overall favorability is at 57% and unfavorability at 32%, his favorability rating drops to 50% and his unfavorability rises to 41% for polled voters age 44 and under.
There's also some not-so-great news for Deval Patrick. Nearly 1 in 8 of those polled had never heard of the former Massachusetts governor.
3 More Things:
— Watchdog group files FEC complaint against Trahan: The Campaign Legal Center claims Rep. Lori Trahan "knowingly and willfully violated federal law" with a loan made to her campaign in a new filing with the Federal Election Commission, the Eagle-Tribune reports. The filing comes as the House Ethics Committee continues to investigate whether the loan — which Trahan claims she legally made to her own campaign — actually came from her husband, which would violate campaign finance rules. Trahan's spokesman said the new filing "recycles old allegations, while ignoring the law and the facts."
— Kennedy writes Trump demanding answers on Puerto Rico crisis: Rep. Joe Kennedy called on the Trump administration to take immediate action to aid recovery efforts in Puerto Rico. The U.S. territory was rocked by earthquakes this month, just three years after Hurricane Maria devastated the island. In a letter to Trump, Kennedy called for a halt to policies imposing new restrictions on aid to Puerto Rico; reimbursement of national security funding designated for the territory that was redirected to build the U.S.-Mexico border wall; and a justification for of disaster aid being withheld. "For decades, the people of Puerto Rico have been deemed second-class citizens by our government," Kennedy wrote. "That must end today."
— Markey files bill to protect community television: Sen. Ed Markey introduced a bill to reverse an FCC rule that allows cable companies to reduce resources they provide to local municipalities and local government television channels. The rule allows cable companies to deduct the value of in-kind contributions it makes to community TV from the amount the companies are contractually obliged to provide to local community schools, public safety programs and other educational projects. "In the current era of media globalization and consolidation, it is more important than ever that we stand up for the platforms that lift up small and local voices," Markey said in a statement.
---
ON MY RADAR
Who Plays by the Rules? Senators Mitch McConnell and Chuck Schumer provide a revealing look at today's rubber-and-glue politics. (The Atlantic)
Black women's hair is political. Now Ayanna Pressley's baldness is, too. (Washington Post)
The House Democrat Taking On Silicon Valley: Practically everybody in Washington is mad at Amazon, Apple, Facebook and Google. David Cicilline might actually do something about it. (Politico Magazine)
---
WHERE'S WARREN?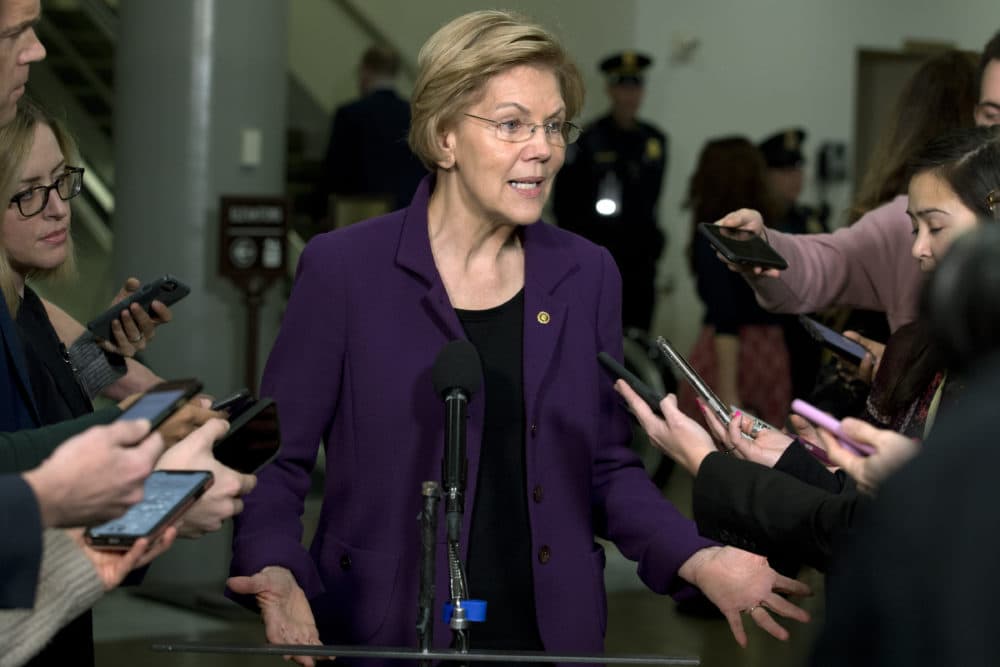 Warren has spent most of the week in the week in the Senate chamber on Capitol Hill for the impeachment trial.
But when it recesses for the weekend Saturday, Warren heads to Iowa.
She'll hold town hall events in Burlington, Muscatine, Davenport and Cedar Rapids. But her campaign notes the schedule can change if the impeachment proceedings in Washington do.
She'll be back in Washington Monday as the impeachment trial continues.
---
QUOTE OF THE WEEK
"I think [Trump's] too erratic. So, if it's just Mr. Trump and a Democrat, I'd have to swallow hard for the two most liberal [Warren and Sanders], but I think I probably could work my way to voting for the Democrat."
— Former Mass. Gov. Bill Weld on how he'll vote if his long-shot GOP primary challenge to Trump is unsuccessful.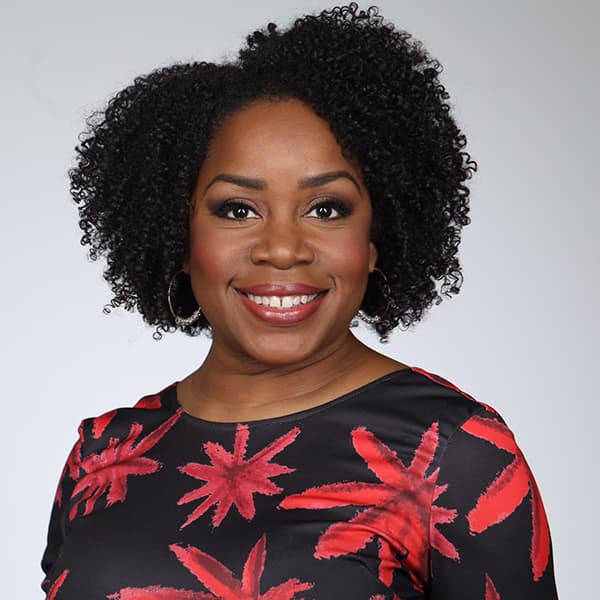 Kimberly Atkins Stohr Senior News Correspondent
Kimberly Atkins was a senior news correspondent for WBUR, covering national political news from Washington, D.C., with a New England focus.