Pension System Probes Double Dipping By Ex-Boston Official Who Took Bribe
On a Friday in August 2016, John Lynch retired from Boston's Department of Neighborhood Development with a pension he had earned over 39 years in city government.
The following Monday, Lynch reported for his first day of work as assistant director of real estate at Boston's Economic Development Industrial Corporation (EDIC), where his starting salary was $125,000.
Now, the Boston Retirement System is probing whether Lynch — who was sentenced to 40 months in prison last week for bribery and tax fraud — may have improperly double dipped when he collected a salary and pension at the same time.
"Whether or not Mr. Lynch over-earned will be part of our hearing," said Timothy Smyth, executive officer of the Retirement System, referring to a future meeting at which the five-member Boston Retirement Board will decide the fate of Lynch's pension. No date is set.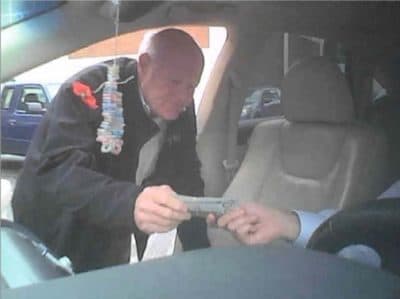 The review of Lynch's simultaneous pension and salary payments adds another layer to the fallout from his federal corruption case. WBUR previously reported that Lynch has already collected more than $200,000 in retirement benefits but may be forced to forfeit some or all of that money — plus future benefits — because of his conviction.
State law allows a worker such as Lynch to collect a pension from a former public sector job while working a new one, but only under strict limitations. The new job must not exceed 960 hours per year, which amounts to a half-time position. And in the first year after retirement, a worker cannot combine a pension with the new job's salary to earn more than he would have made in the old job. In subsequent years, a worker can earn $15,000 more than he would have made in the old job by combining the new job with a pension.
Lynch's new job at the EDIC was full time and, according to payroll and email records, paid more than his old job in the Neighborhood Development department.
Lynch's hours and income during his three-year tenure at the Economic Development Industrial Corporation might be clear violations of state law but for one twist: The EDIC is not a conventional city agency but rather a quasi-public agency. It merged in 1993 with what is now known as the Boston Planning and Development Agency, which is more independent than most municipal bodies but still accepts city funds.
Smyth said the Retirement System has not determined whether Lynch, as an employee of the EDIC, was bound by the same restrictions placed on workers who retire from one public sector job and take another.
Lynch's attorney, Hank Brennan, did not respond to a request for comment.
John Parsons, executive director of the state's Public Employee Retirement Administration Commission, said a person in Lynch's position at a quasi-public agency probably is subject to the state law's limits on hours and earnings.
"If it's a publicly created entity with agency-type powers, then it's likely to be under the law," he said.
Weymouth attorney Gregory Galvin, who specializes in pension law, added that Boston's EDIC "sounds like it's a public employer."
Lynch resigned from the EDIC last August, with charges imminent. He continued to receive pension payments while his case progressed. He will begin serving a prison term in April.
Whatever the Boston Retirement Board decides, Lynch will not collect retirement benefits while incarcerated.