In Iowa, Bill Weld Wants Republicans To Know He's Still Running For President
William Weld, the former Republican governor of Massachusetts, wandered up to a small group of reporters outside a bookstore in Des Moines Sunday afternoon, and smiled.
"Any members of the press want to talk?" he asked, as curious passersby looked on.
Weld has brought his against-all-odds bid to challenge President Trump for the Republican presidential nomination to Iowa, where he hopes to send a message to his fellow Republicans that their party "has some depth."
"I think it's mandatory that someone plant a flag and not let Mr. Trump do whatever he wants," Weld said.
Weld, a moderate Republican who ran for vice president on the 2016 Libertarian ticket, can sound like a lone wolf baying in the political wilderness outside the current Republican Party. He's argued that not everybody in the GOP supports  Trump.
"Part of the reason I'm running is that I do want to have compliance with the constitution and the rule of law, which I think has been left on the scrap heap in the last three years," Weld said.
Weld criticized the Republican-led Senate, which is on the verge of acquitting Trump, who was impeached by the House on charges of abuse of power and obstruction of Congress.
"Republican senators said, 'Yeah, we'll have a trial because we have a duty to under the constitution. We just don't want any evidence,' " Weld said. "That's going to be a hard one to square with the verdict of history. I think that's going to have to be repudiated sooner or later."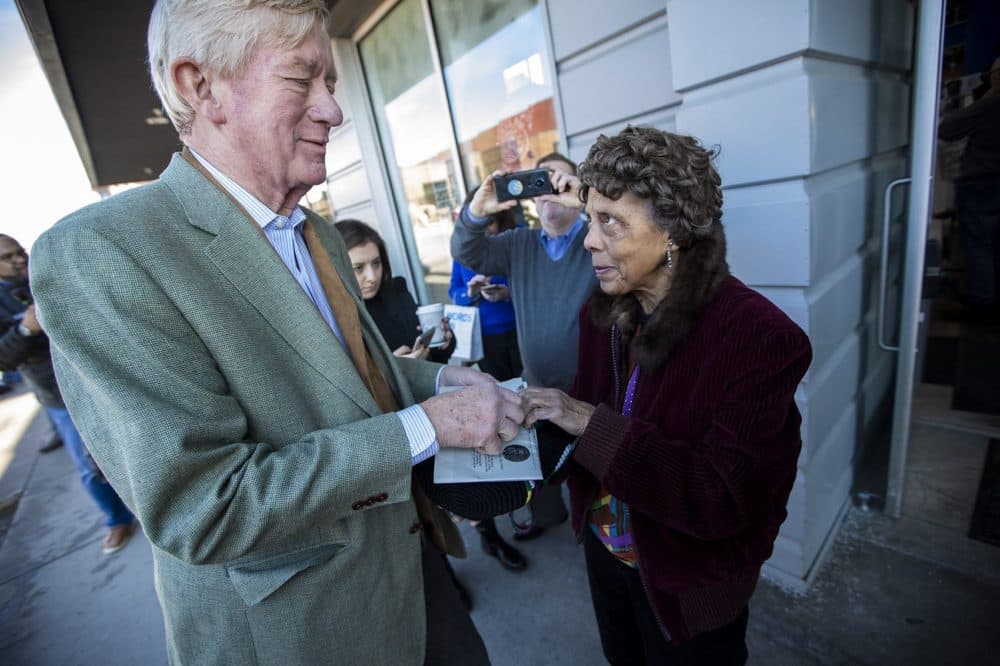 Weld is one of two Republicans challenging Trump for the nomination. Joe Walsh, a former right-wing radio host and former Tea Party congressman is also running for President and is in Iowa this week. It's a steep climb for both of them — akin to attempting to scale Mount Everest in their socks. Trump has very high approval ratings among Republicans, while many state Republican committees have simply canceled their primaries in support of the President.
"There seems to be a lot of this going around," Weld said of his party. "[It is] trying to prevent debate, prevent competition, prevent anybody from talking. And that's exactly what the vote in Washington last Friday was all about," he said, referring to the Senate vote to block any witnesses from testifying in the impeachment trial.
In Des Moines, Weld was accompanied by Jim Leach, a veteran Republican who represented Iowa in Congress from 1977 to 2007, and who said he will caucus Monday night for Weld.
"I've known Bill for over 30 years," Leach said. "He is such a decent person."
Weld's appearance outside the bookstore drew the attention of Bill Taber of Des Moines, who described himself as a "moderate Republican" who welcomed Weld's message.
"Moderate Republicans are a dying breed," Taber said. "We need to be concerned about [Trump].
In 2016, Trump carried Iowa with 52% and enjoys high approval ratings from Iowa Republicans. But Taber isn't one of them, and said he will express his concerns when he caucuses Monday night.
"What I intend to say at my caucus is that Trump is undermining democracy and needs to be removed from office," Taber said. "I don't intend to get a real welcome response to that."