Deval Patrick Outraised Presidential Competitors In Mass. Last Quarter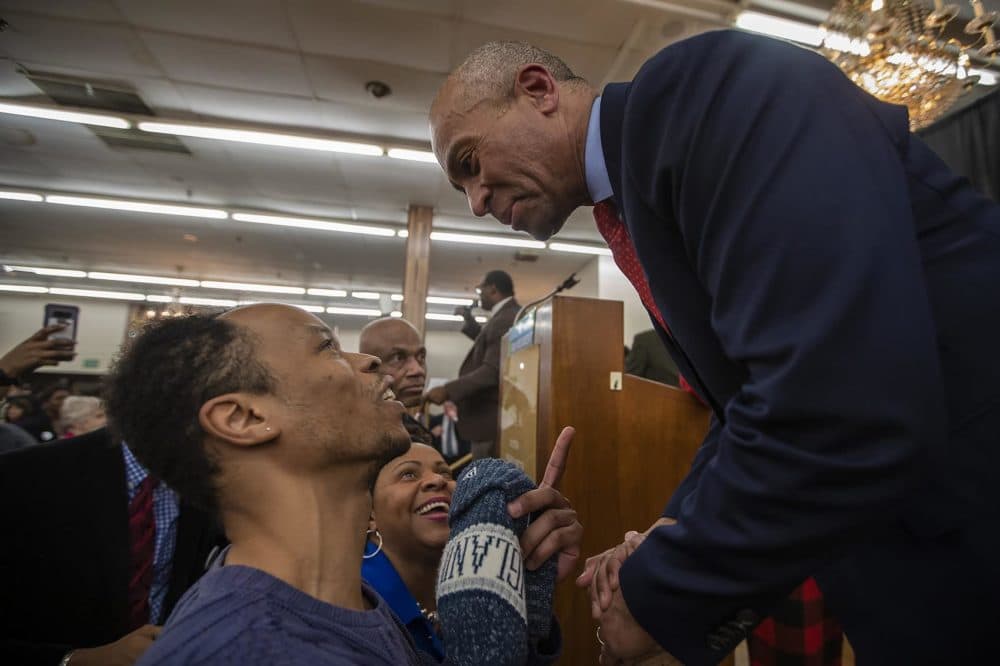 This article is more than 2 years old.
Long-shot presidential candidate Deval Patrick outraised all other candidates in Massachusetts in the final two months of 2019 — a surprising development considering the former Bay State governor's late entry into the campaign.
Patrick raised over $1.1 million from Massachusetts voters, according to a review of Federal Election Commission campaign filings. Patrick raised $2.2 million nationwide in the same six-week period. It marks the first campaign filing period for Patrick, who entered the race in November.
Patrick outraised Massachusetts Sen. Elizabeth Warren in the state, who raised just over $1 million in the final three months of 2019; Warren was the top-raising candidate in Massachusetts in the third quarter of 2019, pulling in just over $960,000 in July, August and September.
Following the two Democratic Massachusetts candidates were former South Bend Mayor Pete Buttigieg, Vermont Sen. Bernie Sanders, and former Vice President Joe Biden, who raised about, $731,000, $664,000, and $567,000 respectively.
Campaigns are required to report itemized data on individual contributions only when they exceed $200 during a campaign cycle. So small-money donors aren't included in this data, and some candidates' donations from Massachusetts are likely higher than the itemized totals.
Sanders' fourth quarter contributions came from more than 21,000 individual donors in Massachusetts — the most of any candidate and a reflection of his robust grassroots support. According to the FEC data, his average Massachusetts donation amounts to just over $31. Warren came in second with more than 18,000 individual contributions and an average donation of just under $58. Patrick's fourth quarter windfall came from just 918 contributions, averaging $1,213 per donor.
"Folks in Massachusetts know Governor Patrick better than anyone, and that's why they are supporting him," Patrick communications director Aleigha Cavalier said in a statement. "Under his leadership, [Massachusetts] was first in the nation in health care, in combating the climate crisis, and in student achievement. That's the kind of record it will take not only to defeat Donald Trump, but to deliver results for the entire country."
While Patrick led in Massachusetts donors in the most recent filing, he's vastly outpaced in fundraising nationally. For example, in the same quarter, Sanders raised $34.5 million dollars overall, while Warren raised $21.2 million.
Patrick's campaign is being bolstered by the "Reason to Believe" political action committee (PAC), which spent hundreds of thousands of dollars on consulting, strategy and software for the campaign prior to Patrick's entry into the race on Nov. 14, according to Open Secrets, which tracks campaign finances. (Independent PACs are barred from coordinating with campaigns, but Patrick was not an active presidential candidate during this time.)
In January, Politico reported the Reason to Believe PAC made a $2 million ad buy in New Hampshire, where the first-in-the-nation primary election will be held on Feb. 11.
In the Republican race, President Trump raised $418,000 from Massachusetts donors in the last three months of 2019; former Massachusetts Gov. Bill Weld raised $38,000.
This article was originally published on February 03, 2020.