Artists Mourn And Remember In Fitchburg Art Museum's 'After Spiritualism'
Two white chairs sit facing each other. Two mirrored panels, mounted on a track between the chairs, glide to a close, forming a single pane of glass. Then, slowly, they open. If you sit on a chair as the panels slide back and forth, you can watch yourself appear and disappear.
"And if there is someone who's sitting across from you, then you go from seeing your own reflection to seeing them, which is a really interesting kind of transformation," says Lisa Crossman, curator at the Fitchburg Art Museum.
Created in 2016, the piece called "To Be" by Boston area sculptor Anne Lilly calls into question the very nature of our existence.
Who are we? How is it possible that we live a few decades before disappearing forever into the ether? And when we die, do we just evaporate, like a whiff of hot breath on a pane of glass? Or do our souls live on?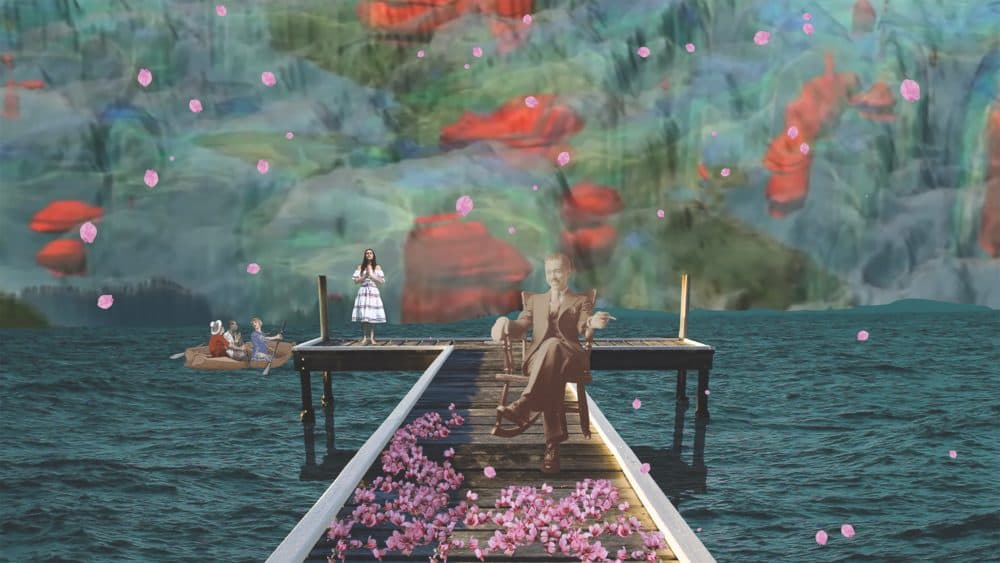 These are the weighty questions in the exhibition "After Spiritualism: Loss and Transcendence in Contemporary Art," opening Feb. 8 at the Fitchburg Art Museum. Featuring the work of 15 artists who grapple with loss, remembrance, and the spiritual connection between the living and dead, the exhibit explores not only the act of mourning but acts of ritual and reverence. Some of the artists practice spiritualism or espritismo, aiming to speak with the dead for guidance and comfort through mediumship and seances — one has had a near-death experience, others seek reconnection through commemoration.
"After Spiritualism" is just the latest example of art exhibits capitalizing on a trendy theme in both art and the world at large. Astrology, according to reports, has become newly-fashionable among millennials along with a revival of the tarot. In times of Trump, Brexit and rapid climate change, people are looking for answers. Locally, several museums are picking up on the theme, including the de Cordova which will offer "Visionary New England" in April and the Fruitlands Museum which will host that same month "Recruiting for Utopia: Print and the Imagination," both examining idealistic thought in New England's history and culture. Spiritualism, it turns out, has deep roots in New England. Tied to reform movements, including the push for the abolition of slavery and for a woman's right to vote, it fits a unique New England predisposition to look ahead while staying rooted in the problems of the here and now, especially in moments of rapid change.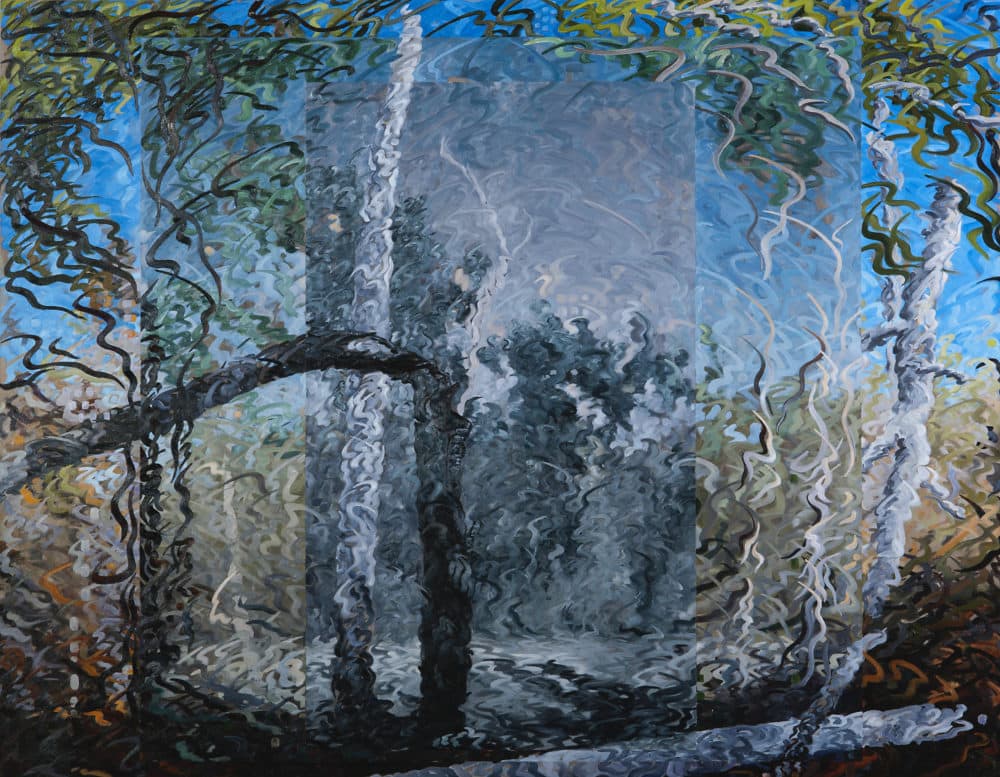 "Right now, there's just a lot of fear and tension in the world," says Crossman. "People's connection to faith is changing. Spiritualism is interesting to a broad swath of people who don't necessarily consider themselves to be of a particular faith. It also is appealing to people of different faiths."
In short, spiritualism and the occult "challenge binaries," according to Crossman. And it is precisely this challenge and the blending of lines between life and death that forms the basis of the work in "After Spiritualism."
Julie K. Gray, a Maine-based interdisciplinary artist, has built a career dedicated to exploring themes such as limbo and mourning. Gray, who herself had a near-death experience after falling downstairs, creates richly embroidered and appliqued photographs of the dead, some shown lying peacefully in the coffin. She also presents a series of still life photographs entitled "Unknown Rituals" picturing altars and memorials to people she has known, both living and dead. Some of the photographs include esoteric elements, such as tarot cards, a ouija board and a Shriners hat. Her work, with its alluring colors and floral appliques, provides a way to talk about death.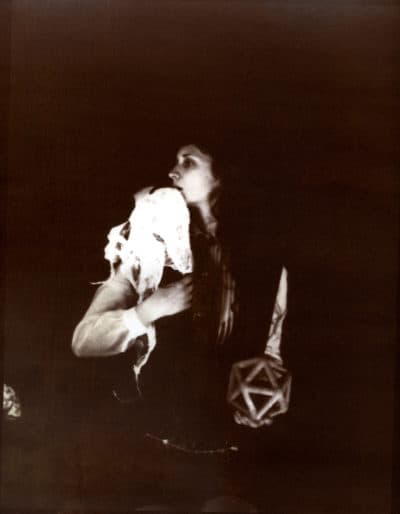 "It's super taboo to talk about death and death experiences and mourning in North American culture," says Gray. "It's really sad that an image of somebody in a casket can be so shocking nowadays. I really want to lure people into the base image by being flashy with applique and embroidery, kind of like seduce the viewer. I really want people to be able to talk about death and it not be taboo."
Boston artist Maria Molteni's "Ectoplasm Selfies: DIY Ritual in the Age of Social Mediums" is a sly play on words referencing her interest and participation in the spiritualist community. Her gold-toned albumen prints created with Lacey Prpić Hedtke feature human subjects with "ectoplasm," a malleable white substance made of flour, egg-white and netting, which is believed to physically manifest one's own spirit.
"For some, [the selfie] aids in the process of personal exploration or soul searching," says Molteni in the accompanying wall text. "Collectively we may conjure something likened to spiritualism's infinite intelligence, digging deeper than face value and reaching higher than the individual."
Puerto Rican artist Imna Arroyo presents "Ancestros del Pasaje" (Ancestors of the Passage), an espiritist altar consisting of six large prints above a table containing artifacts. For Arroyo, art-making is a form of ritual healing that can help to heal the wounds wrought by slavery. Artists Juan Sanchez and Keith Morris Washington also present work seeking to transform painful events of the past into something more transcendent. Sanchez's "Cries and Whispers" is a series of large paintings created as a tribute to social activists killed in the pursuit of social justice, including Martin Luther King, Gandhi, Che Guevara and Rosa Luxemburg. Washington, an associate professor at MassArt, presents an affecting series of paintings from his lynching series. We see pleasant landscapes that are almost idyllic until we understand exactly what happened there. Suddenly, pleasant vistas dissolve into horror.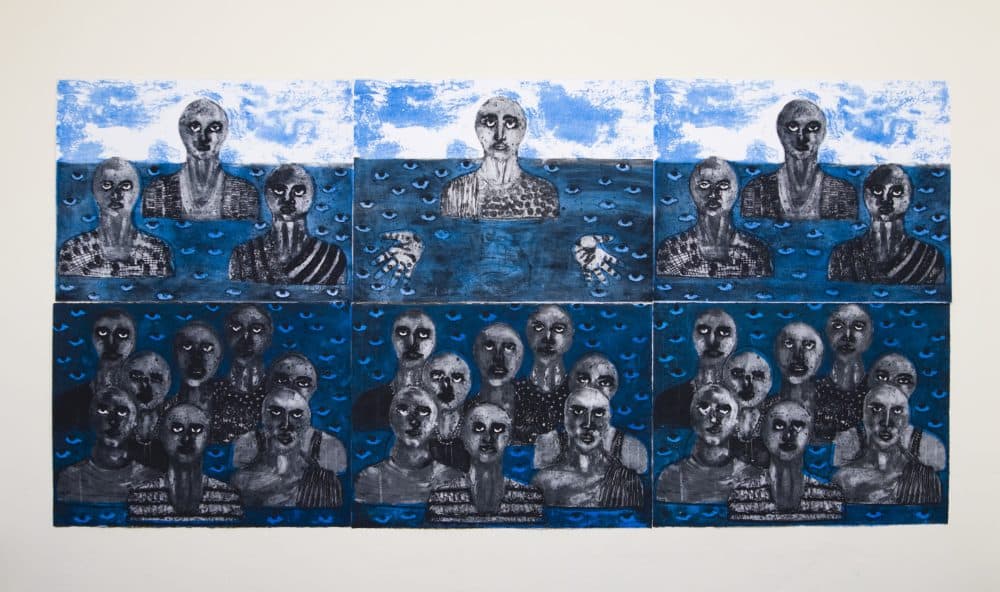 According to Crossman, people often don't want to deal with the "residue" of an act as barbaric and savage as lynching. By traveling to places where people have been brutally attacked, mutilated and killed, for no other reason than who they happened to be, Washington has laid bare this savagery but, says Crossman, "in a respectful way."
"It's not re-traumatizing through the reproduction of an image," she says.
Although the subjects examined in "After Spiritualism" vary, the overarching theme underscores the common search for connection and enduring meaning even while life feels transitory and loss is part of the game.
"I think it's a cry out during these times because we're really not attending traditional churches," says Gray, herself a practicing spiritualist of spiritualism and esotericism. "A lot of churches are closing. Attendance is low. So we're trying to find something that makes more sense to us as individuals."
---
"After Spiritualism: Loss and Transcendence in Contemporary Art" runs Feb. 8 to June 7 at the Fitchburg Art Museum.