On Eve Of First-In-The-Nation Primary, Trump Packs New Hampshire Arena
Resume
It was cold and damp in downtown Manchester on Monday, but the weather didn't stop people from lining up along several city blocks and waiting outside for hours to see President Trump speak — some even arrived the day before.
Laura Colquhoun, of Nashua, says she didn't vote for Trump in 2016, but she's come to believe in his policies, like supporting veterans and cracking down on illegal immigration.
"Help the soldiers who have stood by us, who have protected us," she said, standing at a table of Trump memorabilia before heading into the arena. "We're letting them sleep on streets, and meantime we're letting thousands come in over the border — not fair! So yes, I am a Trump supporter."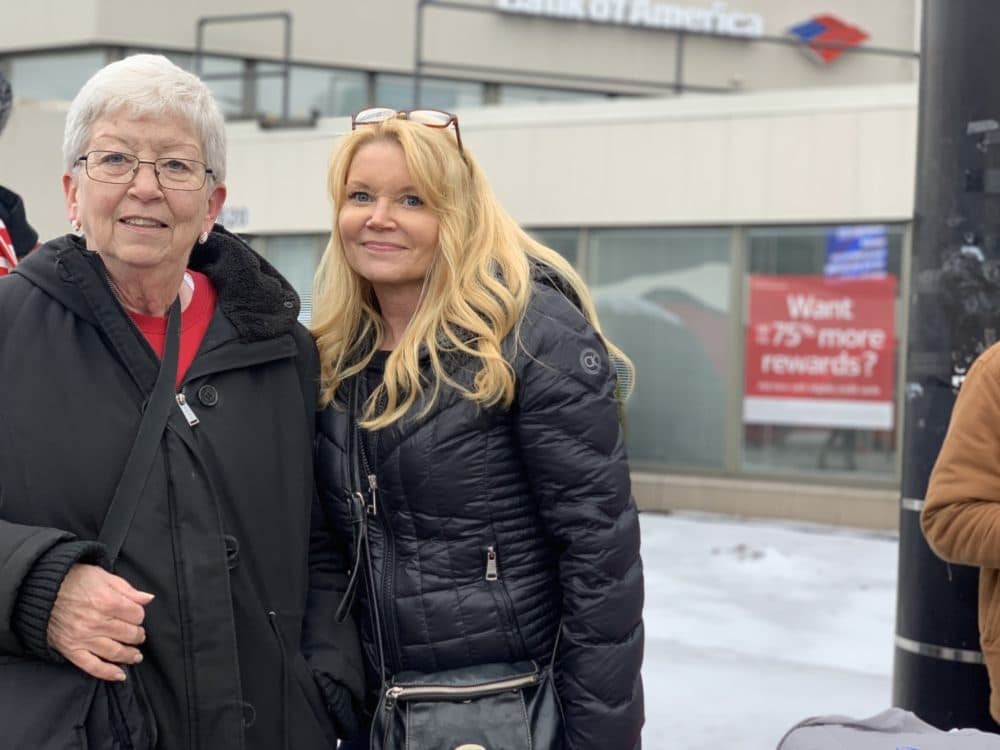 Inside the Southern New Hampshire University arena, Charlie Watson of Brockton, Massachusetts was one of the few people of color at the rally.
Wearing a bright red "Deplorable Lives Matter" T-shirt, Watson said he believes in Trump's "America first" message.
"We were kind of stagnant there for years with the negative talk, and he came in, sounded like Reagan: 'It's morning in America again.' 'Make America great again.' That mentality has now [become a reality]."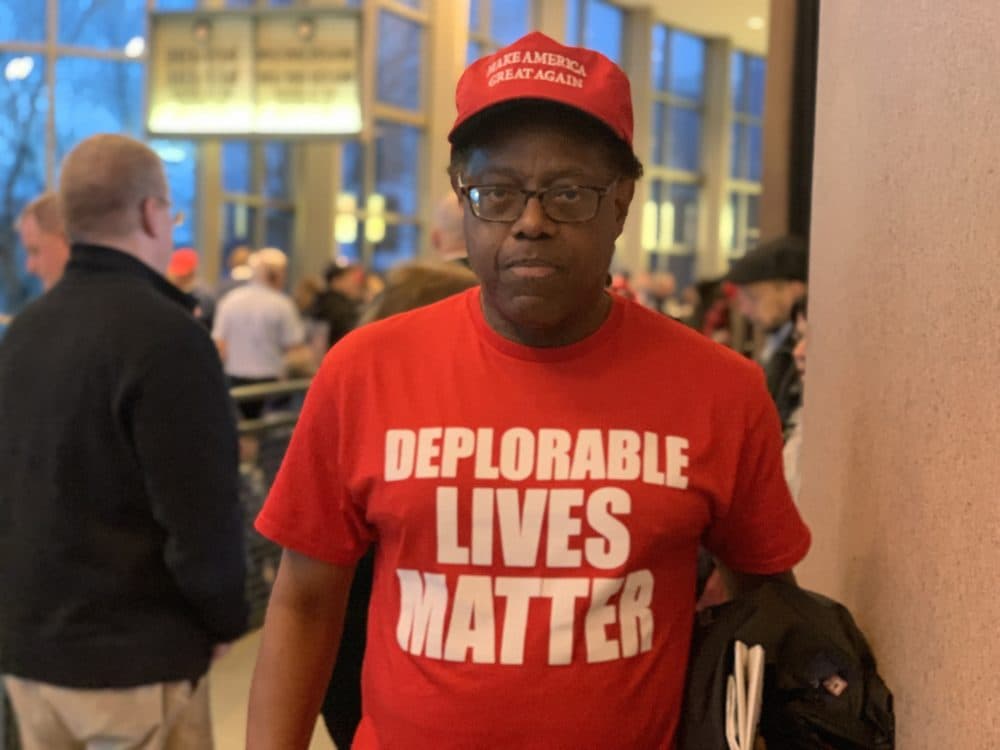 In his speech, Trump hit on familiar themes, from immigration to the economy — with detours to criticize wind turbines and to say Barack Obama should have been impeached over health care reform.
"Remember President Obama? You can keep your plan, you could keep 28 times, you could keep your doctor. That didn't turn out very good," Trump said. "We should impeach him for that. Why are we impeaching him 28 times? You can keep your doctor. We should impeach President Obama."
Trump never mentioned his Republican opponents. Instead, he took aim at the Democrats running in Tuesday's primary.
"Democrats: The party of high taxes, high crime, open borders, late term abortion, socialism and blatant corruption," Trump said. "The Republican Party is the party of the American worker, the American family, the American dream and the late, great Abraham Lincoln."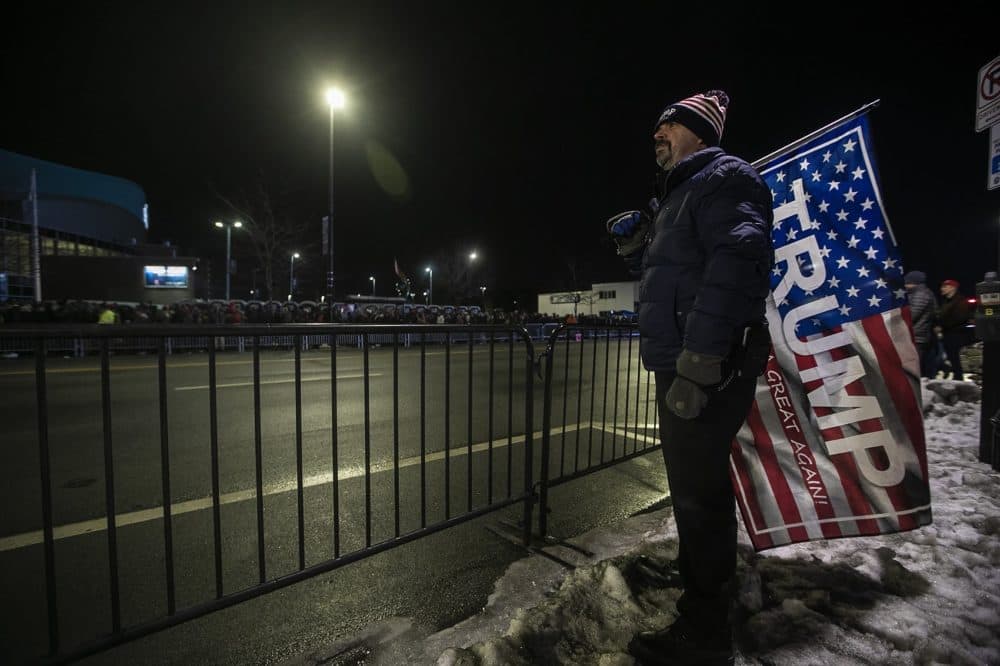 Outside, a small group of protesters held signs to push back on the president's event, a few arguing with his supporters.
Brian Nolen, a retired business owner from Bedford, New Hampshire, held a huge photoshopped image of Trump cuddling with Russian President Vladimir Putin.
Nolen said he wanted to send a message to the people going to the rally: "Just put a little, little kernel of doubt in their minds about [Trump] and his loyalty to the country. And I think it's just important to counter-protest, to let people know that not everybody is with them. They see [8,000] or 9,000 of them and not many of us. But that's OK. We need to speak our minds too."
Nolen says he's a centrist Democrat, and he'll flip a coin to decide between Joe Biden and Amy Klobuchar.
Trump lost New Hampshire to Hillary Clinton in 2016, but his supporters say they plan to flip the state this year.