'Dim Sum Brunch': Hundreds Gather To Support Boston's Chinatown Amid Coronavirus Fears
The China Pearl restaurant in Boston's Chinatown was packed with nearly 400 people having a "dim sum brunch" in an effort to allay fears about the coronavirus. Nearby businesses have been seeing a decline in patronage, but you wouldn't have known that at Saturday's gathering.
"We're going to educate others on what to do to be safe," said Nina Liang, president of the Quincy City Council. The brunch was a joint effort between the two cities, Quincy and Boston.
"Being racist is not the way," she said, alluding to prejudice toward Asians and Asian Americans that has manifested after the virus was discovered in Wuhan, China late last year. "Taking caution, like washing your hands and covering your mouth — that's the way to do it. Coming out together, supporting one another. That's the way that we can get through this."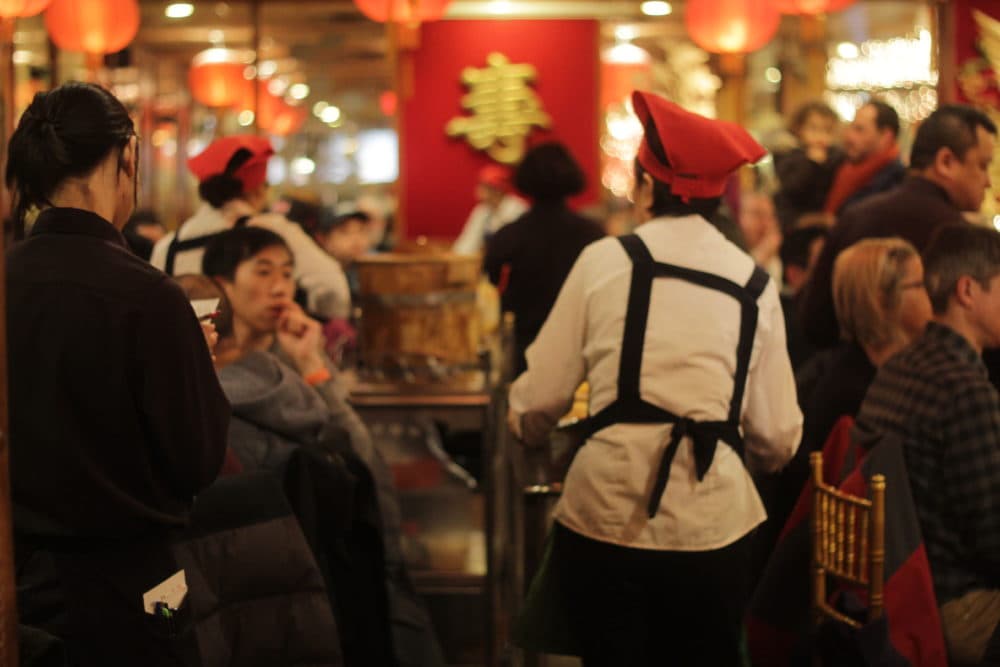 Liang said in Quincy, where her parents own a couple of restaurants, it appears it's business as usual for Asian eateries. But other areas, like Brookline, are feeling a negative impact.
"We just had our Lunar New Year celebration and we saw a 50% drop in attendance," said Raul Fernandez, a member of the town's Select Board. "We've seen how chilling fear can be and how it keeps us from one another."
Boston City Councilor Michelle Wu was galvanized to organize the dim sum brunch after seeing how Chinatown business owners were being impacted. She wasn't expecting many to come Saturday because she understands that people are scared and trying to protect themselves.
"But we know there's no more likelihood of someone coming into contact with coronavirus in Chinatown than any other community in the state," Wu said.  "Chinatown has been really devastated by people being afraid and may be acting out of misinformation."
Families and strangers dined together in the spirit of sticking together. Jenny Tam came with her family and shared a table with people she didn't know.
"Actually wasn't expecting this turnout, so I'm really surprised and heartened that so many people have come out to support Chinatown businesses," she said. "I'm here to show everybody that it's safe and to eat delicious food because it's wonderful."
People spent $10 to attend. They were given food and a list of all the nearby restaurants, bakeries, and bubble tea places to encourage attendees to explore other businesses after the brunch.
Jackie Church gives food and culture tours of Chinatown and believes business will be reinvigorated after the "dim sum brunch."
"I'm a member of this community, I live here, I've done this business for years, so I feel very personally invested in making sure that Chinatown survives yet another challenge," she said. "We got through the [Chinese] Exclusion Acts, the community is very resilient and very persistent, so I'm sanguine about the ability to survive this as well."
Wu and Liang said they plan to organize the "dim sum brunch" in other nearby towns in the next few weeks.