Boston's Coronavirus Fund Hits $20 Million Goal, Will Keep Fundraising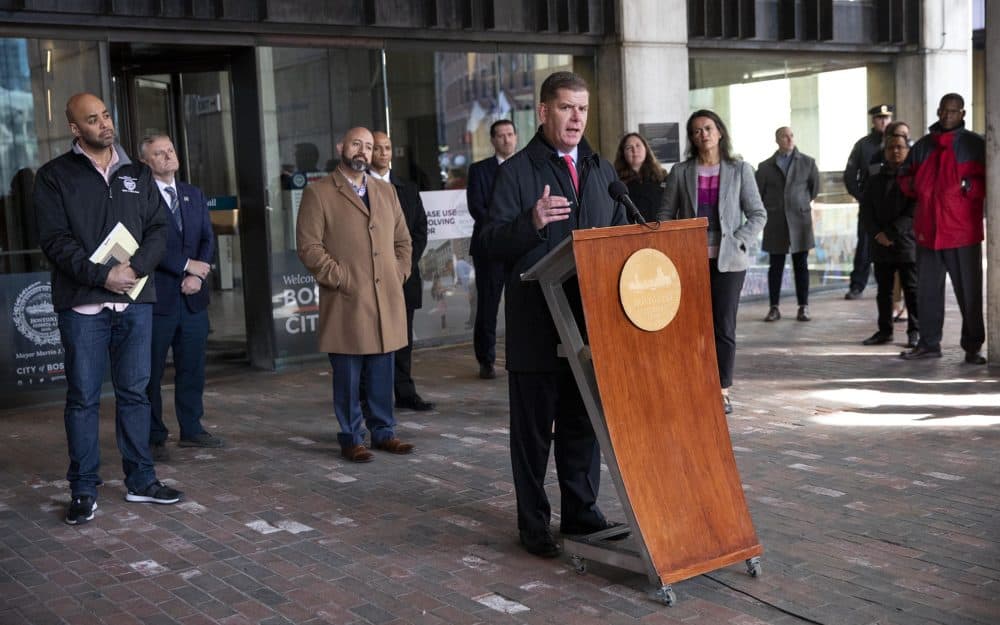 This article is more than 2 years old.
UPDATE: The Boston Resiliency Fund has raised $20 million in donations, Mayor Marty Walsh announced March 25. Fundraising will continue to help pay for a variety of services, including laptops for students now studying at home, meals for critically ill people and facilities to help serve ill people who are homeless.  
"One hundred percent of the money will continue to serve these kinds of needs," Walsh said Wednesday.  
Boston Mayor Marty Walsh announced Monday, March 16 the creation of a new fund for families in need of assistance due to the far-reaching disruption linked to the coronavirus. Called the Boston Resiliency Fund, the new initiative has a $20 million funding target, and many local corporations have already donated to kickstart the effort.
The fund will help coordinate efforts through existing nonprofits, with a focus on providing assistance to feed children and seniors, bolstering efforts at remote learning for students, and offering childcare support for health care workers and first responders.
"I'm hoping we don't have to tap into this fund," Walsh said in a Radio Boston interview following the press conference.
The public-private fund was the idea of Boston-based Vertex CEO Jeff Leiden. He called Walsh last week and was joined in the effort by Boston fundraiser Jack Conners and Partners Healthcare.
Leiden told WBUR that the fund has already raised half its initial goal of $20 million.
"We may agree or disagree about lots of things, but when crisis comes, this community pulls together like no other community I've ever seen," said Leiden. "It's something really special about Boston."
The move comes as families face massive social and economic uncertainty from the coronavirus outbreak, with schools shut down until April, restaurants and bars closing for everything but takeout and delivery, and events from concerts to church services canceled for the foreseeable future.
In addition to the fund, Walsh suspended all regular activity on construction projects until further notice. He said the decision was out of "an abundance of caution," noting Boston is in the middle of a building boom and that as a former union official, he understands the hardship workers will endure.
All construction sites must be secure by March 23, and only "skeleton crews" can remain after that. Emergency street repairs and utility work will be permitted
Walsh announced further measures aimed at stemming the outbreak:
All Boston Public Library branches will close Monday at 6 p.m. Walsh said BPS is suspending automatic renewals and allowing people to keep books and other materials checked out for 15 weeks. The library system is also waiving late fees, extending the card renewal period and expanding access to online services like e-books and movies.
Boston Centers for Youth and Families has closed all its community center pools, gyms and fitness centers, effective Monday. The city says all BCYF programming will be suspended by Wednesday.
This article was originally published on March 16, 2020.