From Dirt To Doorstep, During Coronavirus Crisis Massachusetts Farms Find Ways To Come To You
Play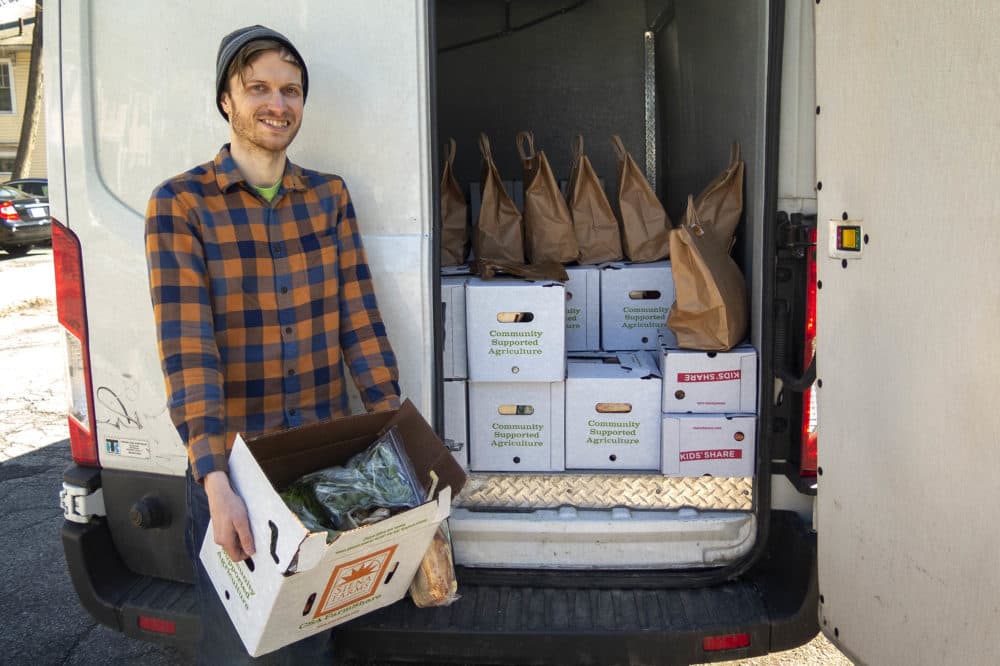 This article is more than 2 years old.
Before the coronavirus hit, I shopped for local products and veggies at the Wayland Winter Farmers Market and picked up my CSA – or Community Supported Agriculture share – at a drop-off location.
Now the farm is coming to me.
How and where we get fresh food has shifted dramatically during the coronavirus outbreak. According to a new research from the grocery e-commerce strategy company Brick Meets Click, nearly one-third of U.S. households bought food online over the past month and online order volume has increased 193% compared to August.
On a recent Thursday morning a nondescript white van pulled up and parked in front of my house. Andrew Lacasse climbed out and said good morning. He works for What Cheer Fruit & Produce, a company that makes deliveries for small, organic New England growers.
There were about 70 boxes from Siena Farms inside the van. Lacasse had already stopped at 20 houses. The "Spring Pantry Share" included fava bean shoots, cilantro, winter squash, shitake mushrooms and potatoes, along with some locally-sourced apples, honey and artisan bread.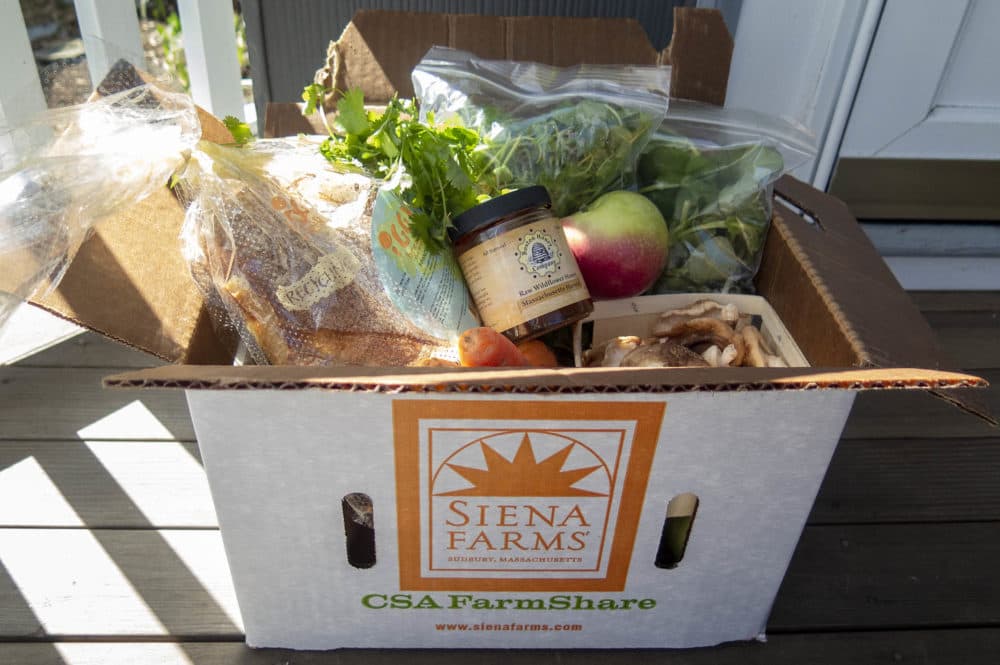 Before running up my front steps to leave the box on my porch, Lacasse told me he's been adjusting to our new normal. "Trying to stay as far away from people as possible," he said.
Many indoor farmers markets, which along with outdoor ones are deemed essential businesses by the state, have closed to support social distancing protocols. Now nimble Massachusetts farmers are pivoting with alternative ways to meet customer demand for local products.
"It's a learning curve here for all of us," Chris Kurth concurred. My box came from his 50-acre operation in Sudbury and Concord. As surreal as it might sound in the midst of so much upheaval, Kurth said his 15-year-old farm is benefiting from the spike in demand for home delivery – especially for the CSA shares.
"We're seeing our membership double weekly right now, we're establishing what our cap might need to be, we're bringing on new staff," Kurth explained by phone, "and we are getting ready for the season – in a lot of normal ways, and in some accelerated ways."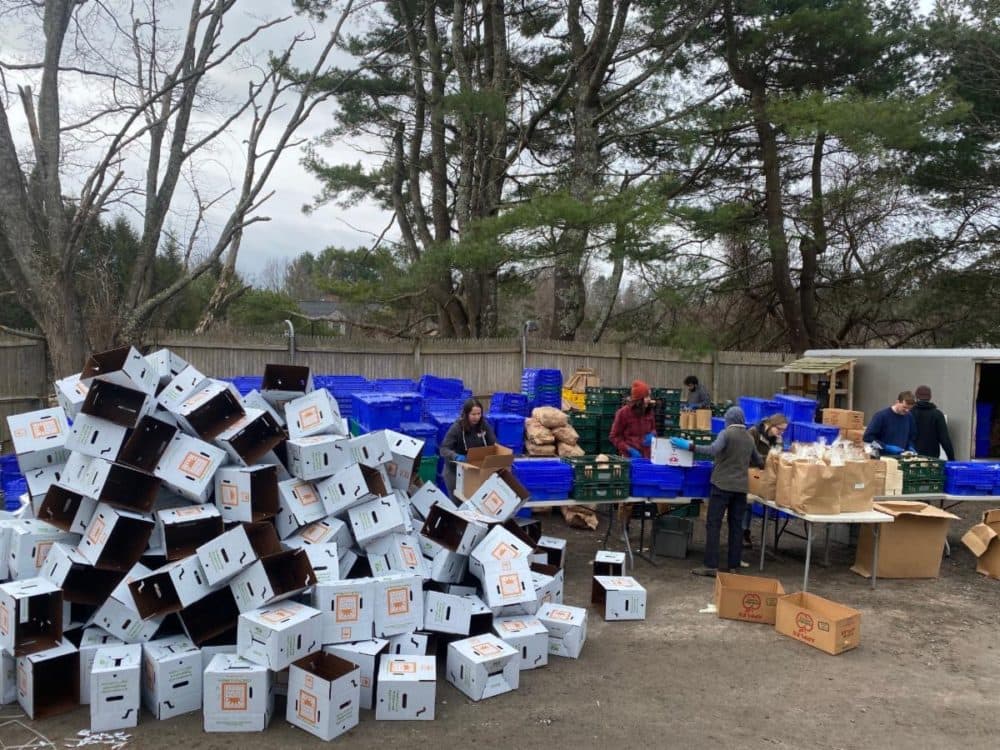 CSA shares work like subscriptions for fresh food. They enable farmers to make money upfront which can boost their bottom lines when times are lean. Kurth can't sell to the restaurants he supplied pre-pandemic because of widespread closures – including of his wife chef Ana Sortun's popular spots Oleana, Sarma and Sofra. Siena Farms also has a stall at the Boston Public Market, which is shuttered for indoor sales and is piloting outdoor pop-ups.
Kurth is grateful his operation was set up for home delivery before panic-buying decimated grocery stores and ordering groceries online skyrocketed. Livestock farmer Kate Stillman feels the same way.
"It's saving my farm's life right now," she told me by phone, "It was a small blessing that we had already started doing home delivery this winter."
When Stillman heard about some of her winter farmers markets being canceled she panicked and sent a newsletter to her customers saying she's not disappearing. More than half of her 400 regular customers (she called them diehard) responded to her offer for home delivery. Some even coordinated orders of her fresh pork, beef, chicken, sausages and potpies with neighbors so Stillman can drop products off in one centralized area.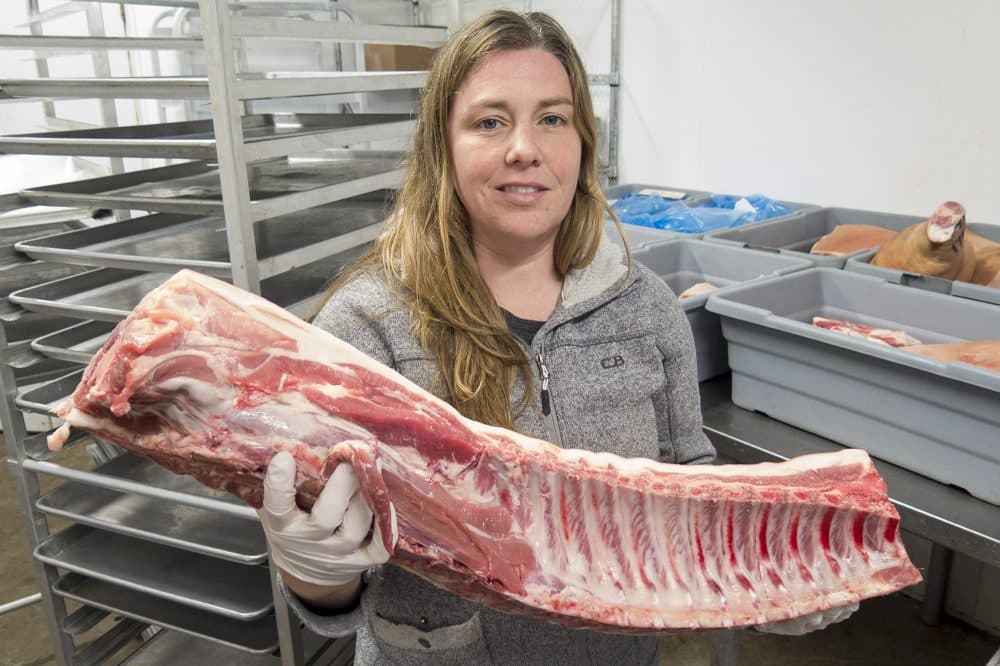 Stillman is still transitioning to the new system and makes a lot of the city deliveries herself. She's expanded her weekly menu and is supporting other producers by offering cheeses from local farms, breads, maple syrup and seafood from Red's Best which used to service a lot of now-closed restaurants.
Stillman's Worcester butcher shop remains open, and she's been showing up at outdoor markets on the weekends, including Bow Market in Somerville which hosted a "Safe Supply Outdoor Grocery Store." (Shoppers are asked to register ahead of time, and remain a safe distance apart while shopping.)
"This whole situation has changed the way all farms are doing business," Stillman said, mostly because farmers markets are widely viewed as social gathering places, "but that's been our model of selling."
The winter market season is ending and Stillman feels like summer is up in the air because no one knows how long the contagion will last.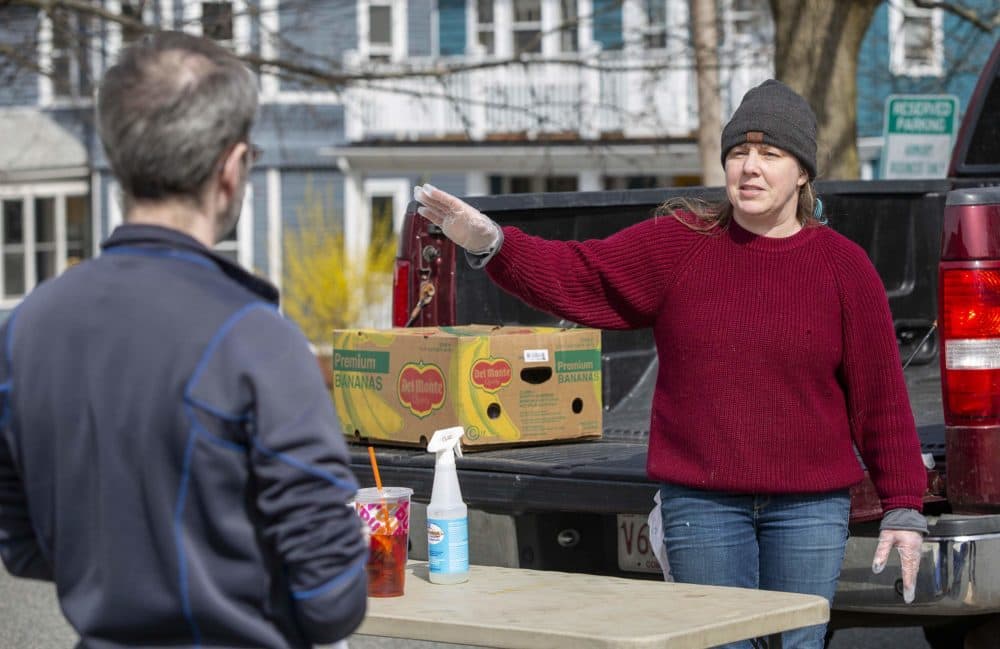 "Week to week, we don't know the future," Stillman said, "Somehow we manage to get through every crisis, but this is the biggest crisis I've lived through in my entire life." She worries about her staff and her 67-year-old mother who also works on the farm. Stillman's kids are home from school but she's putting them to work shoveling stalls and labeling delivery packages.
Ordinary life on the animal farm continues, with baby chicks arriving and mixed heritage pigs to breed. Stillman feels for other farmers who are scrambling to develop alternative selling systems.
"Well it's making us crazy, like everybody," Michael Docter of Winter Moon Roots said of the situation, "nobody's sure where we're all going — but we're doing our best to get good food out to folks where we can."
For the rugged root farmer that's meant selling organic carrots, beets, parsnips and radishes to customers from the back of a truck in Somerville. On a sunny Saturday Docter and his two sons also gave away seven-pound bags of their winter surplus to people who've been laid off. The rest is being donated to food banks.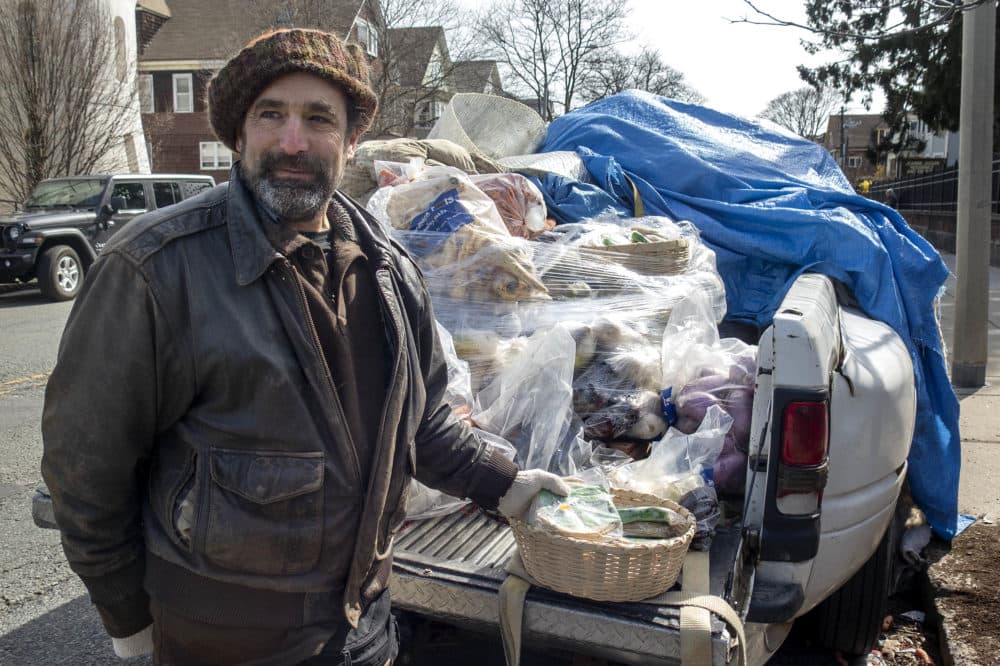 Before the outbreak his farm in Hadley supplied a dozen restaurants with veggies and tortillas made with organic corn grown by his neighbor. Over the course of a winter Docter sells tons of vegetables at indoor winter farmers markets, including at the Armory across the street from where he parked. Now he's going digital with a group of farmers who started an online ordering service called Mass Food Delivery.
It's times like these when Docter says you can't be afraid to jump in the pond and innovate overnight.
"You know it's going to take awhile," he mused, "now you have farms driving around in giant box trucks making door-to-door delivery. I doesn't make complete sense yet, but over time hopefully folks will figure it out."
Even with that optimistic spirit, Docter worries about shuttered restaurants and businesses, suffering families and other farmers.
"We're unique because we have a lot of product now, everyone else has seeds going into the ground for next season," he said, adding, "I will too."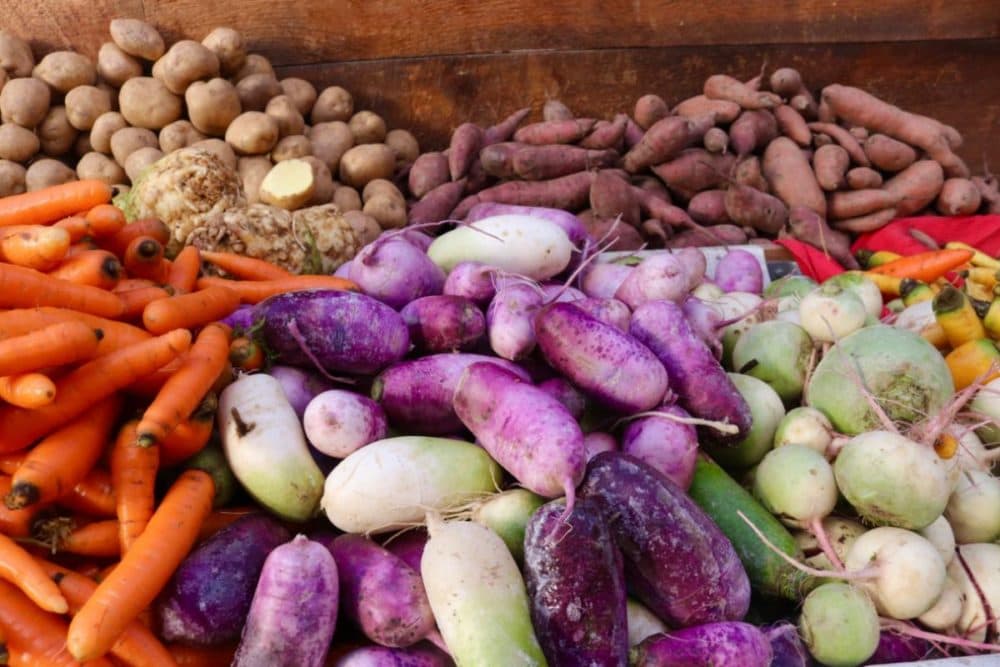 A new report from the National Sustainable Agriculture Coalition estimates local and regional food systems could lose up to $1.3 billion dollars between March and May because of widespread COVID-19 disruptions. The American Farmland Trust (the organization behind the "No Farms No Food" campaign) has launched a relief fund to help farmers impacted by the crisis. Among their concerns are migrant labor shortages resulting from travel restrictions.
Seasonal workers from Jamaica have been delayed at Four Star Farms in Northfield where Liz L'Etoile's family grows hops. They were scheduled to arrive April 1st. "Without the skilled labor that these long-time employees provide, we are unsure how we would get the crop going this year," she explained via email.
Four Star Farms supplied fresh, local hops to Massachusetts breweries which have also been forced to close their taprooms. "Many of our friends in the industry will suffer financially during this period," she said.
But L'Etoile's farm is also experiencing an unexpected turnaround because of the coronavirus. Four Star Farms has been growing and milling local wheat, but because orders were slow the family made plans to phase out that part of their operation. The shutdown of restaurants and bakeries initially made it worse, and the family questioned if it made financial sense to mill at all.
Then the farm was hit with a flurry of calls. Home bakers couldn't find flour at markets and grocery stores. "So we decided to open up our orders to all customers again," L'Etoile said. "The end of April is supposed to be our final milling cycle, but we're talking about continuing past that date to help customers get through this difficult time."
Pioneer Valley farmers are helping each other too, L'Etoile said, by partnering to get local produce and pantry goods to customers at home.
Jennifer Hashley of Codman Community Farms in Lincoln has been observing the surge of alliances between growers and artisan food producers. She also directs the New Entry Sustainable Farming Project at Tufts University.
"Folks don't want to be doing things inefficiently," Hashley said, "so it is fostering a sense of collaboration and willingness to mobilize shared resources – which is a good thing."
She advises Codman, where her husband Pete Lowy is farm manager, and said sales have been "through the roof" — not online, but at their brick-and-mortar shop. "And we have been scrambling to bring in as much local product as possible to keep our farm store well-stocked and to support other local producers who may have lost their restaurant (and) institutional accounts," she said.
Hashley wonders how the new shopping dynamics will play out in the long-term. With all the creative home delivery options she asked, "will people resume shopping at local farmers markets, farm stands, or other local businesses when all this is over?"
Even with the daily onslaught of uncertainty Chris Kurth of Siena Farms believes the farm community will stay light on its feet and support each other. "It's a time for patience and determination, and I guess faith and hope that we'll get through this," he said, "and learn some lessons along the way."
This segment aired on March 31, 2020.