The MFA Will Furlough More Than 300 Employees Through June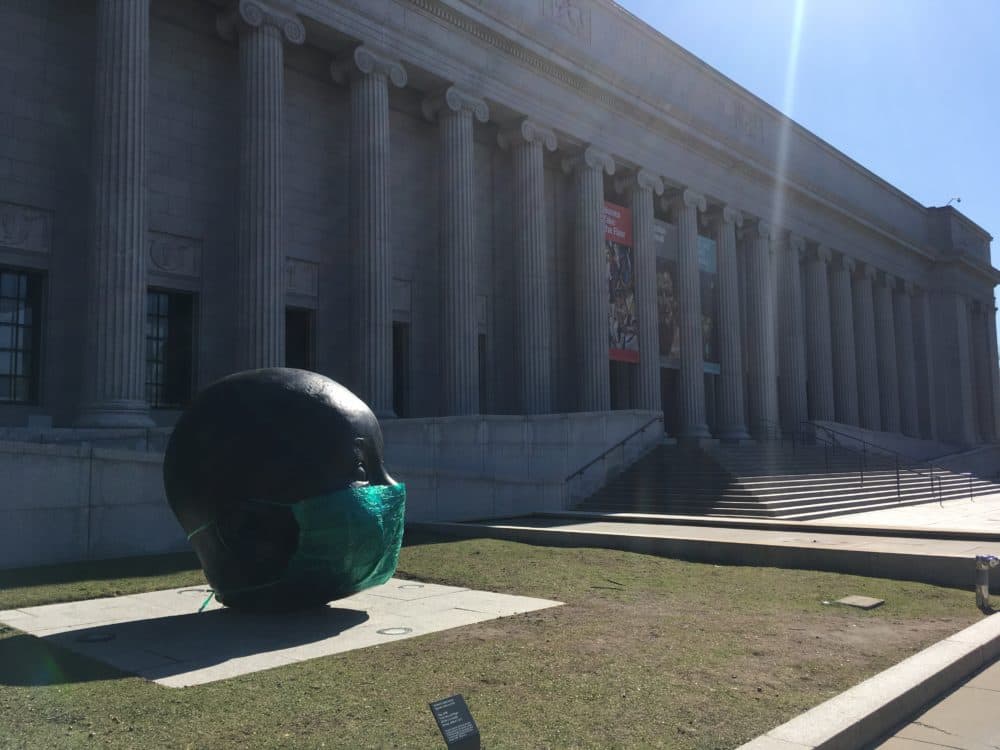 This article is more than 2 years old.
Brutal shocks to Massachusetts' cultural ecosystem continue with the Museum of Fine Arts, Boston announcing it will furlough between 325 and 340 of its 750 employees. The move is part of the MFA's strategy to mitigate financial losses caused by the coronavirus crisis.
Since it closed its doors in mid-March the institution has lost $1.4 million. By the end of the fiscal year on June 30th shortfall estimates are between $12 million and $14 million without revenue from museums admissions, the restaurant, cafe, parking and touring exhibitions.
The decision to furlough such a large number of staff has been hard, museum director Matthew Teitelbaum said in an interview. Determining which positions will be put on hiatus is being based, in part, on who would be eligible to receive government grants from the Coronavirus Aid, Relief and Economic Security (CARES) Act. Teitelbaum intends for the 90-day furlough program to come with assurances for his employees.
"Between their unemployment and the federal subsidy program, plus some help with health care in the short term," he said, the goal is "that our staff would more or less stay whole."
Teitelbaum will also reduce his salary by 30%, which, according to the MFA's 2018 tax records was $841,921.
To get to this point, museum leadership and the board of trustees have been weighing questions of which employees are able to continue their work while the galleries are closed. Teitelbaum said they asked themselves, among other questions, "Who can do the research and the preparation of programs that we can utilize in the future, versus those who truly have a job that is so building dependent that it's impossible that they do their job without accessing space?"
This news comes one week after the Massachusetts Museum of Contemporary Art became the first large art museum in the state to announce employee cutbacks. One hundred twenty of Mass MoCA's 165 staff members will be out of work beginning April 11.
"It's pretty tough out there," Teitelbaum said. "There's a real sense of things having stopped. So all the things that have to do with transactions and people coming to us, all those lines of transaction that come out of that, are truly on pause."
It's new territory, he added, and what the future holds, after the pandemic peaks, is a mystery.
"We don't know where our audiences are. We don't know how comfortable people will be gathering in public spaces. We don't know how much anxiety they will continue to have," Teitelbaum said.
"So all those things that we're about – which is bringing people together, and gathering them with purpose in the great museums of the world – it's all challenging to figure out what that looks like," he said.
Other major art institutions across the U.S. are grappling with the same uncertainty. The Metropolitan Museum of Art in New York recently estimated $100 million in losses while it's shuttered through July. In reaction to that estimation, Laura Lott, president and chief executive of the American Alliance of Museums told The New York Times, "Many museums are using any reserves they have to get through the next month."
The MFA will be dipping into its endowment which, as of June 2019, held $605 million. Teitelbaum acknowledged the pitfalls of using funds that are intended to grow. "So there are cascading effects for us," he said, "but again, it's a commitment to our staff, a belief that some of the decisions we will make around available funds will reinforce the culture of our staff."
The MFA is the largest museum in New England with more 1.2 million visitors a year. Teitelbaum recognizes the MFA's role as a leader in the state and region's cultural community.
"We are doing all that we are doing in order to guarantee a robust resetting and reopening of the institution, keeping our staff close, to ensure that we can serve the public well," he said, adding museum leadership has been transparent in saying they're making the best judgments they can with the information they have at this time.
People holding affected positions will be notified next week and the museum said their jobs will remain on hold through at least June 30. That's also the newly announced day the museum hopes will mark the end of its lengthy closure.