Mass. Launches Statewide Relief Fund To Support Those Affected By Coronavirus Pandemic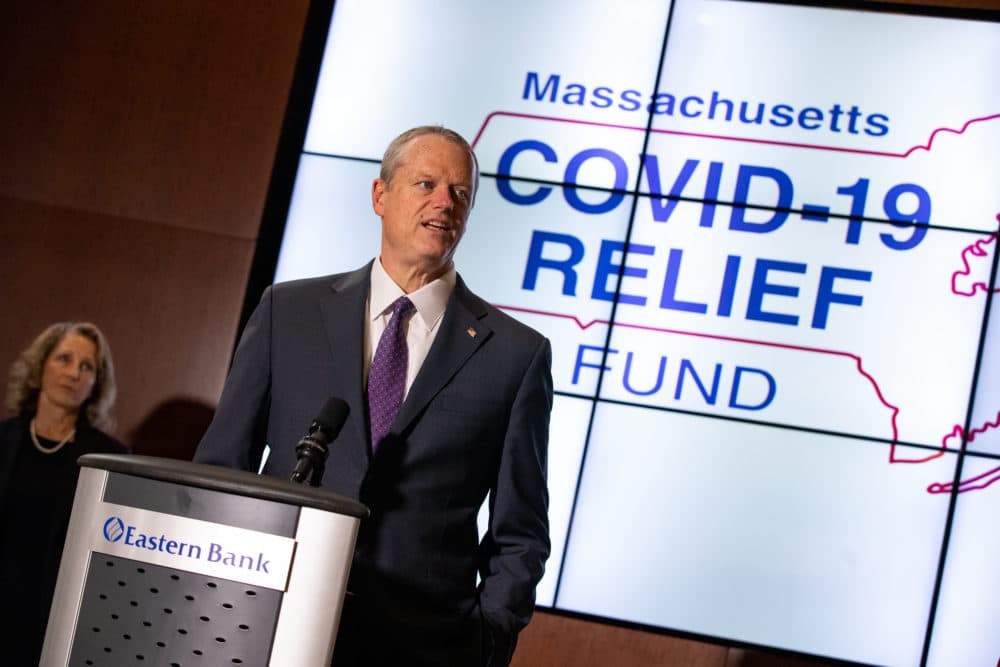 Gov. Charlie Baker and First Lady Lauren Baker on Monday announced the launch of a statewide relief fund that will support vulnerable communities and frontline workers as the coronavirus crisis ramps up.
Officials say the state government will partner with a network of nonprofit community organizations across Massachusetts that serve some of those hit hardest by the pandemic or most at risk of infection. Those affected include the homeless community, healthcare professionals, low-income families, people with disabilities and immigrant communities.
The organizations who will assist in distributing relief funding have yet to be named, but at the press conference Lauren Baker said these organizations were chosen for their "deep roots in their communities" and their ability to get "boots on the ground to deploy these funds quickly and effectively."
"These are unprecedented and uncertain times, and the people of Massachusetts are struggling," she said in a statement Monday. "The Massachusetts COVID-19 relief fund will help us connect those who are most acutely impacted by COVID-19 with the resources and services they need to get through this."
The fund was seeded with $13 million from donors, including $1.8 million from the One8 Foundation. It will be administered by Eastern Bank.
To donate, visit the fund's website.