Candlewick Press And MIT Press Collaborate On Two Imprints for Children, Teens
On April 10, Candlewick Press and MIT Press announced two new collaborative imprints, MIT Kids Press and MITeen Press, in what is perhaps the first joint venture between a children's publisher and a university press. Under MIT branding and approval from an MIT-based advisory board, the two imprints will be led creatively and brought to market by Candlewick. The companies plan to roll out nonfiction and fiction titles to provide hands-on learning for STEAM (science, technology, engineering, the arts and math) subjects.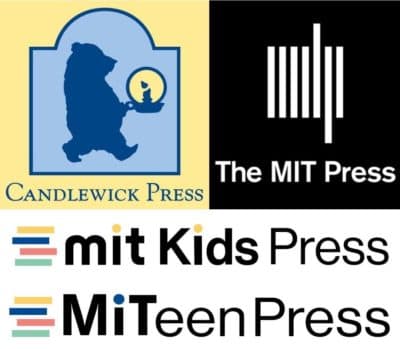 "There's a need and a hunger for [STEAM] topics," says Karen Lotz, president and publisher of Candlewick Press. "There are not a lot of books geared towards the consumer market right now that are expertly vetted, factually correct, cutting edge concepts that are presented in a fun way with broad appeal." The advisory board, comprised of members of MIT Press and MIT faculty, will propose potential projects, scout possible authors, and check all titles for scientific validity and factual accuracy.
The titles on the imprints' first lists, scheduled to publish fall 2021, range from a picture book about space by MIT professor and physicist Alan Lightman, a beginner's guide to learning Chinese through emojis, and a middle-grade guide to app coding. Amy Brand, director of MIT Press, says both companies "hope that these two imprints will attract some authors who haven't previously written for kids and teens, such as university faculty and other researchers who want to share their enthusiasm and firsthand insights into the thrilling experience of discovery and invention."
The initial editorial board meeting brought forth 22 proposals from interested authors. Each company will vet projects that come through their respective acquisition channels before sending the "finalists" to the opposite publisher and advisory board. "There will no doubt be books that could fit into either publisher's list," Brand says. For MIT authors, she adds, "the opportunity to work with experts at Candlewick who can help them refine their texts for those younger readers and match their narratives to the right illustrators will be extremely exciting and entirely new."
Although the first advisory board meeting was on Nov. 20, 2019, one of the inaugural titles — "Hanmoji" by Jennifer 8. Lee, Jason Li and An Xiao Mina — has been in the works since October 2018, born from a Twitter thread between Lee and Mina earlier that year. Lee knew Brand personally and knew Candlewick by reputation from living in the Boston area, so she knew the two publishers were "going to do well by it." She says, "They were excited about it so early. You want to go with a publisher who is enthusiastic."
"Hanmoji" offers pneumonic devices to learn Chinese by mapping emojis back to Chinese radicals (the individual components of Chinese characters), which are derived from longstanding concepts in the world. The first example Mina and Lee shared was "家" ("jiā"), which means "home" or "family," portrayed by the radicals of a pig underneath a roof. Not all radicals necessarily coordinate easily with an emoji-able concept, but enough of them do to engage new readers with a medium they're already using (their phones) to learn something that maybe isn't necessarily viewed as "fun." Since children can read and write emoji before they can read and write a native language, Lee, Li and Mina are sensitive to how the ingrained concepts of radicals can influence how a child thinks. Lee says she has "great indignation" that the word for "good," "好" ("hǎo"), is a woman with a male child. The authors hope to teach these concepts while addressing why they might be problematic to modern audiences. As a vice-chair of the Unicode Emoji Subcommittee and the co-founder of Emojination, an organization that wants to make emoji approval an inclusive, representative process, Lee is an example of the types of knowledgeable and creative authors that MIT Kids Press and MITeen Press hope to attract.
The idea for these imprints sprouted organically from conversations between Angela Belcher (James Mason Crafts Professor of Biological Engineering and Materials Science at MIT) and Lotz, and between Hilary Berkman (CFO of Candlewick) and Brand, who knew each other through their children. Through these conversations, Lotz says they realized that Candlewick and MIT Press had "simpatico visions of publishing and what kinds of books were missing in the market. We saw storytelling as a way into abstract topics that are hard to wrap your head around." It took the next year and a half to determine how to best co-publish titles, as they were unaware of any existing models for such a partnership without establishing a joint venture. Brand says, "I've always viewed the work of running a publishing house here as being enmeshed in the Boston-Cambridge community, and I'm always looking for ways to grow the community orientation of what we do."
"We saw storytelling as a way into abstract topics that are hard to wrap your head around."

Karen Lotz
Candlewick had been interested in the idea of a nonfiction series for a while, as most of their trade nonfiction titles are standalones. Similarly, MIT Press had in-house editors and authors who were interested in reaching younger audiences but lacked the apparatus to produce such books. Brand says, "University press publishing and children's book publishing are hugely different undertakings. At MIT Press, our workflows around curation, quality control, design, production, promotion and sales are all optimized for the adult reader, and especially those readers in an academic profession or with a strong interest in the nonfiction arts and sciences."
Candlewick is an independently owned company, majority-owned by two trusts operated on behalf of longtime employees, authors and illustrators, so they have the independence to make their own creative and commercial decisions. Universities, on the other hand, have strict protocols around "use of name" and other ways to control their brands. Amy Brand ran the concept through MIT's licensing office that vets new partnerships that use the name, logo, technology or other intellectual property, MIT's Provost, MIT Press management and editorial boards.
So far, COVID-19 has not affected the rollout of MIT Kids Press and MITeen Press or their titles. Lotz says, "It's wonderful to have something new and blossoming during this time. A beginning."