Nurses Fly To Mass. To Care For Patients On The Pandemic's Front Line
03:52
Play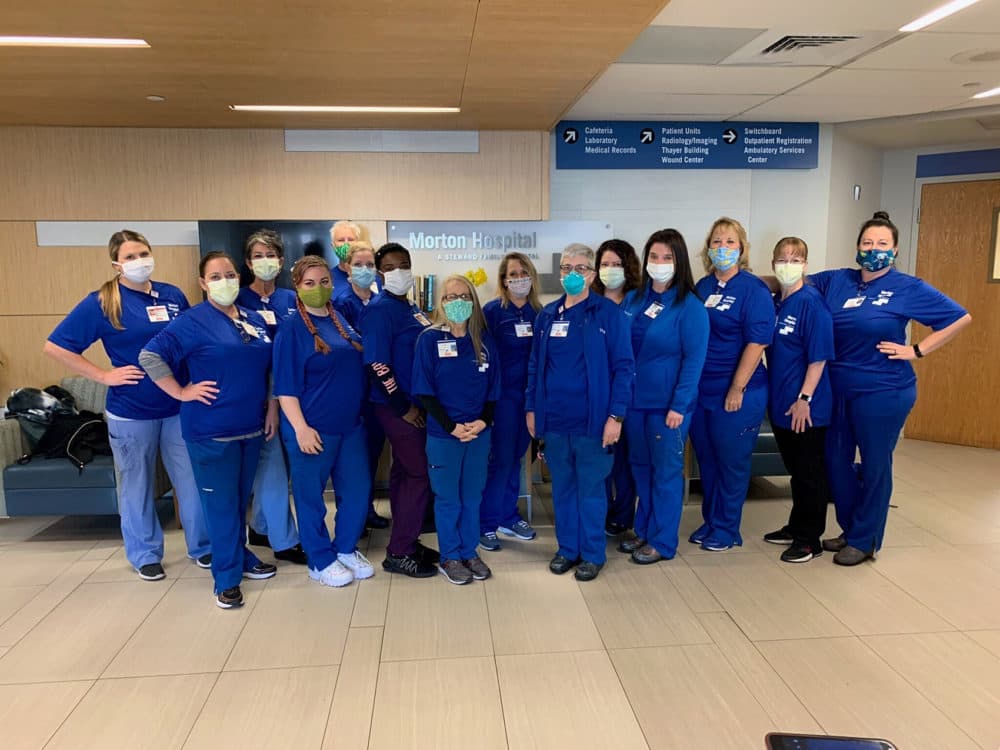 This article is more than 2 years old.
At three in the afternoon on a Monday, nurses at Rockledge Regional Medical Center in Florida volunteered to put their names into a hat. Their employer, the for-profit hospital network Steward Health Care, had asked if any clinicians were willing to fly out to the front lines of the coronavirus pandemic.
One of the nurses was Kara Ehrhardt, from Cocoa Beach. In the county where she lives, there are fewer than 200 reported cases of the coronavirus, but the hardest hit regions in Massachusetts have thousands.
When the call came for volunteers, she says she knew she wanted to help. Her name got pulled, along with 15 others from her hospital.
Two days later, Ehrhardt said goodbye to her husband and her kids and boarded a plane to Boston.
"I have hands and I have knowledge," she says. "If I can put my skills to use and help my sisters and brothers at the bedside, that's what I want to do."
Today, Ehrhardt is working in a COVID-19 unit at Morton Hospital in Taunton. She's part of a movement of clinicians across the country, who are traveling to the front lines of the pandemic to help meet a desperate demand for doctors and nurses.
"We've seen an absolute explosion in the need," says Dr. Alexi Nazem, the CEO of Nomad Health, a technology company that helps hospitals staff temporary openings. "One hospital we work with in New York, they ask us for about 10 positions at any given time. About a week and a half ago, they said, 'can you help us get 300 filled?' "
Nazem says hospitals began asking for more people around mid-March, and the demand hasn't slacked. In Massachusetts, he says requests for people with experience in the emergency department or the intensive care unit has gone up 600%. The greatest need, by far, has been for nurses, Nazem says.
Clinicians are rising to meet the need. Nazem says since the pandemic started, the response from health professionals living in areas with fewer coronavirus cases has been overwhelming.
"We've seen even larger increases in the number of clinicians who are applying to do these positions," he says. "I am daily inspired by these people who are heading to the front lines and doing so under the most stressful conditions I've ever heard of. They are warriors going to war without armor."
When they arrive in places like Boston, these health workers have to contend with a potentially deadly virus and limited supplies of protective gear. Health workers are getting infected, too. Major Massachusetts hospitals now have hundreds of employees each who have tested positive for the coronavirus. Across the country and the globe, many health professionals have already lost their lives to COVID-19, the illness caused by the virus.
Nazem says that he and his team try to support the doctors and nurses they place as best they can – either by providing extra N95 masks when they can or ensuring they will be paid even if they need to stop working due to COVID-19.
"We promised to cover their pay if they get sick or quarantined and covering their health insurance," Nazem says. "We are trying to be helpful, even if that just means talking to them on the phone and being a lifeline if they need it."
And, Nazem adds, clinicians should not feel shame or guilt if they choose not to travel to treat COVID-19 in the country's hardest hit regions.
"There are needs everywhere. Patients still get sick with everything – heart attacks, cancer and all sorts of maladies," he says.
At the moment, Ehrhardt says she isn't thinking about falling ill or becoming exhausted from battling the coronavirus. Like many of her colleagues, she's focused on caring for as many patients as she can.
"I wouldn't say that I'm scared. It's more adrenaline right now and ready to get to work," she says. "We're all charged up and raring, ready to go."
She says the need for health workers became apparent as soon as she started working at Morton Hospital last Friday. She immediately had a patient who needed urgent attention.
"While you're taking care of a patient in distress, there are ambulances outside the window downstairs [bringing more patients with COVID-19]. I think that's when it became real for me that like OK, I'm in it now," she says.
Her new colleagues, she adds, seem grateful for the out-of-state support. On the first day of work, she and the other nurses from Florida walked into the hospital to find the staff lined up along the corridors to cheer them on. Ehrhardt says she burst into tears. The hospital posted a video of the scene on Facebook.
"I was wiping my eyes, and my friends from home yelled at me because you're not supposed to touch your face. There was someone saying, 'Thank you, thank you,' and he was saying it loud. It was just so moving to see so many people who do what we do, and they're happy we're here," she says. "So, we'll expect them to return the favor in hurricane season, OK?"
Ehrhardt plans to return to Florida after the surge of coronavirus patients has passed in Massachusetts. By then, she thinks Florida might just be starting its surge – and she wants to fight the pandemic there, too.
This segment aired on April 15, 2020.