With No Race On Patriots Day, Boston Athletic Association Plans For Late-Summer Marathon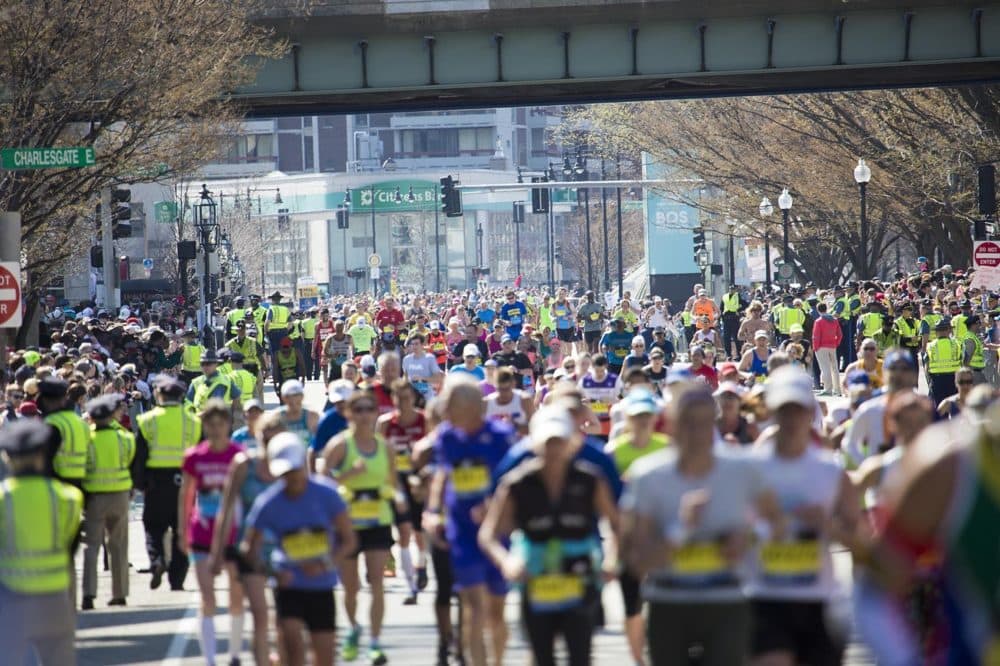 While Patriots Day will be a marathon-less Monday, Boston Athletic Association (BAA) CEO Tom Grilk will still be busy. He'll go for a run in Lynnfield, then watch replays of past Boston Marathons and meet virtually with staff planning for a rescheduled race.
Since the Boston Marathon was postponed until Monday, Sept. 14, the association and its partners have been tackling the many logistical issues involved in moving a major marathon from the spring to late summer. Those issues involve everything from transportation to hotel bookings to road construction projects to start times. The ultimate goal: Make the Boston Marathon experience in September the same as it would have been in April.
But the BAA is aware of factors beyond its control. With pro sports leagues looking at games in empty stadiums and mass gatherings appearing a long way off, the association knows the spread of the coronavirus will determine the timeline for a safe return to large marathons.
"As Dr. [Anthony] Fauci says, the disease will begin to dictate what actually happens," said Grilk. "It may be that some plans will change. We'll be governed by that. And we'll be very heavily governed by what public authorities tell us. As the governor and the mayor of Boston and the governments of the other seven cities and towns along the way assess what can and cannot be done in their municipalities, they'll have the strongest voice in all of this."
Still, the BAA is proceeding as if the starting gun will go off on Sept. 14.
The biggest logistical hurdle is transportation, specifically the 700 school buses from 40 different vendors used to shuttle runners from the Boston Common to the Athletes' Village in Hopkinton. The marathon needs to be held on a non-school day to make those buses available. Governor Charlie Baker plans to declare Sept. 14 a state holiday, freeing up the school buses. Also, the BAA has been working with the cities and towns along the marathon route to ensure that a September date would not interfere with road construction scheduled for the summer and that the road surfaces will be ready for 30,000-plus runners.
"We've had to really look at it as if we're planning a brand new event," said Lauren Proshan, the BAA's Director of Operations. "The Boston Marathon has been around forever, but it's been around forever in April. And there's a lot of people who pencil it into their calendars. They know not to do construction projects on the course in April. So there are a lot of different nuances that we've had to wade through as we're looking at this."
The other big issue: accommodations. Typically, participants and their supporters book accommodations several months in advance. More than 26,500 race participants come from outside of Massachusetts with about 8,500 from foreign countries. Now, with many of the hotel rooms near the finish line already booked for September because of other events, Grilk said the BAA and its partners have been "scrambling to find hotel space." As a result, more marathon visitors may find themselves in hotels located in Cambridge, Somerville or Newton. 
And then there's the weather. While Boston Marathon organizers know how to deal with April's wildly variable weather, there's a good chance the Sept. 14 race will feature temperatures 20 degrees higher than ideal for marathon runners. The average Boston high temperature in September is 72 degrees. That's led to some very preliminary discussions about moving up the race start time. For the April race, the elite men were scheduled to start at 9:37 a.m., followed by the elite women at 9:45 a.m. and Wave One at 10 a.m.
"One might change the race time," said Grilk. "Doing that presents a whole lot of additional issues. If you suddenly want to start moving all those people out to Hopkinton earlier in the day, can it be done?"
Grilk added: "We'll have a little more time to look at such things. A key group in considering anything like that is our medical directors and the medical committee. But they're pretty busy right now. So we haven't really initiated any in-depth discussion of that stuff because the people who would be important to it are very heavily and importantly engaged in other things."