More Than 50 Veterans Have Died From COVID-19 At Soldiers' Home in Holyoke. But Staff Say The Situation Is Improving
This article is more than 2 years old.
The Soldiers' Home in Holyoke reported its first positive case of the coronavirus on March 22. Four weeks later, 63 veterans have died; 52 of them had confirmed cases of COVID-19.
Another 94 living residents and 81 employees have the virus, according to the state Executive Office of Health and Human Services.
The coronavirus is spreading quickly — and often fatally — through many long-term care facilities in Massachusetts. But so far, nowhere appears as hard hit as the Holyoke Soldiers' Home, a state-run long-term care facility for veterans.
According to recent state data, about 54% of coronavirus-related deaths have been in long-term care facilities, and of those, about 5% have been at the Holyoke Soldiers' Home. The Soldiers' Home is one of 265 long-term care facilities with at least one case of the coronavirus.
"Oh my goodness, it's sad. Every time I go in [the building] I have to control my emotions because it's so sad," says Kwesi Ablordeppey, a certified nursing assistant (CNA) who has worked at the Holyoke Soldiers' Home for more than a decade.
Death is a constant reality at any nursing home, but losing this many people so quickly has left the building eerily empty, he says. Since the state began regularly providing information about the Soldiers' Home in late March, the number of virus-related fatalities has risen almost every day.
Adding to the sense of vacancy inside the building, he says, is the fact that about 40 residents were moved to the nearby Holyoke Medical Center earlier this month. That leaves the facility with about 100 fewer residents than when the outbreak began in March.
"It's sad, empty. Emotionally, it's not a place where I want to be … We're losing veterans every day because it spread all over the building," Ablordeppey says.
Joseph Ramirez, another CNA at the Soldiers' Home, says what's happened at the Soldiers' Home in the last month is "devastating."
Ramirez came down with flu-like symptoms in late March and stayed home for about two-and-a-half weeks after he tested positive for the coronavirus.
"I was probably the second CNA to fall to the virus … and just as things were getting worse, I was out sick," he says.
But his coworkers kept him in the loop.
"[They] were texting me and telling me what was going on with all the chaos and confusion and decisions that didn't make sense," he says.
As WBUR has previously reported, the alleged chaos, confusion and poor decision-making culminated on March 30 when Gov. Charlie Baker and Health and Human Services Secretary Marylou Sudders say the state first learned that 11 veterans had died at the Soldiers' Home. The superintendent of the facility, Bennett Walsh, was put on administrative leave and the National Guard was called in. Since then, state and federal authorities have launched three separate investigations into what went wrong and whether there was a cover up. (Walsh maintains that he reported the deaths properly.)
Ramirez says when he went on leave, there was panic as residents were moved around and the virus spread. But since then, he's seen an increase in positivity among staff.
"But at the same time, once we're in the building, with all the PPE [personal protective equipment] on, with all the units that are empty, there's still a sadness, there's still hurt," he says. "I haven't yet wrapped my head around what happened here. My heart goes out to the workers and nurses who were actually here through the whole thing."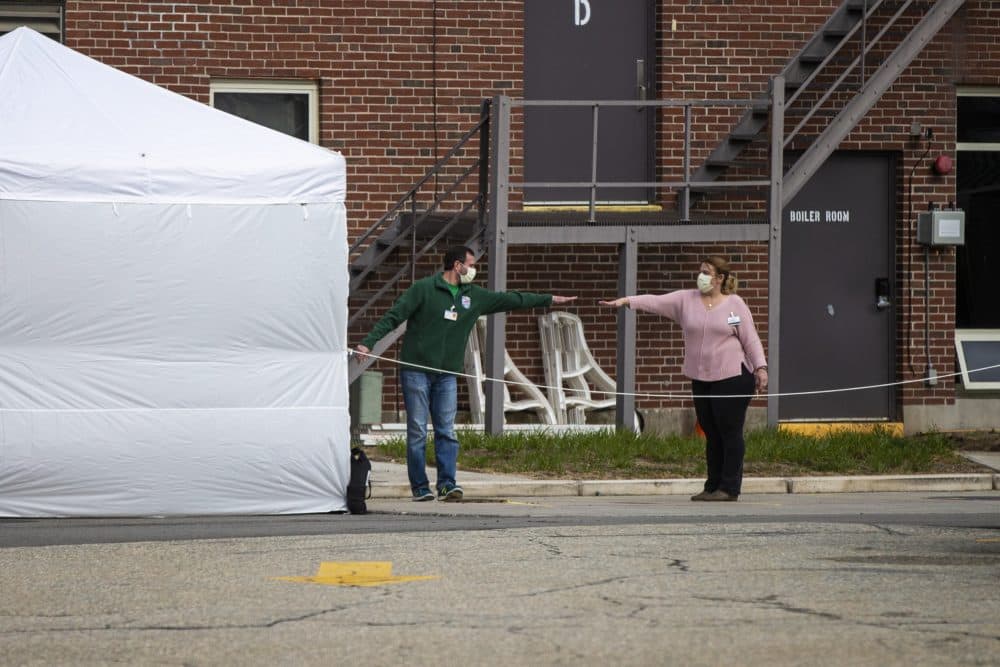 Ablordeppey is one of those employees. He says he's had trouble sleeping since the outbreak began.
"It has become an indelible mark on me. I lived it," he says. "It's hard to work in that place. My unit used to hold 25 [residents]. Now it's closer to 18. Most units have 25 or 24 [residents], but some units only have 13 or 14 people."
A Health and Human Services spokesperson says the on-site Clinical Command "continues to respond to the COVID-19 outbreak while bringing on additional management staff for nursing, facilities, operations and administration to complement the existing staff."
While the focus is on "quarantine zones for COVID-19 positive residents, enforcing use of PPE and monitoring supply, and ensuring increased disinfection protocols," the state has also created a hotline for families and brought in social workers to help "support staff during this challenging time."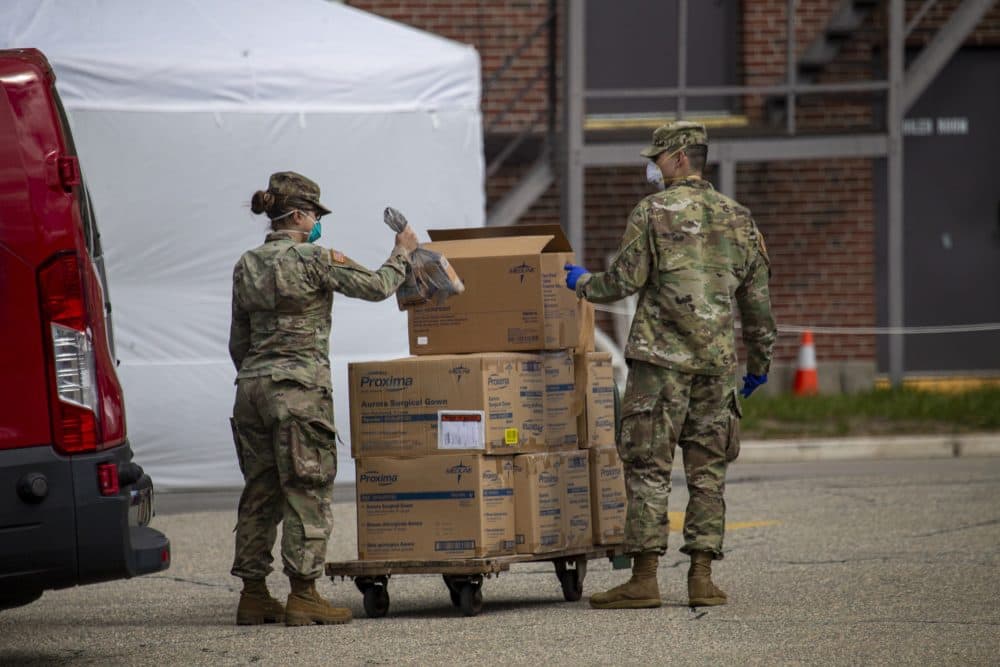 As Massachusetts makes its way through the coronavirus "surge," Ablordeppey says things have been improving at the Soldiers' Home.
"Since the guard has come in, we haven't run out of PPE. We have supplies and enough staff to take care of the rest of the veterans," he says. "The National Guard is doing a marvelous job. I applaud them — I thank them — every day for the job that they're doing."
Both Ablordeppey and Ramirez, along with SEIU Local 888 union organizer Cory Bombredi, say the problems of the last month all began with upper management. From not hiring enough staff, to creating a culture of secrecy, Ablordeppey says these "missteps" were "part of a pattern."
All three say they have spoken, or are willing to speak, with state and federal investigators, and that they look forward to the findings.
"What we're trying to do is bring back the image of the Soldiers' Home," Ablordeppey says. "I hope that family members will trust the place again because as we move forward, we are going to fix what is broken."