From Dream Job To Laid Off In 3 Months: What It's Like In The New COVID Economy
Resume
Earlier this month, we asked you to share your experiences of how the coronavirus has affected your work or financial life. You responded, and today we bring you the first of those stories. It's part of a series we're calling "My COVID Economy."
It comes from Virginia Wood, 29, who lives in Boston's North End. In January, she took at job as a user experience ("UX") designer at EF Education First, a global company with a large office in Cambridge. The company specializes in school-related travel, business travel and cultural exchange programs.
For Wood, getting a job at EF was a major step forward in her career. In fact, she says it was her "dream job."
"The problems they had me solving were ones that I found really interesting," she says. "But I also would be able to travel for free for work, which is something I've always aspired to do. It was pretty exciting."
By March, however, the coronavirus pandemic had effectively shut down most global travel, which had consequences for EF's business and for employees like Wood.
To hear what happened next, in Wood's own words, click the play button above. The following are excerpts from her interview and responses to our online questionnaire, edited for length and clarity.
---
My COVID Economy: Virginia Wood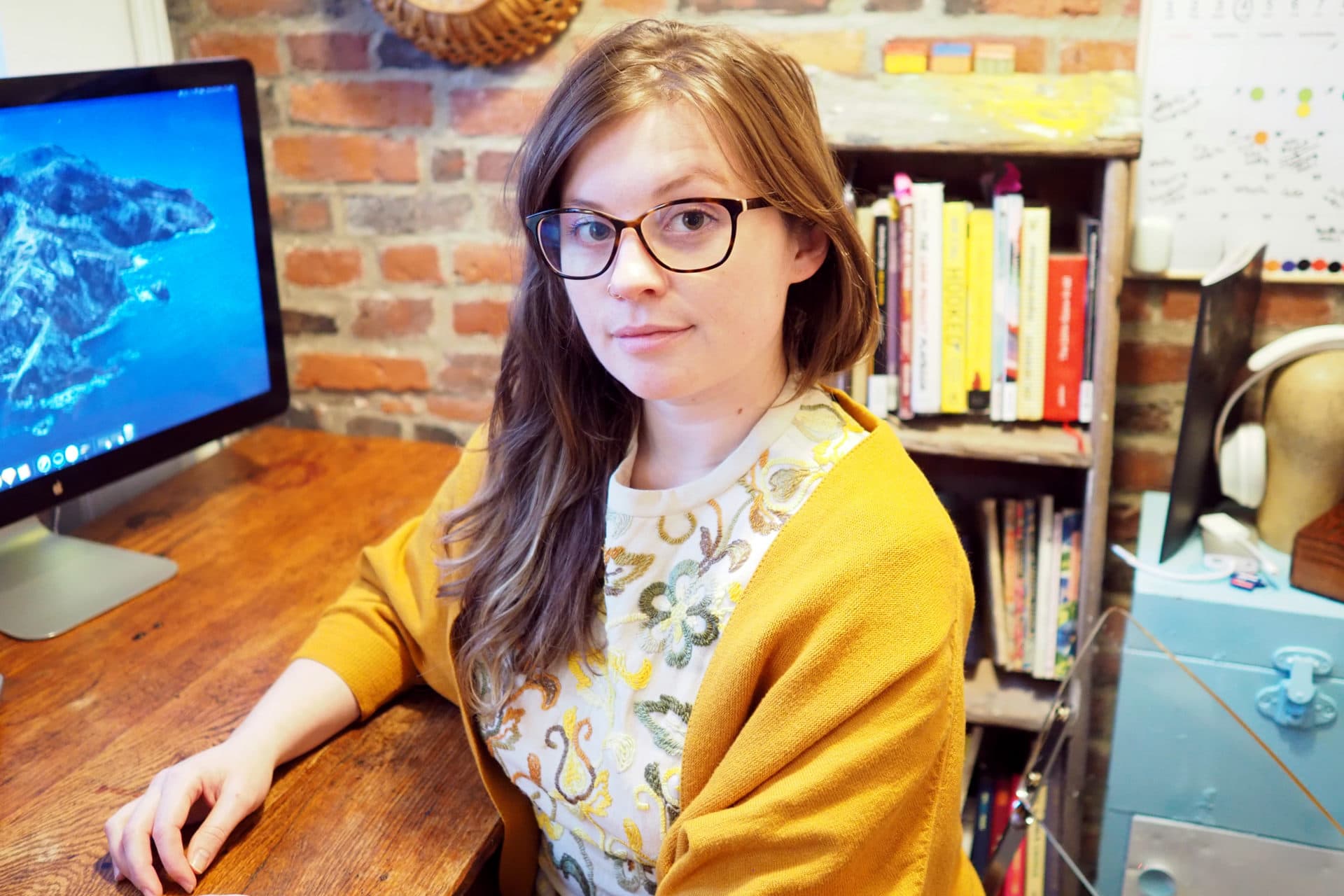 How has the coronavirus impacted your work or financial life?
I'm a UX designer, which means that I design websites and applications.
I was working as a UX designer for Education First. I was the only designer working on their internal operations systems for all travel that takes place on land.
The fact that I would be recreating an entire product really excited me, because I want to be a product designer, and it was the perfect environment for me to be doing that. But then it all sort of went down hill.
In March, in the middle of the month, my manager, who I hadn't talked to in a little bit, set up a one-on-one. And then she started saying, "We really appreciate you."
I was like, "OK, this is it."
She said that you've been laid off. Then she said I had 15 minutes to get everything off of the computer before I would be kicked off.
At first, I felt sad, angry and helpless, because my whole future was swept out from underneath my feet.
How would you describe your financial situation?
My partner has experienced a furlough, so we're both trying to afford our North End apartment on government aid. I will probably lose some of my savings during this time, which is really upsetting because I don't like touching my savings, it's supposed to be for the future. And I don't know how long I'll have to be touching it, but we'll see.
Luckily, I have health insurance for two more months. I mean, I would hope I'd get a job by then. If I can't get a job once student loans kick back in then I'll have issues.
And how are you planning to get by financially if the economic slowdown wears on?
If I do get unemployment, we'll be able to afford the apartment and food without any trouble. But I don't know when I'm going to get that money. (Editors Note: Since this interview, Wood said she has received her first unemployment assistance payment).
Applying for unemployment as a UX designer, let's just say I wish I could get a job with the government to fix those problems, because this is just a mess.
I want to turn this into energy to get a new job and that job is going to be really good. And I feel like I'm going to be more tough and be less sensitive in the next role, because I felt like I could be vulnerable in that position. Like, nice and polite. I didn't have to showboat or anything. But I can't help feel like maybe if I had, I would have seemed more like an asset that they couldn't get rid of.
What keeps you going during this time?
I'm an extrovert, so being able to talk to people about my problems and verbally analyzing what's going on in my life helps.
I have trouble finding energy for work if I'm not doing it for someone else, because I like having that inspiration. So, I'm sort of struggling with that right now. Hopefully I'll figure it out soon.
Right now, I'm just branding myself, getting myself out there, talking to as many people as I can to feel some sense of normalcy.
This segment aired on April 28, 2020.