The Pan-Mass Challenge Bicycle Fundraiser Goes Virtual Due To Pandemic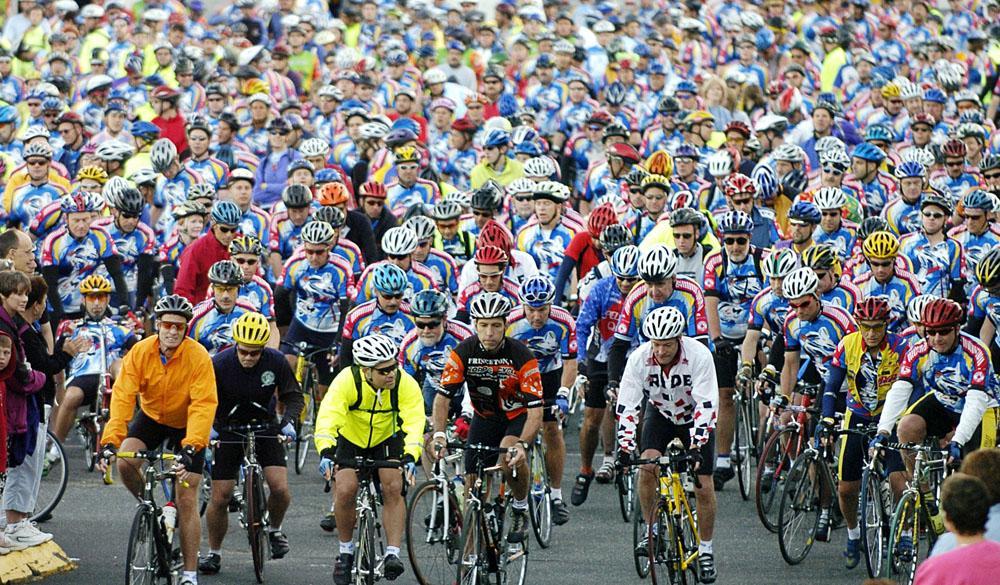 The Pan-Mass Challenge (PMC) bicycle fundraiser is pivoting its 2020 ride to an online-only version due to the coronavirus pandemic, the organization announced Friday.
Last year, the PMC raised a record-breaking $63 million. The organization has raised $717 million for cancer research, treatment and care at the Dana-Farber Cancer Institute since founder Billy Starr first rode to Provincetown with a few friends in 1977. The PMC is Dana-Farber's largest single contributor.
Organizers said the PMC will raise money for cancer research, now through an "adapted interactive experience that every participant can engage in from their home" on Saturday, Aug. 1.
In previous years, the ride included 12 bike routes, covering 25 to 192 miles. More than 6,800 cyclists participated last year, and this year, roughly 7,000 people were expected to ride.
"For more than 40 years, I have dreamt of a world without cancer, but I never would have imagined that the PMC could fall victim to a worldwide pandemic," Starr said in a statement. "We are left with no responsible choice but to reimagine PMC 2020."
All rider-raised money goes to Dana-Farber's Jimmy Fund, comprising 57% of the fund's annual revenue. In tandem with Friday's virtual-event announcement, the PMC said it will dedicate $4 million of its funds to establish Dana-Farber's COVID-19 Emergency Response Fund to continue to support cancer patients during this time.
"We are incredibly grateful for the PMC's unwavering dedication to Dana-Farber … Cancer doesn't stop even during these difficult days. PMC dollars are critical to support the world-class cancer care and additional resources we provide our patients and their families," Dr. Laurie H. Glimcher, president and CEO of Dana-Farber, said in a press release.
The organization has partnered with its sponsor, the Red Sox Foundation — as well as CBS Boston and WROR — to make the race virtual. Pre-taped and real-time content will include virtual opening ceremonies on July 31. There will also be a worldwide toast to honor patients who have undergone, and those currently undergoing, cancer treatment.