New Federal Guidance Will Remake System For Handling Sexual Assault, Harassment On Campus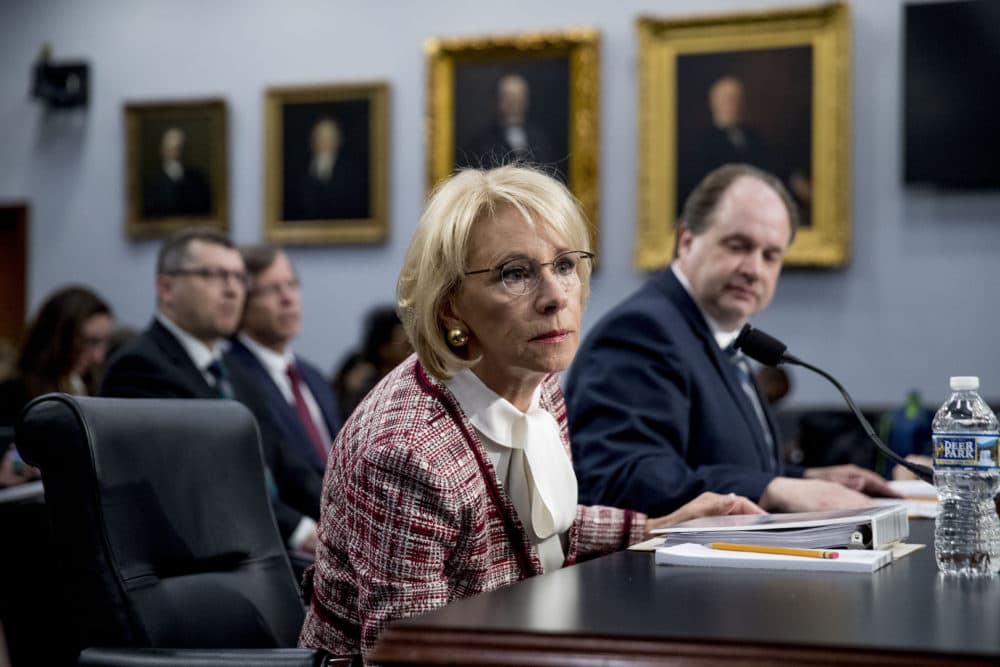 This article is more than 1 year old.
New federal regulations issued by the U.S. Department of Education will dramatically change how colleges and universities handle claims of sexual harassment and assault under Title IX. And the change will have to happen quickly: the new regulation will take effect on August 14.
In a statement, Education Secretary Betsy DeVos said the change "requires schools to act in meaningful ways to support survivors of sexual misconduct, without sacrificing important safeguards to ensure a fair and transparent process."
The regulations appeared Wednesday at the end of a 2,033-page document that reinterprets how to apply the 1972 federal law known as "Title IX," which bars discrimination on the basis of sex in schools.
"It's hard to overstate how big a change this is," said attorney Naomi Shatz. She said the new regulation has two separate but equally important parts.
First, there is a narrowing effect: The regulations "really constrict what a school's obligations are" to police sexual misconduct on campus, said Shatz, an attorney at Zalkind Duncan & Bernstein LLP, a Boston-based firm specializing in students' rights. Then, second: the regulations also elaborate an explicit procedure that colleges will have to follow when they do investigate claims.
Shatz has represented students — both those accused of sexual misconduct and their accusers — in dozens of Title IX-related cases across the country. She notes that the new regulations dictate that only a college "with actual knowledge of sexual harassment in [its] education program or activity… against a person in the United States" must respond promptly.
"Basically, the school has to completely ignore the problem before a student can hold the school liable for failing to comply with Title IX," Shatz said.
Shortly after the new regulations were published, groups opposing sexual violence on campus raised the alarm about that narrowing effect, among other things.
"Violence that occurs in an off-campus house or fraternity or during study abroad will no longer be considered the school's responsibility," said Elizabeth Boyle, a federal and state policy advisor with Know Your IX, one such national organization founded in 2013.
Boyle, a senior at the University of Notre Dame, also pointed to the exclusion of cases in which the accuser and accused attend different schools, for example. She noted that DeVos met with controversial men's rights groups as she crafted the new regulation.
"Title IX is meant to make educational institutions feel safer, and that is not what the new rule does," added Marisa Borreggine, a doctoral student at Harvard who focuses on sexual harassment issues as a member of Harvard's grad-student union. "It's clearly trying to erode the protections in place for survivors and increase rights for the accused."
Shatz is more ambivalent, because she sees some benefits from the clear procedure outlined in the new rule.
Under the existing system, some students accused of sexual misconduct can go into Title IX hearings "completely in the dark as to what they're being accused of," Shatz said. It can put some students — particularly those with limited resources or connections — at a marked disadvantage when suspension or expulsion is at risk.
So Shatz said she was glad to see that under the new regulation, all parties will receive exact information about the case under consideration, "with sufficient time to prepare a response" before their first interview. That information will include the parties' names, the nature and time of the alleged incident and access to any relevant evidence.
But she and others do have concerns about one of the procedure's most controversial elements: namely, its requirement of in-person hearings, complete with cross-examination by the parties' chosen advisors.
Under the current system, attorneys retained for these hearings don't actively participate, but rather "sit there like potted plants," Shatz said. But under a more court-like proceeding, she worries that "students with means — who can afford to hire qualified lawyers as their advisors — are going to be in a much better position than students who don't have those resources."
And some elements of the procedure are untested. For instance, one provision calls for the institution's appointed decision-maker to determine whether each question is relevant before allowing it to be asked. "I can't even imagine how long these hearings are going to take," Shatz said.
Boyle, the policy advisor with Know Your IX, said the group "advocates for a fair process. We don't want to see people thrown in jail… [But] we don't think this has given us that fair process."
Until now, federal intervention in colleges' Title IX procedures has typically taken the form of non-binding "guidance," like an Obama-era letter that DeVos rescinded in 2017. By contrast, these new regulations are binding. And colleges — already dealing with a world of uncertainty brought on by the coronavirus pandemic — have three short months to implement them.