Graduating Lesley Film Students Screen Final Films Virtually
Despite having only graduated two classes from its relatively new undergraduate film program, the digital film department at Lesley University has already established a few traditions. Seniors present their final films to a panel of experts who offer feedback and career guidance. Then they're feted with a big screen, popcorn and pizza extravaganza that would normally take place at the Brattle Theatre.
Of course, this year in-person gatherings are not an option.
"The process of making films is so arduous," says department chair Matthew Nash, himself a filmmaker. "Not being able to offer [students] the big red carpet moment is disappointing to me."
Also due to COVID-19 safeguards, Nash had to cancel the private premiere of his latest film scheduled for March 14 at the Brattle. (And worth noting, "Walk Away" is a horror film about people who can't — they're trapped indoors and start killing each other.) Nash called the shift to a shared stream followed by a video chat "rejuvenating" and figured that his students would appreciate a similar rite for their films, certainly over none at all.
So Nash started making a few calls. Given the halted film production and release schedules throughout the United States, he lined up a roster of accomplished film professionals who would have otherwise been booked. Art director Eric Dean, whose most recent projects include the "Beastie Boys Story" documentary and "Uncut Gems," joined Academy Award winner Oorlagh George and seven other industry pros on a private Zoom panel on May 5. A public livestream of the films starts at noon on Friday, May 8, to be followed by a live chat.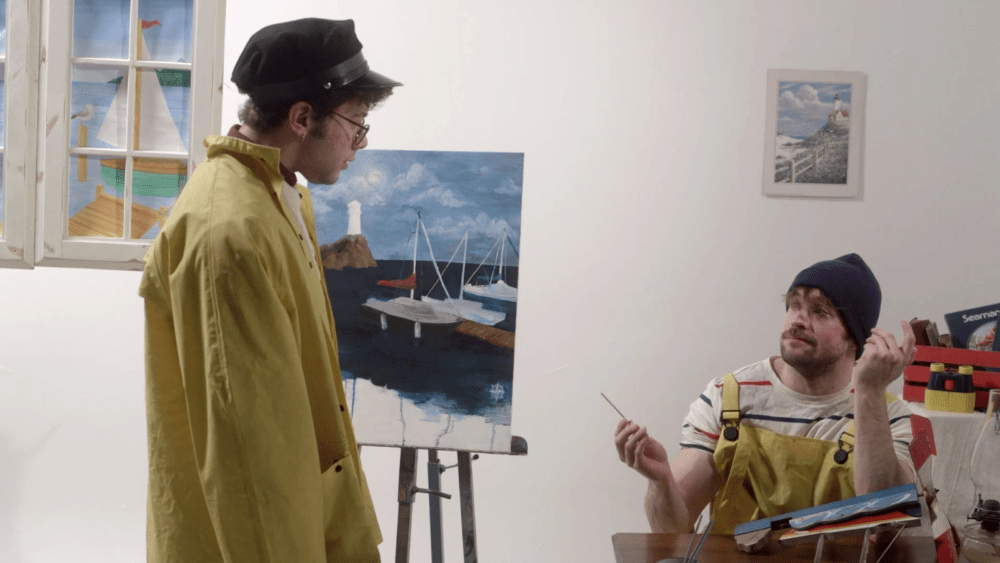 With footage mostly shot and edited ("thankfully," Nash says) before Lesley announced its March 13 campus closure, and fine-tuned virtually with help from extensive online tutorials, the 23 total films average about 10 minutes each. Formally, they run the gamut from witch mockumentary ("Which") to absurdist, mythical sea lore ("Coolboat"), to a sweetly funny sketch of how two boys bond over anxiety ("What Are You Afraid Of?").
Eric Dean says he was struck by the films' overall quality and polish. "Seeing attempts at combining animation and live-action characters and little special effects, or use of music in a lot of different ways, speaks to the expectations for consumable storytelling and content," he says. As someone who launched his career about 20 years ago, when filmmaking tools were still scarce and expensive, he marvels at how technology is less and less a roadblock to finding an audience.
Yet when it comes to honing a craft and maintaining the momentum of a career, Dean says nothing replaces "being in the room and learning from others." By that, he means starting in non-union production assistant jobs — relatively abundant in art departments on set — or working on very small productions and gradually working on bigger and bigger ones.
Dean anticipates the students will ask about his career and says the role of art director varies depending on the scope of a production but typically entails "making the production designer's vision a reality." For "Uncut Gems," for example, he gathered firsthand impressions in New York's diamond district and oversaw the construction of Howard Ratner's (Adam Sandler) seedy office and showroom.
Dean says the goal wasn't to just pull from or emulate 47th Street but to create a world inhabited by Howard specifically. "It doesn't matter if it's a documentary or a student film or a massive blockbuster, every object in that room creates not only the setting for the story but tells something about that character," says Dean. If he has done his job right, often that world is accepted and not questioned.
While graduating senior Kayla Ranere says she hardly knew how to turn on a camera when she started Lesley's film program, she now knows how painstaking it can be to achieve an incredibly small detail, like eliminating the sound of wind from a shot she cannot recreate. But just getting the footage for her film "What Are You Afraid Of?" required waking up before dawn and nearly getting frostbite. "We sacrificed a lot and for what? For passion, really. We're not majoring in art for money," she says.
Ranere, speaking from Danbury, Connecticut, along with fellow seniors Sarah Pinheiro Lima, who spoke from Roxbury, Massachusetts and Wyatt Beaudry, from Monson, Massachusetts, each independently mentioned the importance of the relationships formed with their peer group. Ranere says she joined the program late, just two years ago, and it took her until her senior year to really start forming friendships. That's partly why she felt so crushed by the abrupt dismissal.
Pinheiro Lima ("It's Not Easy") mentions the significance of having the same Facebook and Snapchat groups since freshman year. "We talk throughout the whole year and not just when school's happening and not just about school," she says. While Beaudry ("Coolboat") says that the multitalented group (musicians, animators, actors) will help on other people's projects before working on their own.
As much as Matthew Nash had a hand in structuring the program, which includes two years of production fundamentals, a junior year devoted to team-based films and a senior year for solo projects, he credits the tight-knit camaraderie of the 21 seniors with defining the burgeoning program's culture. "They're the ones who really set the bar," says Nash.
And while the transition to only online interaction has been a challenge for both faculty and students, Nash says that the program's sense of community is what's keeping everyone strong now. But simultaneously, he adds, "you feel the loss of that community."
Ranere says she has been working toward acknowledging how difficult this time has been and not undermining her own feelings. "I think it's ok to be upset. I worked really really hard at this," she says. She also sees the positives of having a professional jury and a screening that will not have attendance limitations. "I just think it's ok to feel good and bad at the same time. Kind of impossible to only feel one."
With the advantage of the long view, Dean sees this time as an opportunity for film students graduating from Lesley and elsewhere. He predicts a massive demand for new programming and that new and fresh ideas will come from people living through the pandemic. "I think there's going to be a ton of work," he says.