Blue Line Will Be Closed For 2 Weeks Between Bowdoin And Airport, Starting Monday
The Blue Line will shut down for two weeks between Bowdoin and Airport stations, starting Monday. The closure applies to both weekdays and weekends.
Shuttle buses will replace normal train service between those stations through May 31, the MBTA said in a press release. The closure will "allow for accelerated track and infrastructure work to take place," the transit agency said.
MBTA General Manager Steve Poftak said the service interruption will yield faster train speeds and greater reliability — along with some frustration for Blue Line riders in the interim.
"Our main focus continues to be safety, especially during the COVID-19 situation, with the MBTA's shuttle plan including measures that promote social distancing," Poftak wrote. "We know these diversions can be an inconvenience, but the service suspension allows us expedite critical track and tunnel infrastructure work and remove the restrictions that currently limit train speeds."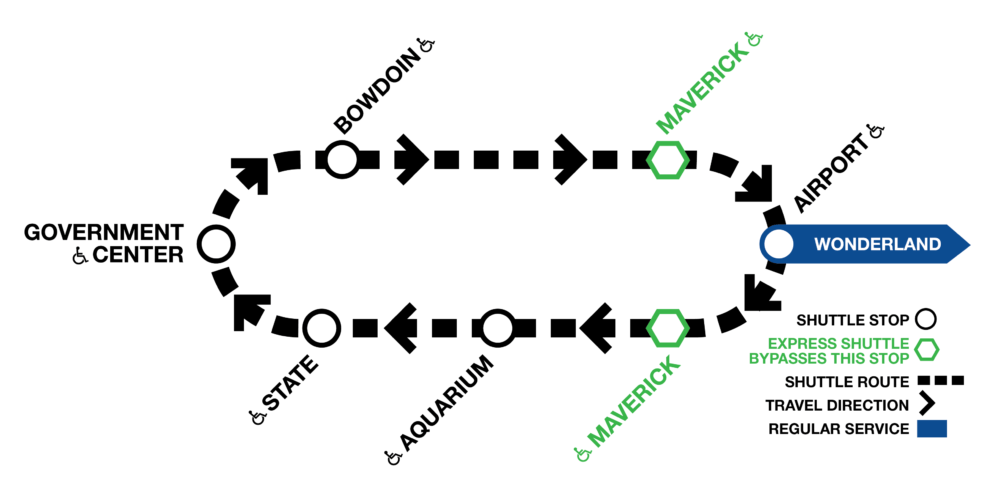 The Blue Line section set to temporarily close includes stops in East Boston, a neighborhood that has been hit hard by the pandemic. Many workers considered "essential" under the state's current stay-at-home advisory live there.
"The MBTA recognizes that many essential riders do continue to use the Blue Line and that ridership may rise as the Commonwealth begins to consider reopening opportunities within the coming weeks," the press release said.
The T said it originally planned to conduct the track work in shorter, weekend-only bursts across a longer period of time. But because ridership has nosedived due to coronavirus emergency measures, it saw an opportunity to take care of the maintenance sooner.
"Doing the work now allows its completion at a time when both transit ridership and traffic on the roadways that shuttle buses will use is much lower than it is likely to be by the fall," the statement said.