With Greenlight From Baker, Massachusetts Drive-Ins Are Opening For Business
When the clock strikes 12:01 a.m. on Monday, May 25, the restriction to show drive-in movies lifts in Massachusetts. One of the state's three venues, the Mendon Twin Drive-In southwest of Boston, will be ready to roll with "Jurassic Park" on screen one and "Rocky Horror Picture Show" on screen two.
Both of the "midnight madness" shows sold out within hours.
In accordance with Gov. Baker's phase one of business reopening, drive-ins can operate under guidance similar to other outdoor recreational activities. At Mendon, cars will park in every other space and curbside concessions can be ordered with a new app.
Both Mendon's owners and supporters have been eagerly awaiting this news. Dave Andelman, who bought the Mendon Twin Drive-In with his brothers in 2014, wrote an op-ed on April 21 imploring Baker to allow him to open. "Our business will be safer than a supermarket, big box retailer or a bus," he vowed. The drive-in also posted a video depicting the safety measures taken to ensure social distancing and cleanliness.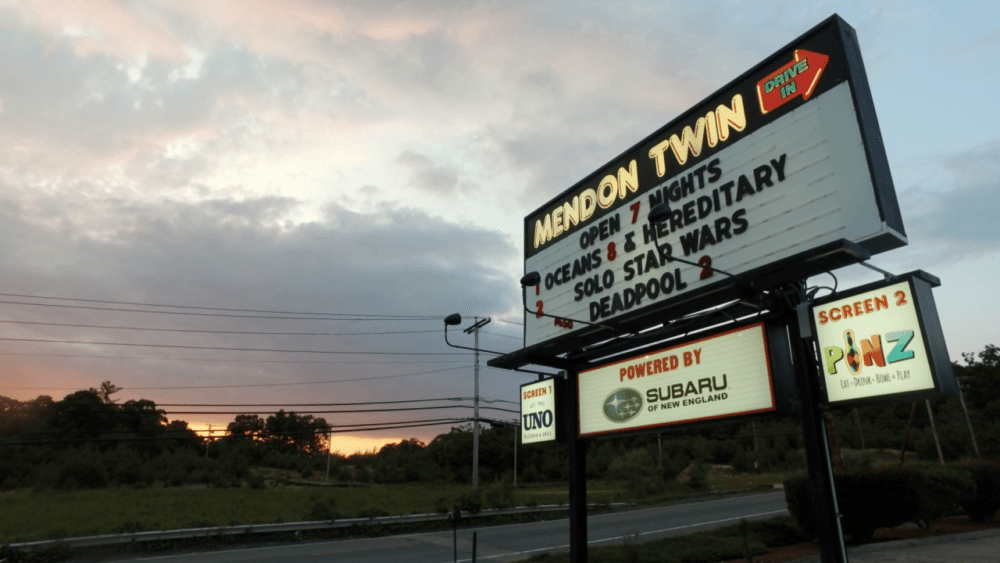 Amidst COVID-19 closures, drive-ins have become a symbolic field of dreams for those desperately seeking shared movie-going experiences. John Vincent has owned and operated the Wellfleet Drive-In since 1987 and is also the president of the United Drive-In Theatre Owners Association. Interest has swelled in the nation's 305 drive-ins as people seek potentially safe gathering places, and Vincent has been inundated with calls. "I think everyone's thinking of us," he says.
Earlier this week, about 150 drive-ins in the U.S. got the greenlight to open, says Vincent. "That number will probably become 200 within a week or so," he says, adding that six states still have closure orders. "But it's largely trending towards opening."
With his focus on member drive-ins across the country, Vincent has a few outstanding tasks before he can open his own establishment. Wellfleet Drive-In has been cash-only since 1957. Vincent has had to switch to online advance ticketing, revamp cafeteria-style concessions, repair some buildings and prep the lawn with social-distancing markers. After all of that? "We'll be ready to go in a couple of weeks," he says.
The Leicester Drive-In has not publicly announced an opening date.
Like Mendon, when Wellfleet does go live, it will be with previously released movies. That's because major distributors and studios have put off theatrical releases due to the pandemic. As it stands, Vincent says the first new wide release films that could grace his screens would be Christopher Nolan's much-anticipated "Tenet" on July 18 and Disney's live-action "Mulan" on July 24.
Till then, Vincent sees an opportunity to screen independent films and to possibly establish some partnerships with film festivals. The Tribeca Film Festival, for example, announced it will offer movie and music programming at select drive-ins starting June 25, though Vincent says he could not comment on any details.
Independent distributors have also seized the open window as a chance to boost visibility and sales. Last year at this time, drive-ins made up 1.5% of box office sales in North America, now they account for more than 91% according to industry tracker Comscore, as reported by the Associated Press.
Just over the New Hampshire border, the Weirs Drive-In opens the IFC Midnight thriller "The Wretched" on Friday, May 22. (The Milford Drive-In opened May 15; the just-sold Northfield Drive-In has not announced an opening date.) The release of "The Wretched" at drive-ins (simultaneous with video on demand and cable) has brought in more than $300,000, making it the top box office grossing film in May, according to Box Office Mojo.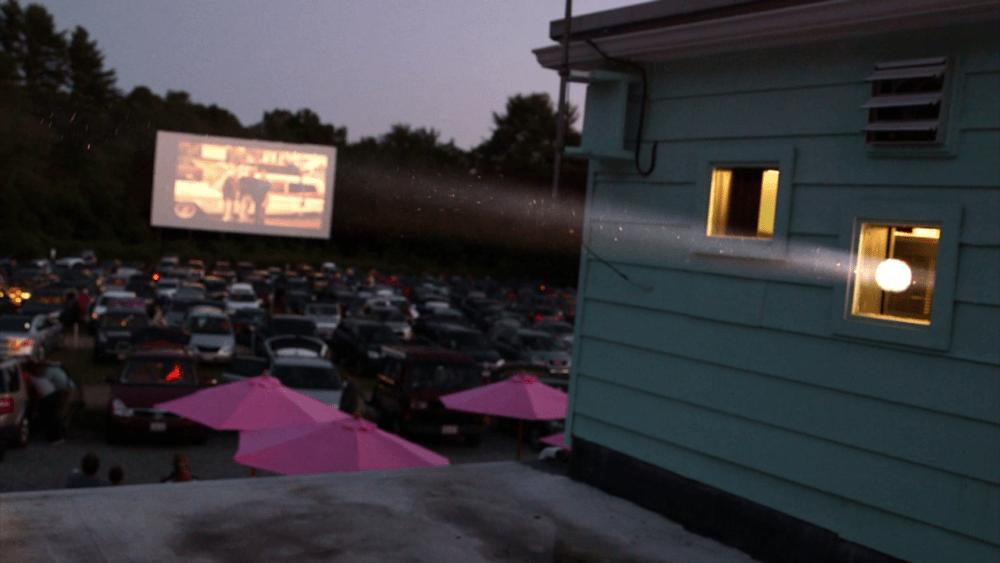 Grassroots movie programmers have also jumped on the drive-in bandwagon. In 2018, Jason Gregoricus and Shailah Stewart formed JP Movie Night to create monthly community dialogues around independent films, often with local ties. They have been laying the groundwork for a pop-up drive-in as a fundraiser for Boston Main Streets Foundation's COVID-19 Emergency Response Fund. They plan to project "Groundhog Day" on the side of a West Roxbury church on June 27. The event is in direct response to how the pandemic has kept people apart. "It's completely understandable to be scared," says Gregoricus. "But you don't have to be scared and alone. We're doing our part to try and address that."
Meanwhile when Bob Wong, the owner of the palatial Kowloon Restaurant in Saugus, saw patrons eating takeout together (at a safe distance) in his parking lot, he thought, why not also show movies? Wong has plans to request permission from the board of selectmen to offer bellhop service and drive-in movies on site. With proper approvals, he says he hopes to launch sometime mid-June. The opening of the state's drive-ins has made him more optimistic.
Vincent appreciates the surge of interest in drive-ins but says he's not sure that the pandemic will cause a seismic shift for the industry at large. "Is there room for another couple hundred drive-ins across the United States? Sure. Will you see more built because of this? Possibly," he says. But he also says that limitations on numbers of cars and the additional staff and training needed to follow safety precautions will impact his bottom line. "I don't necessarily think we're going to come out ahead this year," he says.
Even still, movie-goers like Samantha Markey of Maynard, who has been tracking the status of Mendon Twin Drive-In for weeks on Facebook, can't wait for opening night. "Mendon is my happy place," she says. She's looking forward to having that Memorial Day feeling of summer underway and one of Mendon's cheeseburgers. Plus, "it will be nice to see other people not just in the grocery store."
Good thing she has her tickets.