'We're Not Just Essential Workers, We're Human Beings': Advocates Want Slowdown Of Mass. Reopening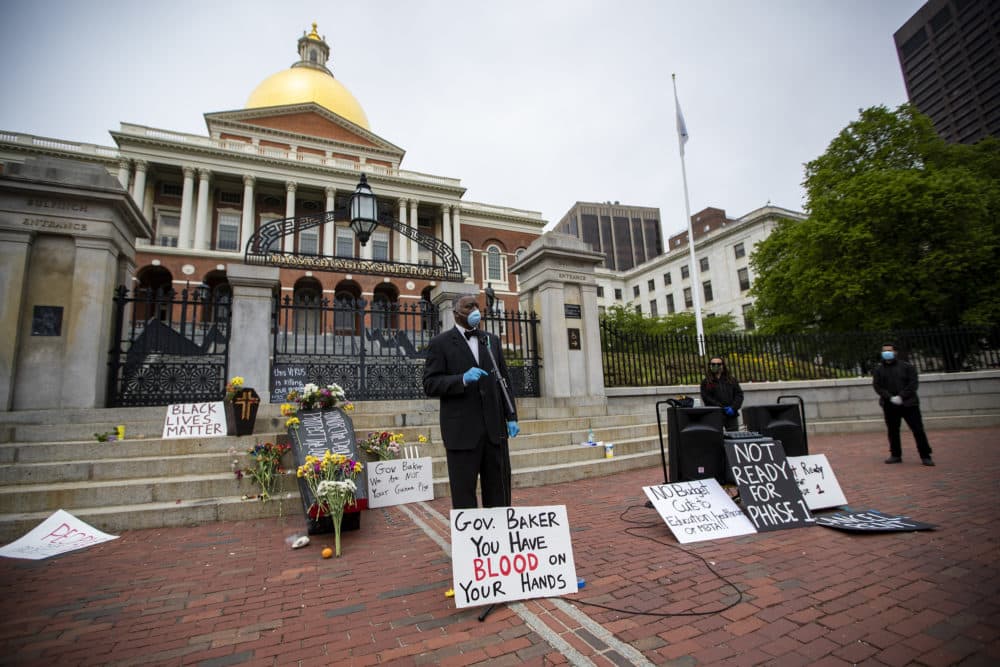 This article is more than 2 years old.
This Memorial Day, those who have died of COVID-19 are also being remembered.
Driving around Boston Common with a mock coffin in tow, dozens of protestors demanded a rollback of the reopening of the state's economy, and called for the creation of a "board of community voices" to counter the corporate-heavy Reopening Advisory Board established by the Baker administration.
"We're here today to honor the dead, but fight like hell for the living, to make sure we do not risk workers' lives simply to sacrifice them for ... this economy," said Al Vega of Massachusetts Coalition for Occupational Safety and Health.
The group Mijente organized the protest to criticize the path outlined by the governor's Reopening Advisory Board — specifically calling for enforcement measures, and tools for workers to denounce unsafe practices in the workplace.
The cities hardest hit by the coronavirus also have some of the highest percentages of people of color in Massachusetts, the group noted. They added that Latinos are disproportionately represented among sectors included in the reopening: While Latinos make up 17% of the state's workforce, they make up more than 55% of "building and grounds maintenance" workers, according to a Boston Indicators report cited by the group.
The protesters also fault the Baker administration for not including any representatives of workers on the 19-member Reopening Advisory Board, which consists of corporate, academic and political leaders, but no one from unions or worker advocacy groups.
The administration says the reopening board heard testimony from unions that together represent more than 100,000 employees, while board members and staff heard from more than 30 more unions. In earlier remarks, Baker defended the composition of the board, saying it would be unfeasible to have members representing "every single point of view that's out there."
After arriving at the State House, the protestors set up the mock coffin in front of a podium. Organizer Vanessa Snow read the words written on the coffin: "Our lives are essential, not our work. We're not just essential workers, we're human beings."