Mass. Is Monitoring These 6 Health Metrics As It Navigates Reopening
This article is more than 2 years old.
Gov. Charlie Baker gave a much-anticipated press conference Monday to roll out his administration's plan for reopening Massachusetts in four phases. In his remarks, Baker reiterated what he has been saying for weeks: reopening will be a delicate, data-driven process.
So what data, exactly, is driving the state's decision-making?
There are six key metrics. If they continue in a positive direction, reopening processes can continue, Baker said. If they backtrack, reopening will, too.
"They operate as a package," Baker said.
A Closer Look At The 6 Metrics
State officials are using traffic-stoplight colors to illustrate where the respective trend lines are headed for each metric. Green indicates a "positive trend," yellow indicates "in progress" and red indicates "negative trend." (For further details, here's the full state report.)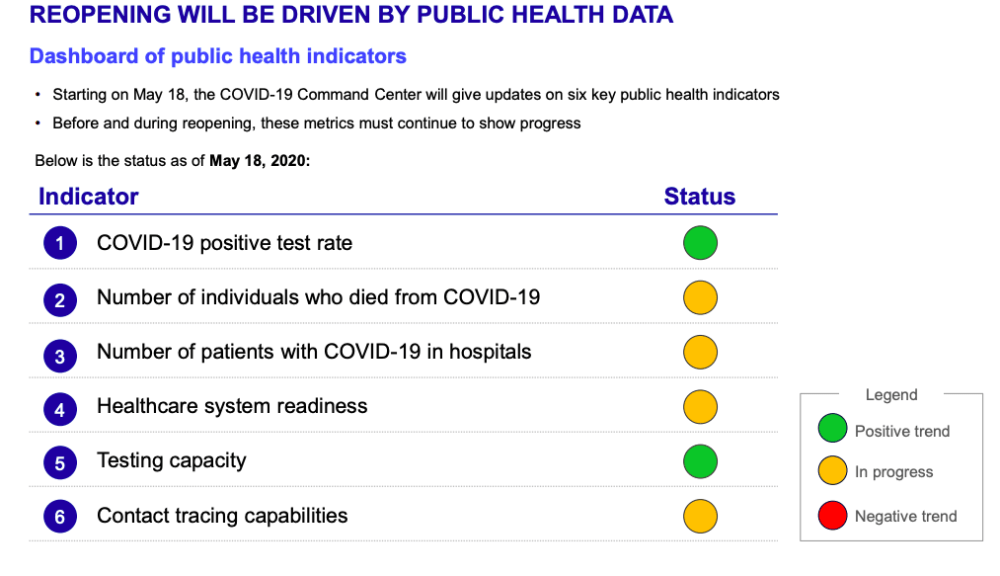 Starting Monday, the state will give daily updates on the six metrics. We'll have the latest data on them as it becomes available. For the full picture, see our latest COVID-19 maps and charts.
'COVID-19 Positive Test Rate' And 'Testing Capacity'
The Baker administration has outlined ambitious COVID-19 testing goals for the coming months.
"Testing and tracing will remain integral to getting ahead of this virus, containing it, and a critical part of our ability to keep the economy moving," Baker said.
Health and Human Services Secretary Marylou Sudders said the state is currently using one-third of its testing capacity, and that its overarching goal is to keep the positive test rate below 5%. The state is submitting a testing plan to the federal government no later than May 24, she said.
"We want to expand lab processing capacity to prepare for a potential fall surge, and to test residents and patients in high-risk congregate settings, including our skilled nursing facilities, correctional facilities, and state-operated or financed state hospitals and group homes," Sudders said.
'Number Of People Who Died From COVID-19'
Sudders said that while the state will closely monitor this metric, "until we only have a handful or no deaths, we can never say that we're trending positive in that area."
'Number Of Patients With COVID-19 In Hospitals' And 'Health Care System Readiness'
The Massachusetts health care system's "readiness" is closely linked to the number of patients currently hospitalized — a figure that has slowly and steadily declined since it peaked in late April. Some field hospitals set up to offset the expected case surge have also started to close.
"Across the state, we have 30 percent availability for both ICU and medical surgical beds," Sudders said Monday.
That measure of bed availability is used to help determine how the state's health care system could react if, hypothetically, case figures and hospitalizations begin to rise.
'Contact Tracing Capabilities'
Massachusetts launched a first-in-the-nation contact tracing program at the beginning of April. (Here's how it works.) The state has poured millions into building up the program, but its impact has been been blunted by some residents not answering their phone when contacted by members of the tracing collaborative.
Alongside testing, Baker has said repeatedly that expanding and improving the contact tracing process will be instrumental to Massachusetts' economic revival.
"From our point of view, that's a must-do with respect to anything that looks like a reopening of the commonwealth or a move toward opening the economy," he said during a daily press briefing last month.
---
You can also consult our town-by-town map below to learn more about the virus' impact in your community.
The Department of Public Health (DPH) updates data on deaths and cases by city and town once a week, on Wednesdays. Click on the interactive above to see how your town or city has been affected. For more, explore a sortable table with each city and town here.
This article was originally published on May 18, 2020.