MFA Announces New Initiative To Support Contemporary Artists
The Museum of Fine Arts, Boston announced a new series of initiatives aimed at highlighting the work of local and national contemporary artists. The MFA, which remains closed until phase three of Gov. Charlie Baker's plan to reopen the state, has committed to purchasing works from a list of 24 living artists based in the United States and Puerto Rico.
"Contemporary artists are part of the fabric of our community, and essential to who we are as an institution," museum director Matthew Teitelbaum said in a statement. "Their commitment, innovation and engagement with the world inspires us in times of challenge."
Over half of the artists on the list are currently based in Massachusetts and includes names like Lavaughan Jenkins and Tara Sellios. These emerging and mid-career artists have work that ranges across disciplines, from photography to sculpture to painting, and for many of them, this will be the first time their work has entered the MFA's collection.
"We chose these artists in particular through conversations among ourselves, by consulting with other people and going back to artists we've encountered whose works we've seen in different places," said curator Reto Thüring during a phone interview. "...all of these artists that we are bringing in now as part of this effort we've had relationships with over very long periods of time and through various channels."
For the MFA, the initiative is particularly timely because of the various impacts the coronavirus pandemic has had on artists. "We've been focusing on collecting [works of] contemporary artists, living artists for a long time," said Thüring. "However, we did feel very compelled to put a specific focus on just that in this moment, which for many practicing artists has been an incredible challenge."
Artists on the list will also receive lifetime memberships to the museum under the Living Artist Membership initiative. "We look forward to adding these works to our holdings and to inaugurating our lifetime membership program," Thüring said. "Which we hope will serve as an open invitation for all artists in our collection to feel at home at the MFA."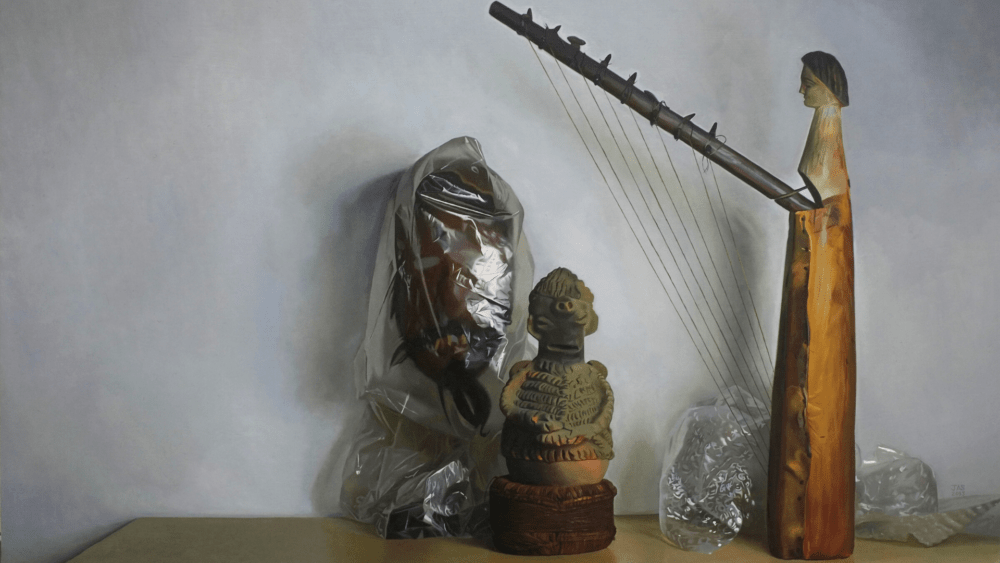 Pieces by Ramiro Gomez and Jas Knight have already been acquired for the initiative. Gomez's "Resting" highlights the life of immigrant workers while Knight's "Lumumba's Harp" recalls the history of the first democratically elected Prime Minister of the Democratic Republic of Congo, Patrice Lumumba. On Sunday, May 31, at 2 p.m., Knight will conduct a virtual studio visit with Akili Tommasino, the associate curator of Modern and Contemporary Art.
"I think both of these works will really resonate beautifully within the larger context of the MFA's collection and not just as contemporary works," said Thüring.
As for the rest of the works the museum plans on acquiring, Thüring said they'll be integrated into the permanent collection. "There is no plan at the moment to show them as a group. I think it will actually be more interesting for ourselves, but also for our audiences to see how they're going to resonate in different contexts."