Walsh Echoes Message Of Boston Protesters, Condemns Property Damage And Looting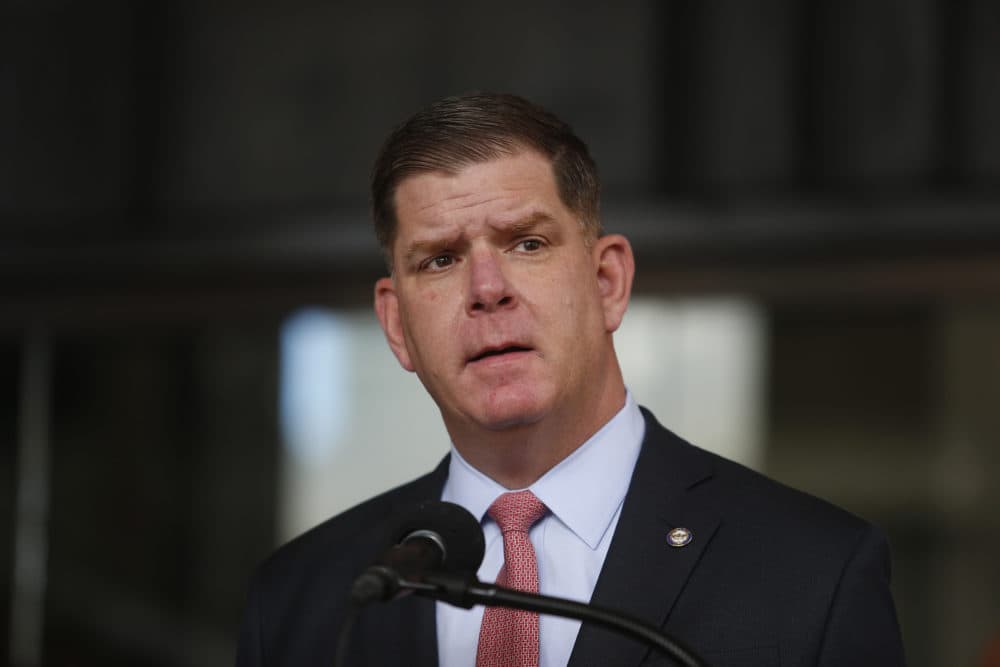 The looting and property damage that broke out in downtown Boston Sunday night after a day of peaceful protest was "the very last thing that our city, quite honestly, needed," Mayor Marty Walsh said Monday.
Walsh said in an afternoon press conference that most of what occurred Sunday was "overwhelmingly positive," and that the 20,000 people who took to the city's streets were spreading a message that would move society forward.
Like others in cities across the country, the protest in Boston was sparked by the death of George Floyd, an unarmed Black man in Minneapolis who said that he could not breathe while a police officer knelt on his neck.
Walsh said what happened after the protest — including clashes with officers, the burning of a police car, and smashing of store windows — was an attack on the values espoused by the demonstrators, and on the city of Boston and its people. He said there was "untold economic damage" to businesses downtown and in the Back Bay.
"Some of those stores have been badly hurt by the pandemic, and are just on the verge of coming back," he said. "They're fighting to survive."
Officials said nine police officers and 18 civilians were taken to the hospital Sunday night, and 53 people were arrested. Twenty-seven of those arrested were from Boston, 24 from other communities, and two were from other states. A summons was also issued for an out-of-state resident.
Suffolk District Attorney Rachael Rollins said three sessions of Boston Municipal Court were involved in "prosecuting individuals that disgraced George Floyd's memory by looting and burning police cars and throwing objects and debris and, in fact, even shooting at officers, I am told, in a drive-by situation."
"That is unacceptable. You will be prosecuted and held accountable," Rollins said. "But I will also say that buildings can be fixed, and I am happy that those officers, I hope, will make it out of it, as well as civilians. There are lives that were stolen, and people that were lynched and murdered, and they are never coming back."