Subversive Film 'Shirley' Explores An Author's Creative Process While Challenging Domestic Conventions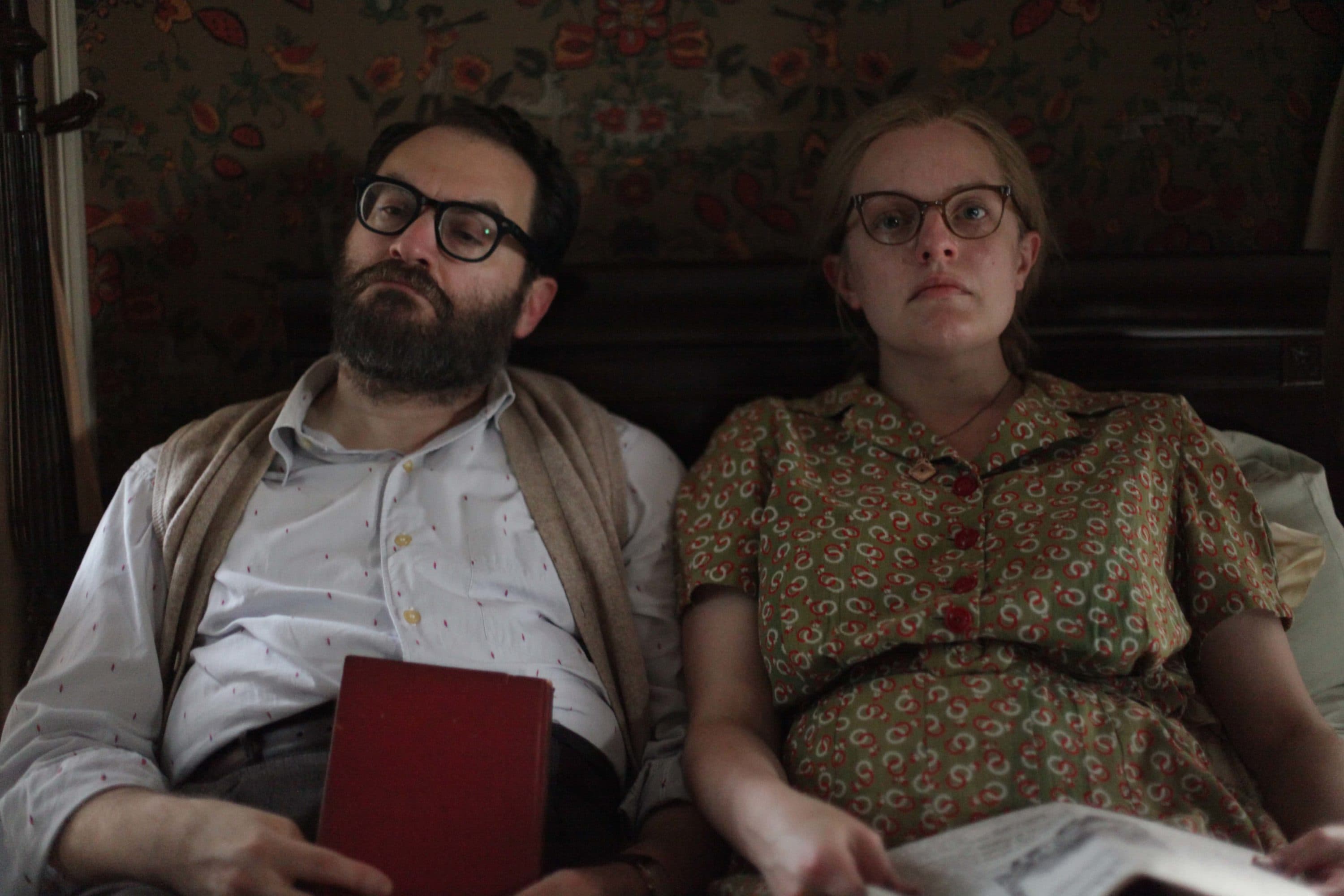 This article is more than 2 years old.
In a moment so slight it could almost be missed, Shirley Jackson shows her fangs. She has already lured the dean's wife into a confrontation by pouring red wine on her yellow chintz sofa. They argue over which of them would make Shirley's husband happier (the hostess has been having an affair with him for years). Then Shirley adds the uncanny punctuation of a cat-like hiss, startling the woman back to respectable company.
It's a fleeting triumph for the undervalued author of gothic fiction, prone to agoraphobia and depression. Jackson's humor, sharply depicted like this in the movie "Shirley," cuts in all directions. The hiss plays up her menacing reputation, a witch who calls writing "the devil's work," credited with the most divisive short story ever published by the New Yorker ("The Lottery," 1948) and the best ghost story on record ("The Haunting of Hill House," 1959). Because it's ridiculous, right? To abide civility in the home of one of your husband's most persistent lovers?
But according to biographies and the cunning new fictional movie about her creative process, Shirley Jackson and her Bennington College folklore professor and literary critic husband Stanley Edgar Hyman had a deal. Open marriage was countercultural. Pro-intellectual. (They married in 1940. His star, more on the rise.) Almost a decade later, when the movie takes place, the deal seems to have worn Shirley (a commanding Elisabeth Moss) to shreds. "Our agreement didn't include sluts interrupting my dinner," she mutters in an early scene, barely able to get herself to the table.

Yet, "Shirley" works its magic by tossing assumptions about marriage, domesticity, adherence to conventions, and how art gets made into one simmering pot. At first glance, Stanley — played with calculating swagger by Michael Stuhlbarg — seems in charge. A beguiling letch, he welcomes newlyweds Rose and Fred Nemser into a Bacchanalian garden party with a swat and a scotch. Fred (Logan Lerman) will unburden Stanley's coursework and the pregnant "little wifey" (a luminous Odessa Young) will help Shirley around the house. Stanley will needle Shirley until she produces a decent manuscript.
The house, encased in ivy, creaks from cellar to roof. A fitful thrumming score could be taken for its heartbeat or nervous system. Too much could be made of Shirley's home in a movie about her, but the daring director Josephine Decker ("Madeline's Madeline") gives it presence with sly restraint. (Impeccable era-appropriate set design, costumes, hair and makeup also strengthen every scene.) Dinner scenes often take place during waning daylight hours and evenings come filtered through a late 1940s yellow-brown glow. If anything, the house exudes warmth, even as the couples exchange barbs over dinner or run a foot up the wrong partner's leg.
The movie is based on an ethereal 2014 novel of the same name by Susan Scarf Merrell in which Rose intermingles the house's consciousness with Shirley's and her own. Impressionable at 19, she desperately wants the house to see her as someone who matters, as if that's necessary for what she really wants. Shirley. Or is it to be Shirley? Or is she a vision of Shirley in her first years of marriage? (I'll confess bringing some of the book's swirling mystery with me to the movie, which sidelines the men to examine the women's relationship from Rose's point of view. The two are different and provocative enough to pursue independently.)

Regardless, Moss' Shirley possesses matronly qualities. Her wish to cast spells on Rose's pregnancy or to ply Rose with questionable mushrooms ranges from midwife to dominatrix, neither actions taken with harm in mind. Shirley needs Rose, anyway, since her face appears whenever Shirley imagines the main character of her novel-in-progress. "Shirley" suggests the author and subject are interdependent, a sliver of each searching for ways to keep madness at bay. (Of course, when Fred finds nettles under the bed he warns Rose against "getting into that bullshit.")
"Shirley" takes on a slow spookiness similar to Paul Thomas Anderson's "Phantom Thread." These are not relationships that play by obvious rules. The alchemy of how Shirley stayed with her husband and why helps explain why she conjured what she did.
---
"Shirley" opens virtually at Coolidge Corner Theatre June 5 and The Brattle Theatre hosts a virtual screening and Q&A with director Josephine Decker and Elisabeth Moss June 6.