No Elbow Bumps, But Air Hugs And Conversation As Long-Term Care Facilities Open For Visitors
03:12
Play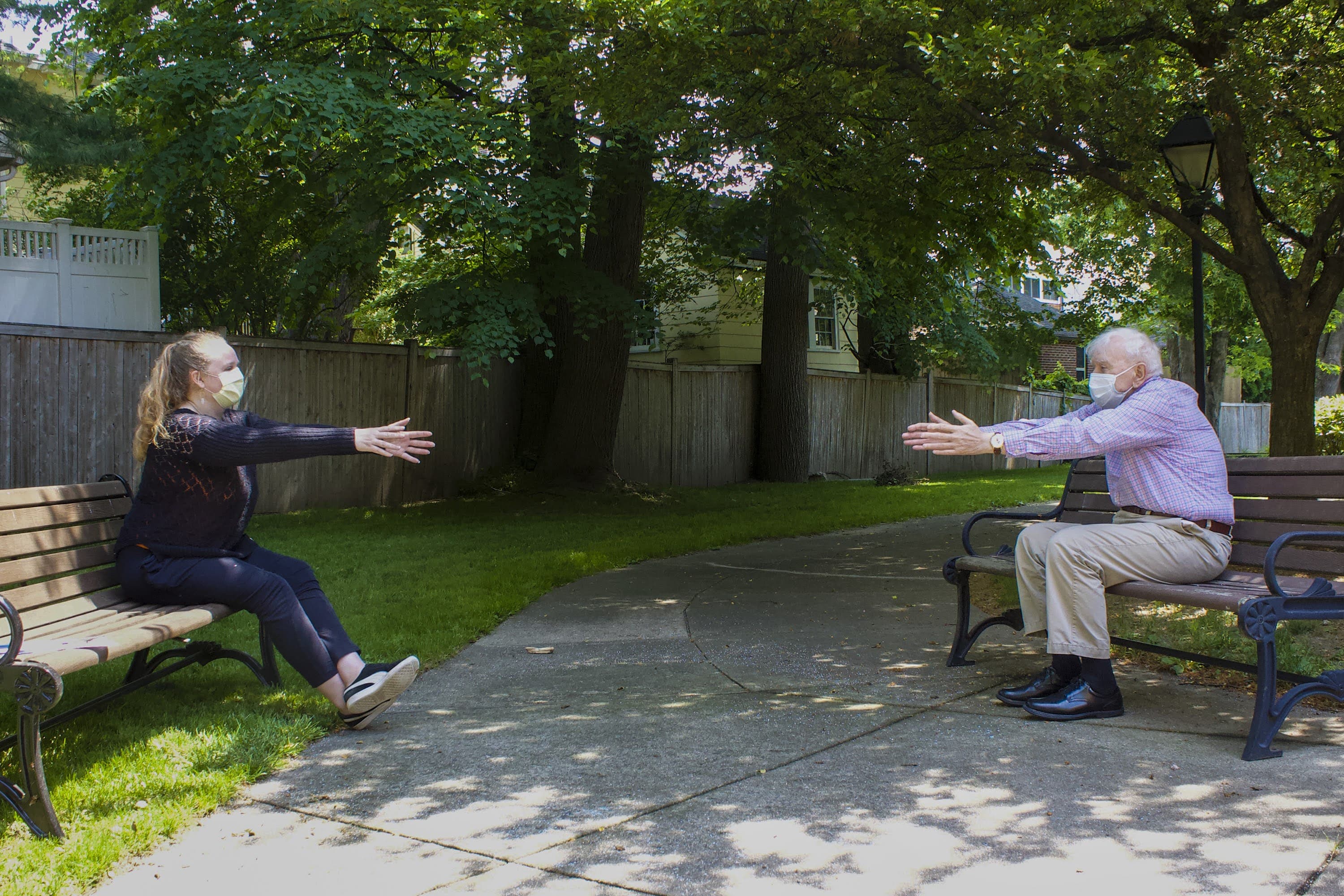 This article is more than 1 year old.
For many, not being able to see their loved ones in nursing homes or other long-term care facilities has been one of the hardest parts about living through the coronavirus pandemic. But this week, the Baker administration eased its guidance on non-essential visits, meaning that with certain limitations, some families are able to reunite.
The Davies family is one of them.
Before the pandemic, Claire Davies would visit her father, Geoffrey Davies, at his assisted living residence in Jamaica Plain about twice a week. She'd often take him out to lunch or bring him back to her house in Cambridge so he could see his grandkids.
But for the last few months, that hasn't been possible. Rogerson House, where Geoffrey lives, closed its doors to non-essential visitors and personnel in mid-March.
"I have been seeing him through the window, and FaceTiming and talking to him on the phone, but I haven't actually been in the same space as him since March," Claire says.
And that's been hard, which is why she jumped at the opportunity to see her dad face-to-face this week.
Under the new state guidance, visits are allowed at long-term care facilities as long as the visitors, facility employees and residents follow certain rules. All visits must be outdoors, and everyone must wear surgical face masks and remain at least six feet apart.
Luckily for the Davies, the sun was out Wednesday morning and the rhododendrons were in full bloom.
At the designated visiting time, a Rogerson House staff member escorted Claire around the side of the building to the back patio. She asked Claire to sit on a wooden bench that faced another bench positioned at least six feet away, and told her she'd go get Geoffrey.
As Claire waited, she said she's thankful that her father has been in good spirits through all of this, and that he's been able to keep busy.
"He has occupied himself by writing his autobiography. He reads the New York Times, he does the crossword every single day, and he's taken up the lost art of letter writing," she says. He's also been cutting out newspaper clips that he thinks his family members will enjoy and tucking them into the handwritten letters he sends.
Just talking about her dad makes Claire light up. And even though she's wearing a mask, you can tell she's smiling.
A few minutes later, the door to the courtyard opens, and the same employee walks Geoffrey to the bench across from Claire.
"Oh, this is wonderful, to be sitting outside instead of talking through the window," Geoffrey says.
It is, Claire agrees.
"Remember a couple weeks ago when I came to visit, I was saying to you through the window that I couldn't wait to see you so I could give you a big hug? They told me today that I can't," she says.
"Nevermind, you can go like this," her father replies.
Geoffrey stretches out his arms toward Claire, and she reciprocates. They hold the air hug for a few seconds.
For the next 40 minutes, they talk about how Claire's son finally got a haircut, their family in England, and the memoir Geoffrey's been writing.
"It's up to 250 pages. In very small print," he says. "It's going to take you a long time to type."
Claire jokes that if he spends any more time describing the many decades he spent working as a scientist and professor at Northeastern, he won't have any pages left to write about her and her two brothers.
They have a good laugh about it. And then he reminds her that he's running low on paper and other office supplies.
"What's really fun about visiting my dad is that every time I see him he gives me a long list of things to do. It doesn't matter if we're physically together or through a window," she says. "He's like, write this down, next do this, now do this."
Well that's because she's very smart, her father replies. "I couldn't do most of the things I ask her to do myself."
So though they're sitting six feet apart, wearing masks, and unable to give each other an elbow bump — let alone a hug — Claire says it's good to know that some things never change.
"Just the fact that he's in great spirits, it's just really reassuring," she says. "It's hard not to give him a hug, but it's nice to be able to sit across from him. Like he was saying, it's not the same when you're looking at someone through a pane of glass."
The Davies don't know when they'll be able to sit together again, but as the visit ends and they say goodbye, Claire reminds her father that she'll be back for their regularly-scheduled window visit on Friday.
This article was originally published on June 04, 2020.
This segment aired on June 4, 2020.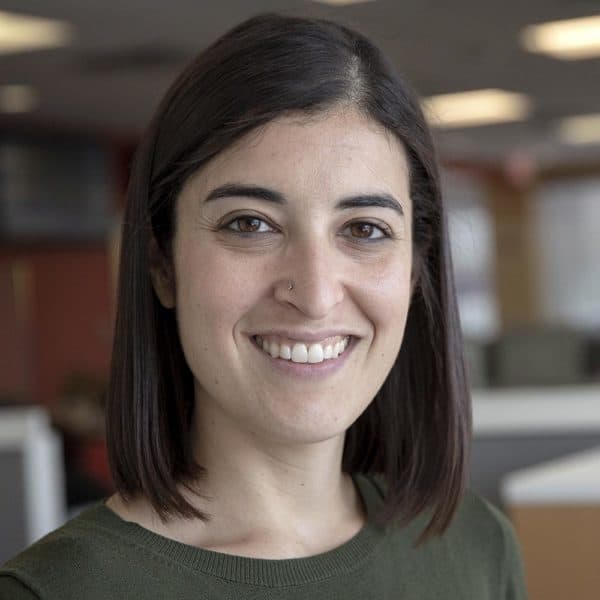 Miriam Wasser Reporter, EarthWhile
Miriam Wasser is a reporter for WBUR's environmental vertical.