Local Theater Is Acting Up A Storm — On Your Laptop
Though the city is slowly reopening, the pandemic continues to dictate when we'll be able to enjoy theater without fear. Will there be Shakespeare on Boston Common this summer? Will there be theater anywhere this fall? Given the uncertainty, local theater artists have taken their craft online with everything from light-hearted domestic videos to readings about the killing of George Floyd.
Prior to COVID-19, I didn't give much thought to watching live performances on Facebook or attending a Shakespeare reading via a conference call platform. However, several recent offerings have made a quarantine convert out of me. Live theater isn't always a life-changing event, and neither is Zoom theater, but there are pleasures to be had. Here are some that stand out to me:
For light-hearted fun there's John J. King and Ramona Rose King's "Home Office," a web series that documents their alter egos Jonathan and Mona as they learn, sort of, to work together from home.
The weekly show is funny and approachable, but its best moments come when we recognize ourselves. The two make an awkward dance of trying to navigate the kitchen in the opening jingle, disagree over the temperature in the house while clad in multiple layers and don perfectly nice clothing for meetings — from the waist up.
Both Kings — he's a playwright and musician, she's a producer for the theater platform, HowlRound — break the fourth wall to share tidbits about their partners, at the other's expense. The two tackle issues from the struggle for space to isolation and overspending on avocados. The humor comes from situations that rely more on striking familiar notes than on exaggeration.
Theater troupe Liars & Believers consistently develops short pandemic plays that are generally entertaining and sometimes anchored by a moral message. There's love, compassion and a little space to draw your own conclusions in "Ted & Marie," and wrongdoing, religion and murder in "The Greening of Bridget Kelley."
In their latest play, Peter Snoad's "Entitled," viewers meet an angry Mr. Gross (Bob Mussett) and a woman called Dobbin (Meredith Saran) on a perfectly serene beach. Mr. Gross seeks peace and quiet and reminds Dobbin how much money he's spent to get it. Mr. Gross — yes, his name is a little on the nose — complains about everything from the coconut tree to the waves crashing against the shore. But if you spend too much time listening to Mr. Gross' never-happy-with-anything diatribe, you'll miss the subtle darkness seeping through.
Searching for longer productions? Every week through June 28, the Elliot Norton Award-winning Arlekin Players Theatre is streaming the previously-reviewed "State vs. Natasha Banina." Based on "Natasha's Dream" by Yaroslava Pulinovich, a former orphan tells the story of her life and her desire for freedom. In a Zoom courtroom, Banina appeals to the jurors (the audience) who decide her fate as director Igor Golyak raises the stakes with avant-garde video touches.
Sci-fi fans should tune in to Flat Earth Theatre's radio play, "Fine-Tuned Universe." In it, a team of scientists stationed on the far side of the moon are working to repair a radio telescope used to discover signs of life beyond the solar system. Initially, I aimed to watch the actors but found that listening was better. The show streamed an episode every week for a little over a month. If you missed it, don't fret. The six-part play is on YouTube. The Flat Earthers are working on their next play, "Messages of a Virtual Earth," which they plan to release in September.
If script readings are your thing, the Actors' Shakespeare Project will wrap up its "Complete the Canon" series with "Henry VI, Part 1" on June 11 and "Part 3" on June 18. Tip: show up with the script.
Asian American Theatre Artists of Boston has a reading series via Zoom and Facebook through July 1, and Apollinaire Theatre Company offers weekly readings and other events. This week, there's a community read in response to George Floyd's killing, a reading of Cliff Odle's "Lost Temple" for "New Play Night," and Jordan Peele's "Get Out." I'm curious how that seminal movie will translate without Peele's eerie visuals.
Mixed Magic Theatre's 5th Annual "Poets on Fire" event featuring former Rhode Island Poet Laureates Rick Benjamin and Lisa Starr should be a nice change of pace. There's also a recording of "RISE TO BLACK: Songs for Our Mothers," a concert featuring singers, musicians and spoken word artists.
Theatergoers interested in delving deeper should check out SpeakEasy Stage Company's "Play Discussion Club." Each week, audiences get to discuss a theater piece with the playwright present. Up next is "DIASPORA!" on June 11 with Phaedra Michelle Scott. The Huntington Theatre Company and American Repertory Theater websites also feature virtual talks and classes.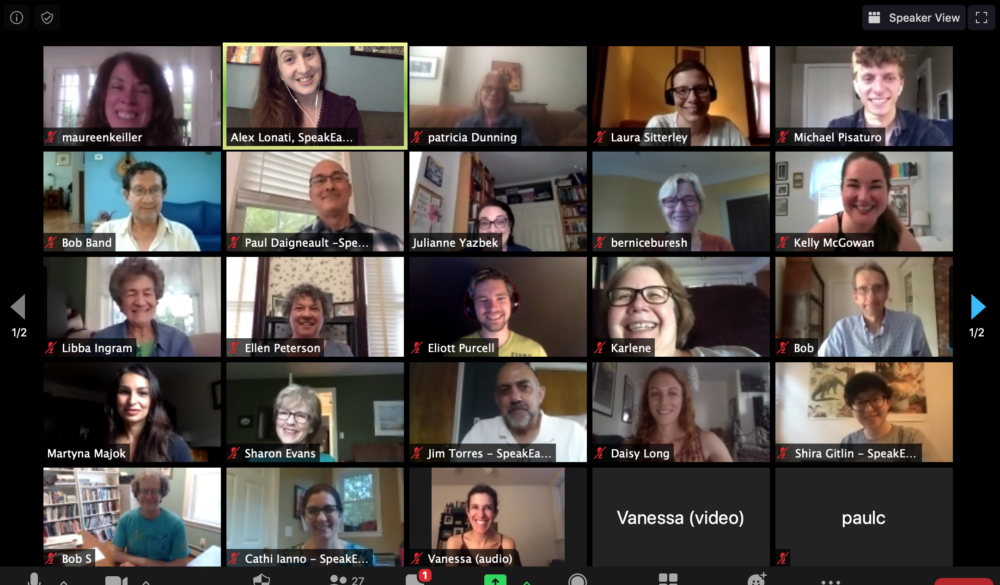 Every Sunday, Michael J. Bobbitt, New Repertory Theatre's artistic director, convenes decision-makers and different subsets of artists to discuss topics central to the theater community during "In the Wings: Artist Salon." The Wilbury Theatre Group in Providence, Rhode Island shares its brand of news, "Road to Reopening," on Facebook. Starting this Friday, June 5, "Conversations with Heshie," a three-part Zoom play by Lawrence Goodman, airs on its Facebook page. Through three Zoom calls, audiences get to meet the character Heshie Cantankorwitz and his grandson Asher as they talk about the meaning of life and love, making a fast buck in the garment industry and the importance of a high-fiber diet. Parts two and three stream live on June 12 and 19.
But what about public communal events, which is what theater is really about? Barrington Stage Company is forging ahead with two shows in August, a one-man thriller, "Harry Clarke," and "South Pacific: In Concert." The former will be held at the Boyd-Quinson mainstage and the latter outdoors. Barrington details their socially-distanced seating plans and policies for temperature checks, masks and more here.
In Boston, outdoor theater summer programming feels less certain. Commonwealth Shakespeare Company's "The Tempest," originally scheduled for July 22 to Aug. 9, remains on the website. Company spokeswoman Katalin Mitchell said via email that "we expect to share our summer plans publicly in the coming weeks."
While we wait to see what happens, it appears that theater makers will continue to develop work to keep us entertained and connected.
"I think people realize it's going to take some time to understand how to come together appropriately in a safe fashion," says Catherine Peterson, executive director at ArtsBoston. "The theater community … [and] the whole arts community is being so thoughtful and collaborative about making sure that we take care of our artists, our arts administrators and the public."