MassArt's Virtual MFA Thesis Show Offers Artists More Space And Room To Explore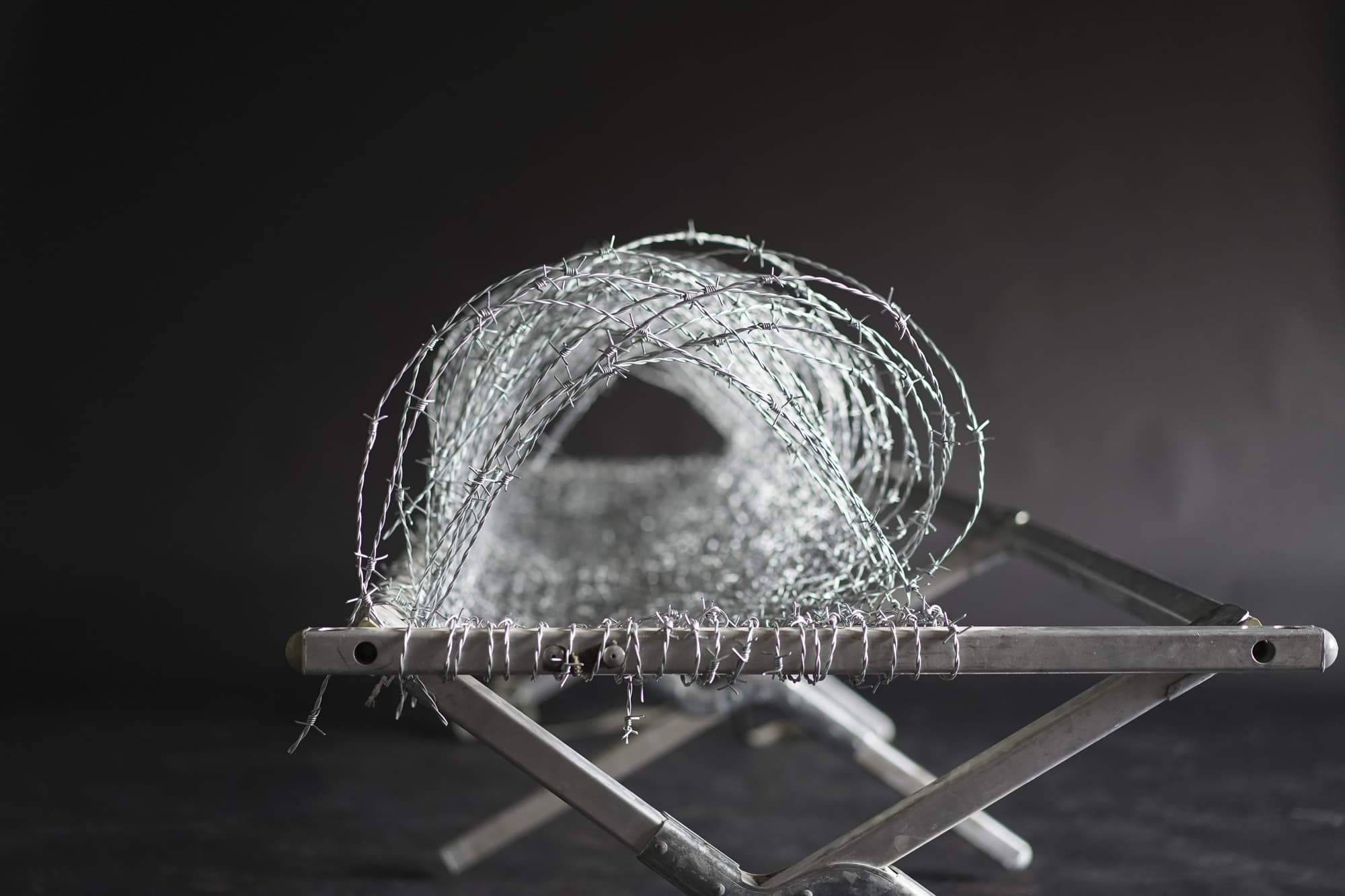 This article is more than 2 years old.
This year, the MassArt MFA graduates are showing their thesis exhibitions in a new way. One that doesn't involve in-person viewing. Due to the COVID-19 pandemic, the show has been 'hung' online through a sophisticated digital interface called Kunstmatrix. This program allows the viewer to walk virtually through the galleries and examine each work up close, read wall labels and envision the gallery space in three dimensions. Of course, this is a frustrating substitute for the real experience, especially for those works incorporating nontraditional materials and site-specific or immersive elements. For these newly-minted masters headed out into an unknown world, however, and for those of us who love art, it's far better than nothing.
By the time MassArt's spring break had ended — extended as college administrators developed a plan to tackle the coronavirus, MassArt Art Museum (MAAM) director and exhibition curator Lisa Tung knew that this would be no ordinary show. Ordinarily, Tung makes two rounds of visits to the studios of the artists expecting to graduate each year, one in late November, and another in the spring. For Tung, ensuring that masters students know that they can turn to her as a resource is an important part of her job. This year, the spring visits never took place.
At a meeting of the 2020 MFA cohort in January, Tung and the artists met to draw up a rough outline of the annual MFA Thesis Show. The plan was simple: each artist would hang one work in MAAM, while several more of their pieces would be hung in one of the nine other exhibition spaces on campus. When Tung got the news that students would not be returning to campus after the end of spring break, she knew it was time for a quick pivot to a virtual exhibition.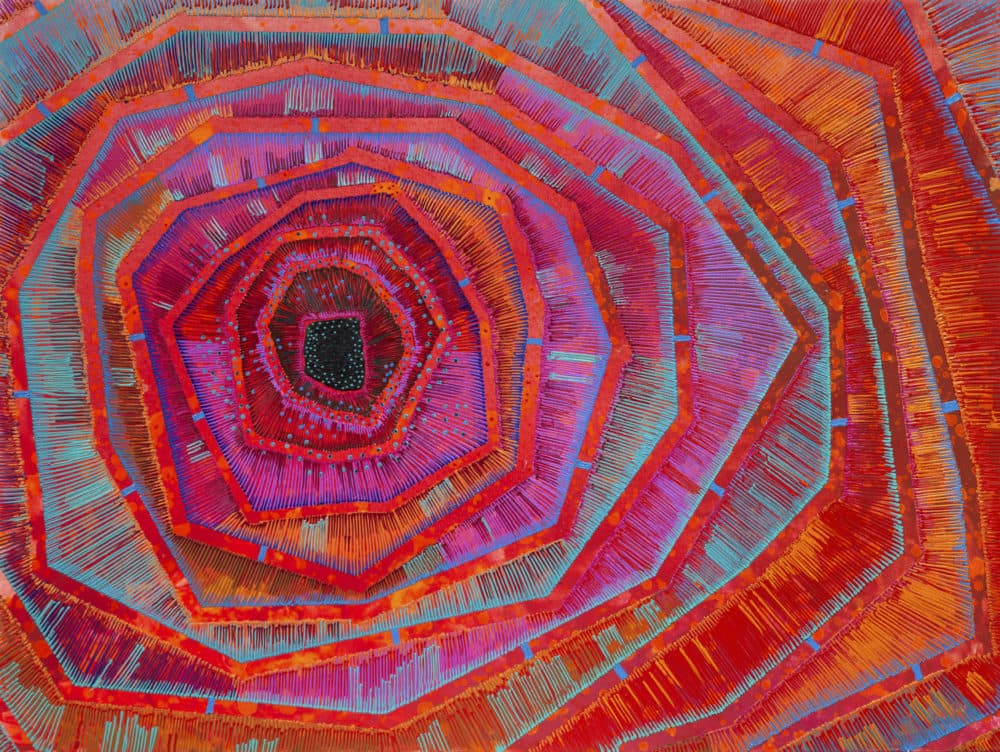 "It's my first digital [exhibition] hang," Tung noted with a laugh. She was soon convinced that although there was some disappointment that the artists would not be able to hold a physical exhibition, the change of course offered several silver linings. Unlike a brick and mortar gallery, a digital exhibition has no space limitations, so the artists are able to show far more works than the few they had planned for in January. The Kunstmatrix platform allows artists and curators to play with malleable gallery spaces in every size, shape and configuration, as well as explore state-of-the-art (virtual) video and sound projection equipment that might ordinarily be out of budget.
In addition to the works on display in the digital gallery, more of each artist's work can be seen on personal pages on the MassArt website, which also include an artist's statement and a brief biography. As a visitor to the exhibition, I appreciated the opportunity to contextualize the pieces on display in the virtual gallery within the other works the artists had made over the course of the MFA program, many of which are shown on these individual websites. Tung explained that many students enjoy a period of experimentation during school, exploring different media, techniques and styles in order to refine their artistic voice. It was a treat to peek behind the scenes and watch a motif or idea be worked and reworked until it came to fruition.
Neetu Singhal's pieces, moving through painting, metalwork and sculpture, reflect a strong sense of evolution. Coming from a background in neuroscience, Singhal argues that the structure of the world can be reduced to the two fundamental forms of the line and the dot. Staying within the bounds of these two elements, she explores different media to find the right outlets for her understanding of human consciousness, metaphysical energy and the occult. Although she works primarily in two dimensions, Singhal's goal in artmaking is "creating an alive complete energy system as... one piece of art." Singhal's play with time and scale — a 60-foot painting installation, a 150-pound metal canvas, tiny beads of bronze that oxidize as they age — reflects the spirituality with which she approaches her practice.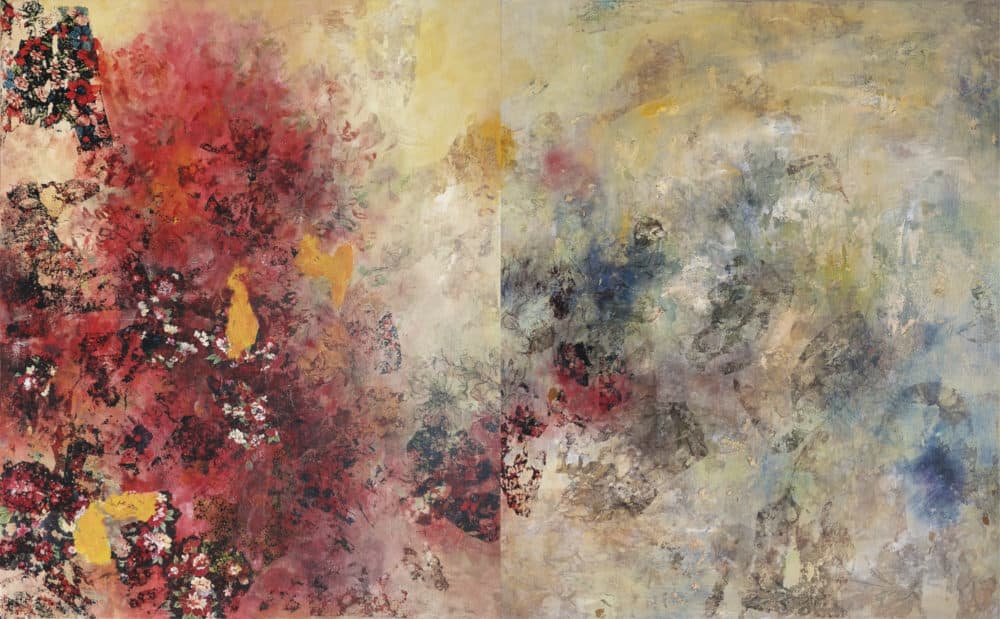 Another artist to watch, is Hung-Ju Kan, an accomplished draftsman as well as a painter. Kan employs a language of seven floral patterns, each with their own allusive reference and personal meaning, to interrogate the interstitial spaces of national and cultural identity. His pieces are intricately layered: paint and patterned papers bearing traditional Chinese and Taiwanese imagery war with his own sketches of magnolia flowers, which he first encountered upon his move from Taiwan to Boston. This move, as well as Taiwan's long history of colonization, provides the fodder for a multifaceted view of artistic tradition, a quality visible in the seams dividing several of his works. For Kan, the patterns are "carr[iers] of memory and experience" — in using them in his work, he is attaching each piece to a longer history, both artistic and cultural.
While it might not be the show these artists had planned, there is a silver lining to the virtual exhibition. This year's show has already been seen by more viewers from more geographical locations than any previous MassArt graduate shows. With the rise of these online formats, it's easier than ever to see great work by exciting young artists, and this show is certainly worth clicking through. As these graduates navigate the uncertain terrain of the new art world, may this digital exposure serve them well.