His Upham's Corner Bike Shop Was Looted. Now He's Donating Part Of The Money He's Received To Bail Funds
Resume
For months, Noah Hicks was forced to turn away customers hoping to get their bikes fixed at his shop, Spokehouse, in Upham's Corner. After closing for the coronavirus, he planned to reopen on June 1.
The night before — as looting broke out in some of the wealthiest parts of Boston — he thought his shop was safe. When he woke up the next morning and saw the texts on his phone, he headed straight for the shop.
"So I opened up the front door, came in, and there was glass right beneath that window, which was partially smashed out," Hicks said, pointing to the area inside his shop. "There was this big, huge rock right here, right in the glass, and there was glass trailing throughout my store."
Then he saw the area where repair bikes are stored was emptied out — the best bikes gone.
Hicks' insurance deductible was too high to make a claim — so he turned to social media and asked for help to recoup his losses and reimburse customers whose bikes were stolen. He couldn't believe the response he received.
"We got a nice $6,000 or $7,000 seed to get back in business in a big way," he said. "We were hurting after being closed for a two months due to the coronavirus. And this changes a lot for us. We're getting started with a huge lift."
The bike shop has now raised more than $16,000, and Hicks reopened this week.
He's only keeping a portion of the money for the shop. The rest will go to support the movement against police brutality, including contributing to a bail fund for people who were arrested after the protest.
Someone raised the question of whether that donation could help the people who broke his window and stole his bikes.
"I don't care if it does," he said. "My response is that jails are inhumane and we should be finding alternatives to incarceration, period. And if the person who did this is sitting in a jail cell, they need hope, they don't need bars."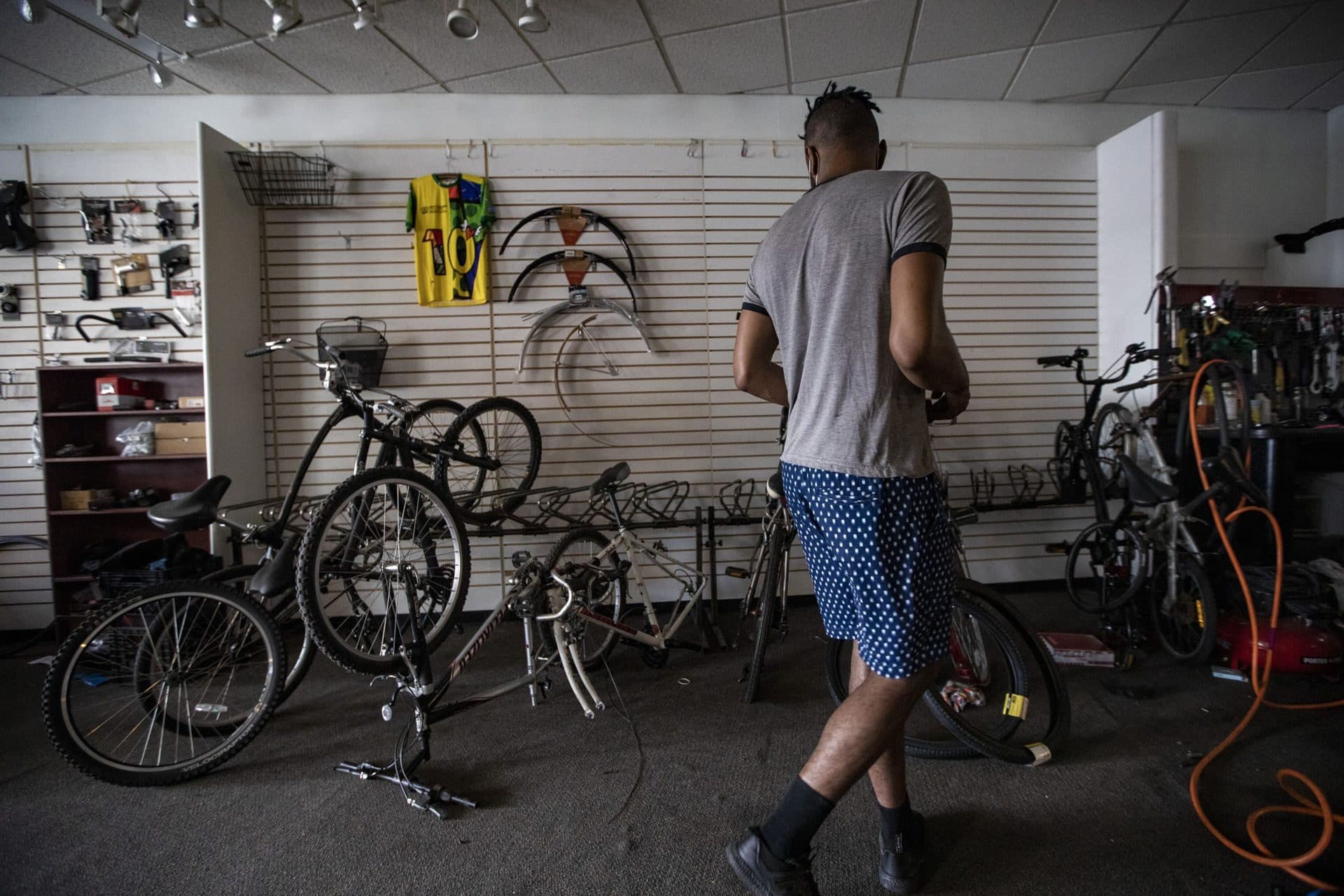 Hicks doesn't blame outside agitators for the looting, as many politicians do. He said it may well have been people from his own neighborhood.
That's part of the reason he doesn't want to see police get involved. Hicks is advocating for defunding the police, and said the pain at being targeted was overwhelmed by the energy of the protest movement that he's a part of.
"People are just fed up with the status quo," he said. "People are hungry. People are broke. People are without hope. And even if you had some sort of safety net or some sort of feeling of comfort before the pandemic hit, nothing is certain for anyone anymore."
Among the people who helped Hicks get back in business is Kendra Hicks, a community activist of no relation to Noah. She said the bike shop is a manifestation of what the protesters are fighting for — a Black-owned business bringing jobs and affordable transportation to a neighborhood that needs both.
"When you are caring for community, the community will care for you," she said. "And Noah is somebody who has continuously cared for community. And so it was definitely not a surprise that people showed up for him like they did."
After raising $16,000, Noah Hicks said that, for the first time in his life, he's in a position to be a philanthropist. And he's using that money to help these groups and causes, like Violence In Boston, Black Mama's Bail Out, the Transgender Emergency Fund, and a fundraiser for a Black trans woman attacked in Minneapolis, with more to come.