Somerville Will Start School Year Remotely — The Largest District Yet To Do So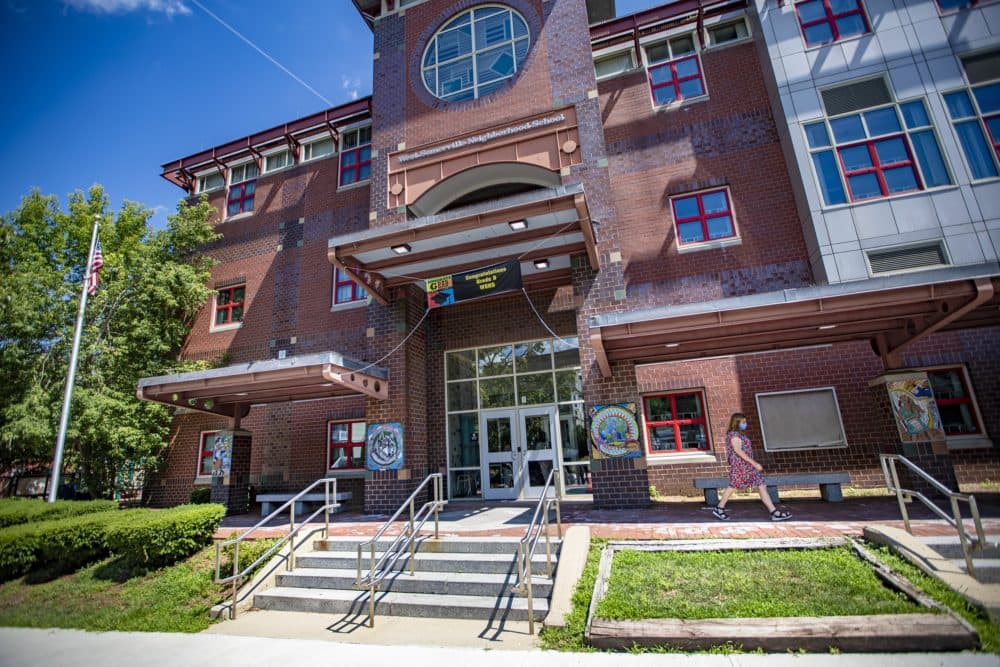 This article is more than 1 year old.
With the coronavirus pandemic an ongoing concern, all of Somerville's nearly 5,000 public school students will start the upcoming school year remotely.
With the first classes set to convene in just a few weeks, Somerville became the largest district in Massachusetts so far to decide against an immediate return to in-person learning this fall due to concerns about the coronavirus pandemic.
Somerville Mayor Joseph Curtatone, Superintendent Mary Skipper, and Carrie Normand, chair of the district's school committee, announced the decision in a letter to educators Tuesday.
Two safety-minded initiatives, they wrote, are still underway: "bringing in an engineering firm to assess the ventilation and filtration systems in our school buildings, and working to set up a virus surveillance testing plan for students and staff."
"We do not believe that opening school for in person instruction without these two important safety components of the school reopening plan in place and resolved is safe," they added.
Rami Bridge, the president of the Somerville Teachers Association (STA), the city's teachers' union, applauded the decision — even as he confirmed it wasn't what most Somerville teachers had hoped for this spring.
"The education system in the spring was really ineffective, because it was crisis learning the entire time," Bridge said. "Most educators didn't want to return to a remote model."



Somerville Mayor Joseph Curtatone examines the ceiling for ventilation ducts during a visit to assess the ventilation at West Somerville Community School. (Jesse Costa/WBUR)

But as the summer went on — and cases surged elsewhere in the United States — educators came to a "recognition of reality," Bridge added. In one staff meeting, he recalled, a teacher shared concerns about another semester of reactive planning, saying "every day that we don't make a decision, I'm a worse teacher in the fall."

Two weeks ago, Bridge and Megan Brady — STA vice president — published an op-ed in the Somerville Journal calling for a remote start as "the only safe return to school in September."

Meanwhile, a return to in-person learning remains the stated goal of state officials, including Jeff Riley, Massachusetts commissioner of elementary and secondary education.

In a Zoom panel organized by the Greater Boston Chamber of Commerce, Riley cited a national organization of pediatricians to argue that "now is the time to start getting our kids back in school," given worries about students' mental health and food security and the state's relatively low rate of virus transmission.

Recent testing data shows a modest increase in both the number of cases and the percentage of positive tests in the state.

Bridge said he believes Somerville's decision — even if it departs from state guidance — simply reflects "the hands we were dealt."

"We can't control the state's response to the virus — any more than I can go back in time and encourage our state to properly fund education so that our buildings won't be in a state of disrepair later," he said.

The Somerville plan leaves room for a phased return to a hybrid model — wherein students would slowly return to buildings — once the ventilation reviews are complete and with reference to local pandemic data. In the meantime, the district will consider outdoor learning options as well as ways to support students at home.

On Tuesday, Kenneth Salim, the superintendent of schools in neighboring Cambridge, proposed plans for a remote start for students in grades four through 12, with exceptions for students with disabilities or other needs, as well as for the district's youngest students. The Cambridge School Committee will vote on that proposal Thursday night.

In his proposal, Salim echoed Bridge and Somerville district leaders. "There is no perfect plan to reopen schools this fall," he wrote.