Not Gone Yet — Great Scott Eyes Allston Regina Pizzeria Location For New Club
This article is more than 2 years old.
Great Scott, the Allston rock club at the corner of Commonwealth and Harvard avenues, was shuttered in March and pronounced dead in late June. And dead it remains — at that location. A convenience store is expected to occupy that space.
But this twisty-turny story of one of Boston's most venerable small rock clubs took a big uptick Tuesday with the announcement that owner Carl Lavin had struck a tentative deal with Arcand Associates, the landlord of the former Regina Pizzeria in Allston (which closed in July), to open a club at that spot. Located at the end of Harvard Avenue, at 353 Cambridge St., and about a half-mile from the old site, it too will be called Great Scott.
"We have come to an agreement in principle on what rent is going to be moving forward and how we're going to stagger it out," Lavin said Wednesday.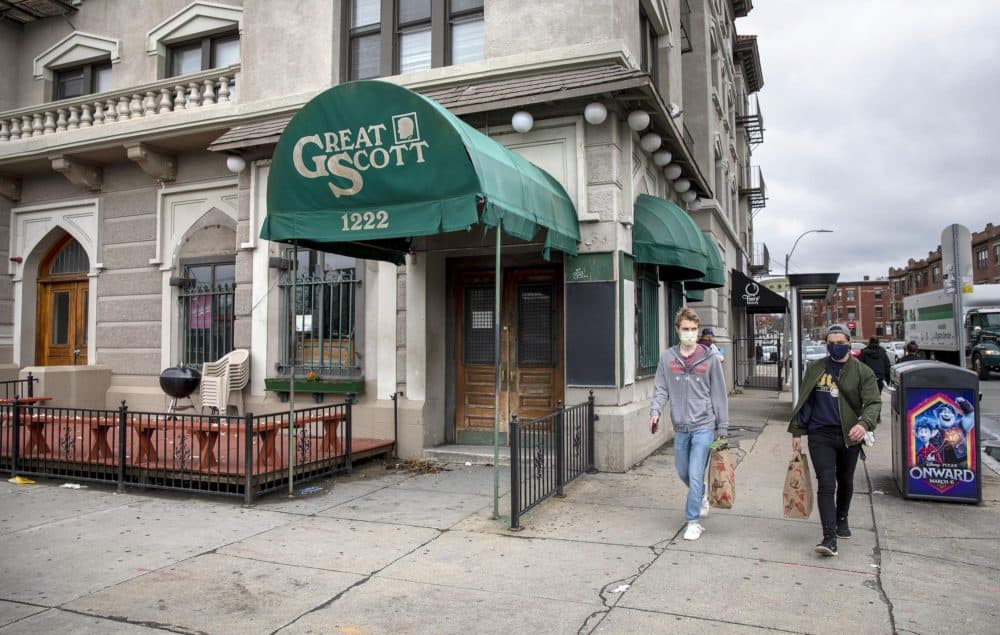 Asked where he was on a scale of 1 to 10 — 10 being complete confidence in a done deal for the new Great Scott — Lavin paused and said, "I would say it's a 7.5. The landlord and ownership are on board. All I need to be able to do is make sure it's not going to cost seven figures. I have no idea of the cost yet, but I'm very confident we'll move forward. The biggest thing to figure out is how much it's going to cost to do the buildout to make the space into a venue without that being astronomically prohibitive."
To that end, Lavin is back in business with Mainvest, a Massachusetts-based crowdfunding company, which launched a public investment drive for Great Scott in late May. The idea was to build a base of small-scale investors — $100 minimum buy-in — from people who loved the club and the community, and would see a small return on investment if it was successful.
The club, formerly leased by Frank Strenk, had been shuttered in mid-March due to the pandemic but then announced it would be closing for good on May 1. Mainvest raised about $197,000 — money that was put in escrow after Lavin was unable to reach a deal with the landlord, Oak Hill Properties.
"The core difference between this landlord situation and the last is a direct willingness to want it to work with us," said Mainvest CEO Nick Mathews. "These guys are Allston born and raised and they are not soliciting others or have given it to a broker."
Mathews announced yesterday they have relaunched the campaign with a new goal of $350,000. The talks between Lavin and Arcand "progressed to the point where they have reached a mutually agreeable path forward with the terms verbally agreed upon."
"I talked with Frank yesterday," Lavin said, "and he was pleased to know Great Scott's name and spirit would continue on. The idea is to bring back every single person that worked there that doesn't have a job yet, to keep the heart and soul of the whole thing."
In 2004, Lavin started booking Great Scott shows and in 2012 became an employee of Bowery Boston, which is owned by the mega-promoter AEG. Lavin was furloughed amidst the pandemic crunch. He is not certain what the relationship will be with Bowery Boston in the future, noting that has yet to be finalized, but says, "they've been supportive. I know there's a preference [to have me back] in the Boston office."

Of course, with the pandemic still ongoing and a vaccine not yet available, don't expect to see concerts at Great Scott (or any Boston club) until some time in 2021, when Gov. Charlie Baker's phase four of the state reopening plan begins.
"I would imagine unless this is the first construction job to ever finish on time, I feel like phase four would come before we're done building it out," said Lavin. The capacity is expected to be 300, 60 more than the original Great Scott.
But, while the new venue will be reconfigured mainly as a rock club, it will also have a pizza shop component. Rock City Pizza, which currently has a restaurant just down the road at 568 Cambridge St., will be serving food. The fact that the new facility will be doing so should allow them to open earlier in the current phase three reopening.
The Arcand family has been involved in Allston business for 112 years. Arcand Associates manages the property for the Arcand family, which owns the building and land, said property manager Douglas Arcand. The deep roots in the community are one of the reasons, Arcand said, they wanted to step in. That and the fact that the 35-year-old Arcand was a Great Scott patron, naming Street Dogs as the best band he'd seen there.
"I'm an Allston resident," said Arcand, "and it's important to us to be in the neighborhood. We care about the direction the area goes in."
Both Arcand and Lavin said there are still many details to iron out. But, Arcand said, "As soon as we knew Regina's was leaving, we started to look around. A lot of my friends have played Great Scott and it seemed a real loss to the community. It seemed like I might help two different entities by putting this together. It's important during these times, with all these establishments closing down. It'd be a real shame for Allston to lose this legacy that's been developed over the years."
"The Arcands are very cognizant of the situation our industry faces and they're being super accommodating," Lavin said.