In 'Judgment Day,' Playwright Rob Ulin Delves Into Life's Existential Questions
This article is more than 2 years old.
"I wanna figure out the rock bottom least amount of good I need to do to get into heaven," says Sammy Campo to a Catholic priest. The fictional Campo spent his life mistreating people at every turn, but a near-death experience has him re-evaluating his ways. Campo's unconventional journey towards redemption is at the center of "Judgment Day," a play by celebrated TV producer, writer and first-time playwright Rob Ulin.
A virtual reading of "Judgment Day," featuring an all-star cast, streams Saturday, Aug. 22, and will be available for 96 hours. The reading will benefit the Barrington Stage Company and The Actors Fund, an organization that provides services such as emergency financial assistance, affordable housing, healthcare and more to the entertainment community.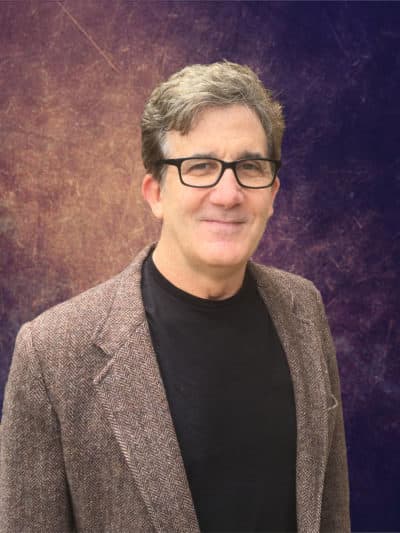 In the play, after his brush with the grim reaper, Campo (Jason Alexander) encounters an angel (Patti LuPone) who hastily tries to send him to hell. In a very lawyerly fashion, Campo questions the angel's premature process and figures out she is breaking the rules by appearing before he's declared dead. He also learns from the angel that humans must make good choices while on earth regardless of how they feel inside. When Campo miraculously recovers, he decides to do whatever it takes to work his way into heaven. He joins forces with Father Michael (Santino Fontana) — who is facing his own struggles — to right the wrongs in his life, often using tactics that make the priest uncomfortable. At first, Campo doesn't care about the people he decides to help, but he learns that if "you're doing good things, it does change you," Ulin explains over the phone.
The idea for the story came to Ulin a few years ago while he was working on television shows. "It was my sideline. I didn't know that it was a play at first," he says. "These characters just occurred to me and eventually turned into a play."
Initially, the story was a full-fledged comedy anchored by this nasty guy forced to help people, but the more Ulin wrote, the more he "actually had something to say about morality and religion…the struggle to be a moral person if you don't have religion and the role that plays in people's lives," he shares.
Philosophical questions around faith and morality such as these consumed Ulin in his 20s. He talks about a college friend –who was raised in a religious household—who one day discovered he stopped believing in God. The friend has since returned to faith, but at the time was quite disoriented. Ulin remembers being struck by the fact that there are people "who would be so disappointed in themselves," because they stopped believing. "That [experience] was a little bit of an inspiration for this," he says.
"Judgment Day" found its way to the Barrington Stage Company by way of director Matthew Penn. Last year, the play was picked for the Berkshire Playwrights Lab. The lab focuses on new play development and provides emerging and established playwrights with support to develop their work while offering local audiences theater experiences at little or no cost. Penn and Ulin developed a friendship as a result and, later, Penn brought the play to the attention of the Barrington Stage.
The Golden Globe award-winning Ulin, originally from Newton, Massachusetts, has a long list of TV writing and producing credits. He's worked on Hulu's "Ramy," "Malcolm in the Middle," Young Sheldon," "Roseanne" and more. Ulin, who got his start as a professional comedy writer from television legend Norman Lear, has a knack for crafting compelling television scripts. When writing for the stage, however, Ulin points out a few key differences to consider.
"The main thing you realize when you go from writing TV or films to writing a theater piece is [that] there are a lot of tricks in cinema that allow you to cheat that you don't have when you're writing a play," Ulin explains. "You can zoom in on a character to make a point. You can make one person's reaction the point of the scene by just focusing on that person. You're steering the audiences' eye completely when you're shooting something. On the stage, it's much more of an egalitarian place … the audience looks wherever it wants. You've got to draw their attention where you want it." Overall, he says, there's less control.
After casting the "Judgment Day" reading, which also includes Loretta Devine and Michael McKean, the team had four hours of rehearsal and four hours of shooting. At the time of our call, Ulin was putting the final touches on the show, picking the right take, choosing music and other tweaks in preparation for Saturday's reading.
Ulin's work in television has explored various themes, but the thread that connects it all is anchored in his devotion to comedy.
"I love comedy, I love trying to say something with comedy, [and] I love when comedy feels powerful," Ulin shares.
I can't think of many more powerful things than joining a character like Campo on his quest to be a better person, even if his process is a little sketchy.
And as for the reading of the play Saturday night? Ulin says, "I hope people like it."
---
A streamed reading of "Judgment Day" will be hosted by Barrington Stage Company on Saturday, Aug.  22, at 7:30 p.m. and will be available through Aug. 26 at 7:30 p.m.