In Debut Novel 'Where Dreams Descend,' Author Janella Angeles Explores The Magic Of Perseverance
This article is more than 2 years old.
Janella Angeles admires sensational and theatrical storytelling, so it's no wonder that her debut novel "Where Dreams Descend" (out Aug. 25) draws inspiration from the films "The Phantom of the Opera" and "Moulin Rouge!" as well as Erin Morgenstern's fantasy novel "The Night Circus." These tragic yet beautiful love stories told through vibrant visual lenses left big impressions on a young Angeles, a developing storyteller herself. The soundtracks that often played throughout her childhood home wove their way into her craft in more ways than one. Bold, daring and heartfelt are just some of the words to describe Angeles' novel about a showgirl-turned-magician in an enchanted world determined to see her fail.

The first kernel of this story came to Angeles when she wondered, "What if Christine [from 'Phantom of the Opera'] — a beautiful, talented ingénue who is timid and afraid — instead owned her talent and owned the stage?" The confident Kallia burst from Angeles' desire to see a more active heroine come to terms with her dark past. "In a world where men rule the stage of magic, it's been a public secret that any woman who dares rarely makes it into the spotlight," Angeles writes in the prologue. Kallia enters the "Spectaculore" magic competition with public opinion already stacked against her, but as the contest proceeds to further rounds and her fellow contestants begin mysteriously vanishing, the townspeople are eager to make her a scapegoat.
The deliciously dark and fantastical atmosphere of "Where Dreams Descend" is reminiscent of that in "The Night Circus," another novel that hinges on a life-altering magic competition. But another source of inspiration for the Spectaculore was the reality TV show "Wizard Wars," where expert magicians use random props to create original routines. While watching it, Angeles didn't consciously notice that most of the contestants were men until the first woman magician took the stage, and in a mind-blowing realization, she thought, "Where have you been?"
When most people think of magicians, they think of Harry Houdini, David Copperfield or the duo Penn & Teller. According to The Takeaway, which reported on the lack of female magicians in February 2020, there are very few female magicians. Only 7.5% of the members of the Society of American Magicians, the world's oldest magic organization, are women. There are so few that female performers are often mistaken for assistants. Angeles decided to carry over that climate in her novel. She posits that the more visible you are, the more you have power and credibility. Kallia uses sensational magic tricks and bright outfits to emphasize the power she wields as a magician so she can't possibly be ignored.
The way magic operates in "Where Dreams Descend" is a reflection of the creative process. In the novel, there is a divide between people who are born with their talent and people who can train to siphon magic from the air. This magic system mirrors Angeles' fascination with how some artists are naturally gifted, and others have to go to school to painstakingly study their craft. "It's an interesting concept to translate into magic," Angeles says. "A lot of characters still have misconceptions. Kallia has innate ability but it's still hard work, and it takes a toll on her even though she loves to do it."
"Where Dreams Descend" was actually Angeles' "rebound" novel after her first novel on submission failed to gain any traction with editors. The Boston-based author had signed with her literary agent in 2016 with a young adult pirate fantasy. Although that manuscript taught her the importance of revision, critique and building a community of writer friends, that story was sadly not her ticket to becoming a published author. But within a few months, she posted a #NovelAesthetic mood board to Twitter with red and black photos of theater stages, cards and mirrors — the motifs from the "Twisted tale of [her] heart ft daring showgirls & dueling magicians." That tweet piqued the interest of many, including Angeles' now-editor.
Writing "Harry Potter" fan fiction was some of Angeles' first attempts at writing in earnest. She credits it as "the best writing teacher," because she learned how to find her voice, establish discipline with her writing process and navigate internet trolls. "There's something very addictive about this type of storytelling," Angeles says. "When you read it, you can feel the joy of the writer. They love these characters and this world so much and they put their spin on it." Fanfiction, retellings and re-imaginings also allow readers to acknowledge the original work's shortcomings (or even overt problems), and explore how a different author might have approached those issues differently.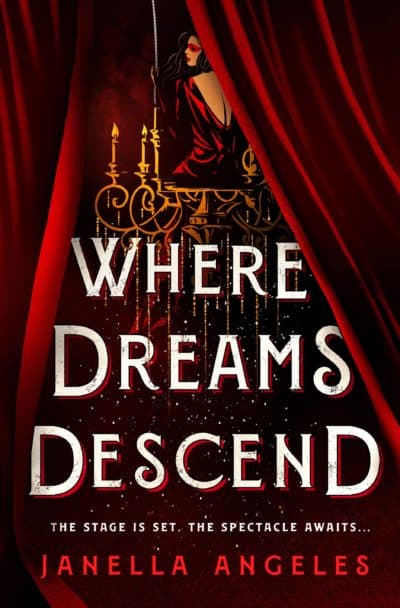 When Angeles thinks of "Phantom," she first remembers her love of the music and the story, and it's easy to forget the controlling nature of the Phantom's relationship with Christine. "You're so overcome from the passion of the cast singing, people put blinders on," she says. "I wanted to explore a Phantom that gets called out. Does he even feel bad about the things he has done emotionally? Is there regret on the Phantom's part?" In Angeles' own novel, Kallia has complicated feelings about her former instructor, Jack. When she discovers a dark secret he kept hidden from her, she has trouble reconciling Jack's past actions with the person who helped her hone her magic skills over the years.
Angeles feels that Raoul never earned his spot as Christine's default love interest in "Phantom," so when she wanted to create romantic tension for Kallia with the adversarial Spectaculore judge Daron, Angeles looked elsewhere for inspiration. Kallia's show-stopping stardom is a natural parallel to Satine's in "Moulin Rouge!", but unlike Satine's love interest Christian – Daron has to earn Kallia's trust after they get off on the wrong foot. At times, Kallia's connection with Daron also echoes the star-crossed love between Celia and Marco in "The Night Circus."
"I always loved romance novels, where the narrative structures explore the love interest's voice," Angeles says. "You can see how they react to the other person walking in the room and what secrets they hold." So in "Where Dreams Descend," readers also get glimpses into Jack's and Daron's own conflicting feelings about this talented ingénue.
After pouring so much of herself and her grief into the pirate fantasy novel that didn't get picked up by a publisher, Angeles lost the joy of writing and almost thought she didn't have any other stories left in her. Eventually, she knew the only way she could get out of the cycle of self-doubt was to write herself out of that darkness. By writing Kallia, a character who persistently chases her dreams even though the path is rocky and unknown, Angeles found she was empowered to handle her own obstacles to achieving her dreams of becoming a published author. "Being able to channel her in my writing was so healing," she says. "Now, I'm glad this story is my debut. It feels like it was meant to be."
---
Brookline Booksmith hosts a virtual launch of "Where Dreams Descend" with Janella Angeles in conversation with author Roshani Chokshi on Tuesday, Aug. 25 at 7 p.m.