Author Anna Solomon Explores Feminism Through The Ages In 'The Book Of V.'
This article is more than 2 years old.
What do a 2016 Brooklynite, 1970s senator's wife and ancient Jewish hero have in common? A lot more than you'd think. "The Book of V." by Anna Solomon threads together the stories of three women during three distinctly different eras, yet somehow finds these characters repeating eerily similar refrains. In 2016, Lily agonizes over maintaining a feminist perspective on her identity as a stay-at-home mom and second wife. During Nixon's "reign," Vivian is publicly humiliated when her senator husband reveals a dark side of himself. And the backbone behind both of these narratives is the story of Esther, the orphaned Hebrew girl who will become the Queen of Persia.
Solomon's fascination with the Book of Esther's contradictions, the almost mythical setting of Cambridge, Massachusetts, and her own naiveté about modern gender equality come together in her epic third novel.
The Book of Esther is a story from the Hebrew Bible about a humble Jewish girl who becomes the queen of Persia and saves her people from being killed. It wasn't until Solomon revisited the story as an adult that she realized even a children's book version of the story doesn't make a lot of sense. The narrative contains plot holes, and Solomon found its basis to be offensive. (Esther becomes queen after the king's first wife, Queen Vashti, is exiled — or possibly killed — for not parading around naked for the king and his friends.) But Solomon was interested in discussing the story with her children so they could understand the heart of the festival of Purim.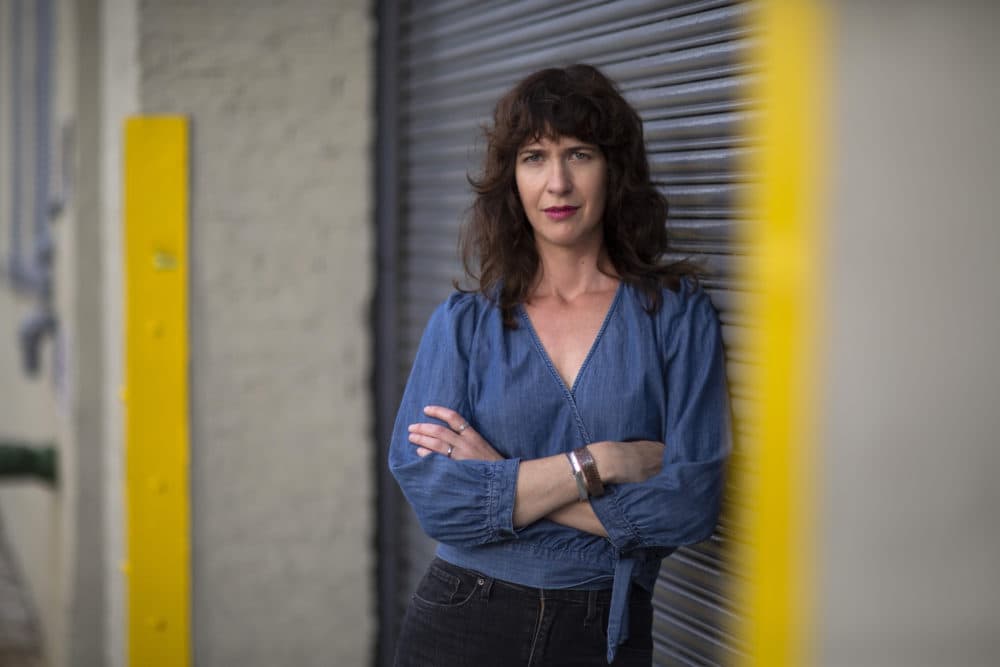 Growing up, Solomon's family belonged to Temple Ahavat Achim in Gloucester, one of the few synagogues on Cape Ann. The tight-knit congregation would come together for a pageant during Purim where the children paraded their costumes around a brick hall. "There was this festive air," Solomon says. "There was this whole spiel which the adults would perform and the humor in it really stuck with me. I didn't know then, but the adults were probably drinking."
Esther was the clear heroine and fan favorite for the children to dress up as, but Solomon always had questions about the exiled Queen Vashti. It was implied that Vashti became a sex worker or a leper, but no one knows her fate for certain. "The Book of V." follows Esther's story closely while illuminating her fight for agency in a patriarchal world, sharing the reasons behind why she refuses to shave and bathe in perfumes for the King who authorized a rampage on her people. But Solomon also seeks to shine light on Vashti's story, since Solomon has always wondered how the catalyst for Esther's story could be so central to the plot and then so quickly forgotten. Her modern Brooklynite character Lily compares her own internal competition with her husband's ex-wife to Esther and Vashti to explore possible answers.
Solomon, who now lives in Brooklyn, brought her family to Cape Ann to wait out quarantine. She often dreams about her childhood home in West Gloucester along the Essex River because the surrounding woods played a huge role in her life growing up as an outdoorsy kid. She spent her days outside climbing on rocks, imagining things, talking out loud, telling stories and interacting with characters of her mind's invention. Her mother has since moved, and for years, Solomon couldn't bear driving by her old home to see how it had changed. But she recently decided to take her family down the long driveway to see the land that had meant so much to her. Apart from a few trees that had been cleared and some new footpaths that had been added, the house of her memory remained intact. Her son now fabricates his own stories in his room and on the sidewalks of New York City, but she says it's incredible to see his imagination run wild in the marshes of Gloucester like an echo of her former self.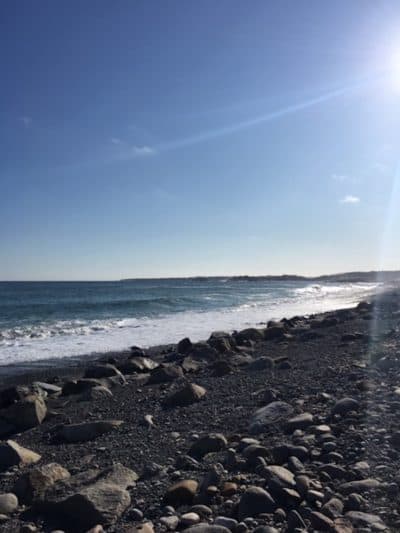 While many books that were originally scheduled to publish in May and June have had their release dates pushed to late summer or the fall, "The Book of V." publish date had been locked in by the time the pandemic set in. Solomon's original book tour would have spanned across the Northeast and Midwest, but now she's working with those bookstores to recreate these events virtually or find other creative publicity solutions. "I know a lot of bookstore owners and booksellers up here, so I asked them, 'Do you think people would want signed books?' A number of them found that really exciting." She had books shipped to her directly to sign and ventured down to Porter Square Books and Belmont Books to drop off at the storefront or the owner's own porch, whichever option was safest. The Bookstore of Gloucester has already had her sign five to six boxes full of stock because the title keeps selling out again and again.
"I have a real community here, from friends of my parents who've known me since I was born, to the synagogue community, and there's also a thriving writing and reading community," Solomon says. Cape Ann has found its way into Solomon's work — her second novel, "Leaving Lucy Pear," was set there entirely, and Gloucester makes an appearance in "The Book of V."
"I always continue to return to Cape Ann in my writing at different times because it has such a powerful place in my imagination and my sensory knowledge," she says. "So much of what goes into making a character come alive and go on a journey and have intense formative experiences is to play with that. It's my idea of honoring the place and the woods in that way."
She was also drawn to the setting of Cambridge and what it stands for in "The Book of V." She says Cambridge's elite colleges, biotech companies, and overall intellectualism make it a very storied place, bordering on mythical. "It's easy to lose sight of the lives that are actually lived there," she says. "My parents met there, so for me, there was an added layer of myth, even mystery, about the place, especially in the '70s."
To Solomon, the 1970s seemed to promise equality, but upon realizing how that once-hopeful future fell short, she wanted to explore the ways women's rights today aren't all that different from our mothers and their mothers. "The Book of V." character Vivian, who joins a monthly women's group meeting but has certain societal expectations as a Senator's wife, gives Solomon the place to explore that conflict on the page. Vivian is divided internally between embracing the radical liberation movement and maintaining the status quo.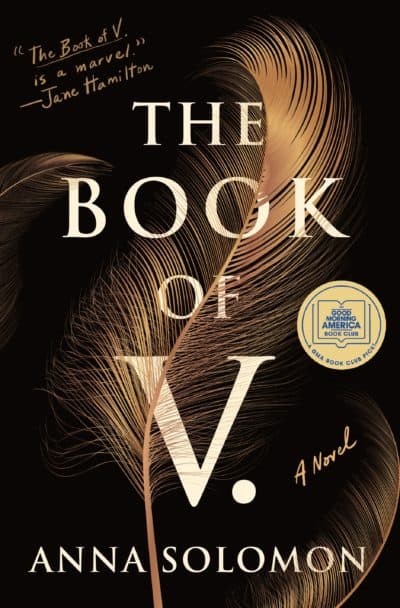 When Solomon was researching 1970s women's fiction to find contemporary perspectives to inform Vivian's character, she came across the 1977 novel "The Women's Room" by Marilyn French, coincidentally published the same year Solomon was born. Telling the story of a 1950s housewife who gets divorced and enrolls in graduate school at Harvard, Solomon says French "drops you into the streets and living rooms of Cambridge in a very intimate way." Here was her entry point to looking inside the mind of someone who actually lived in Cambridge decades ago. Solomon finds the book, "very radical, even now, the way it portrays women's interior lives and the complexity of their experience. There are also limitations to it — it mostly represented a white women's movement. But it had this really raw rage."
The other parallel time period Solomon focused on was 2016. Originally, she started writing "The Book of V." in 2015, during what she refers to as the "heyday" of thinking society had made "so much progress" in terms of gender and race. The 2016 presidential election was a bucket of ice water that splashed her naiveté in her face, similar to a lot of people she knew. Her character Lily freely chooses to be a stay-at-home mom in progressive Brooklyn, a choice hard-won by the people before her. But Solomon seeks to illustrate the "delusion" of equality since readers possess the knowledge of what ended up happening next hanging over Lily's story like the sword of Damocles.
Lily, Vivian and Esther all have their own unique narrative arcs, but by reading their stories side by side, Solomon offers the reader deeper insight into each one. Lily doesn't directly follow in Esther's footsteps any more than Vivian follows in Vashti's, thanks to Solomon's deep insight into their individuality. "The Book of V." will make you realize that we have more in common with our foremothers than we do differences.