Artist Gabriel Sosa Sends Messages Of Comfort With Billboard Series 'No Es Fácil/It Ain't Easy'
If your socially-distanced wanderings have led you through East Boston and Roslindale, two candy-colored billboards might have caught your eye. They called to the community in both English and Spanish, spelling out in hot pink text: "It ain't easy, but keep going" and "No es fácil, pero no te desesperes." Each seemed to watch over its respective neighborhood, sending a message of comfort.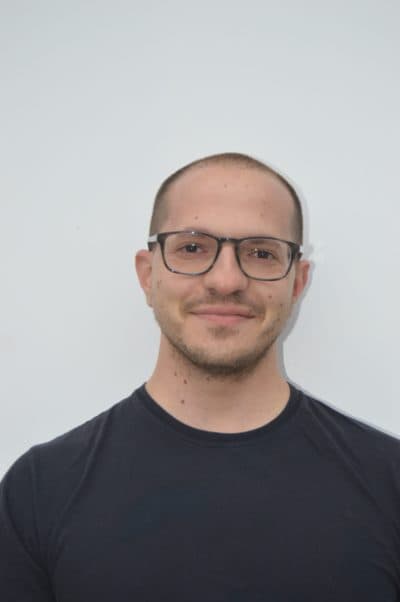 These are the works of Miami-born artist Gabriel Sosa. The Cuban American creative's series of billboards entitled "No es fácil/It ain't easy" is the inaugural installation of arts nonprofit Now + There's Public Art Accelerator program, beginning the chain of public art projects with a much-needed message of solidarity. "In Cuban vernacular, the phrase 'no es fácil' is very common. It means 'it ain't easy,'" says Sosa. "When you say it, there's an automatic connection of solidarity. From my upbringing, I very much associate that with Cubanness, but I think it really can be anywhere in the Spanish-speaking world. When you're dealing with something difficult and someone says that to you, it's like 'I get it. I got you.'"
Born from the late Urban Arts Institute, Now + There curates compelling, temporary installations like Sosa's across the city — most recently through this Public Art Accelerator. Launched in 2018, the program guides a group of artists through the process of creating public art during a six-month training curriculum and offers each a $25,000 stipend to bring their projects to life. "Boston is made up of 23 unique neighborhoods and Bostonians speak 140 languages," says Kate Gilbert, Now + There's executive director. "I believe public art, especially temporary public art, has the capacity to reflect who we are today as Bostonians and to present who we want to be."
This year's program features six local artists — Shaka Dendy, Ang Li, Karthik Pandian, Andrew Mobray, Yu-Wen Wu and Sosa — and will stagger the projects across seven Boston neighborhoods from now until September 2021. The nonprofit's 2020 curatorial theme is "shared power," which interestingly was chosen before COVID-19 swept the nation and protests erupted fighting for racial equality. In addition to Sosa's billboards, other installations include Dendy's "Blutopia," which will bathe an area of Boston Common in blue light as a means of cultivating a collective memory this winter, and Wu's "Tell Me," which physically manifests stories of immigration and assimilation through bundles of belongings.
To be considered for the accelerator program, each artist must be nominated by a local curator before submitting a formal application, which includes materials such as a resume and statement of intent, but not a proposal outlining their vision for the project. Gilbert explains that the omission of a proposal is an intentional decision to "break the closed loop of the public art scene." Participants are selected based on the criteria of artistic merit, ability to scale work, benefit to their practice, ingenuity and empathy — not just because they have extensive experience creating public art.
"I believe public art, especially temporary public art, has the capacity to reflect who we are today as Bostonians and to present who we want to be."

Kate Gilbert
Sosa himself has only just begun to get his feet wet in the public art scene during the past two years with smaller projects — such as a window installation in Davis Square, a piece with the O, Miami Poetry Festival and two works created during his residency at the Lugar a Dudas contemporary art space in Cali, Colombia. He entertained the possibility of a variety of different mediums in the early stages of the project — looking to everything from restaurant signs, to bodega banners, to stickers in a barbershop window for inspiration — but regardless of the canvas, he knew he wanted to incorporate his love of language into the work. "I am really interested in language and text," says Sosa, who works as an interpreter in Boston's state court system. "Graduate school was really when I became so obsessed with it in my art practice. I think in part because of not only my childhood but also just working as an interpreter and constantly thinking about the power that language has and how it can also be so imperfect."
The artist was drawn to the idea of subverting language in the public space, which stems from his own captivation with discovering words in unique places where they may not belong, like a personal note strewn onto the sidewalk. Billboards were initially on the periphery of Sosa's vision for the project, but once the pandemic hit in mid-March, it became clear that they were the most effective way to execute and amplify his vision to the community — exhibiting a message of solace where one would normally expect to see an unremarkable advertisement.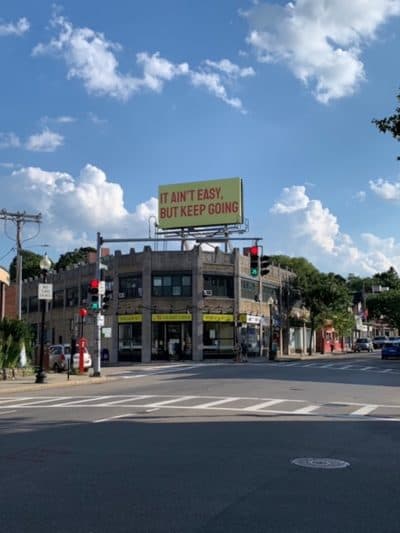 When scouting out locations for the project in late winter, Sosa was most interested in working in neighborhoods with a high concentration of Spanish-speaking immigrants — a way to send a message of support to those communities disproportionately affected by the pandemic and a nod to his own upbringing in a bilingual, Cuban American household. The series is slated to feature at least eight billboards staggered from now until January 2021, each shown for at least 28 days. The first two billboards, displayed near East Boston's Meridian Street Bridge and Roslindale Square, could be viewed through Aug. 25 and Sep. 7, respectively. A third is set to go up on Aug. 31, with the rest emerging across East Boston, Dorchester, Roxbury and Roslindale in the coming months.
Inspired by the paired-down, succinct poetry style of William Carlos Williams, Sosa evokes the power found in simplicity with each of the 8-foot billboards — adorning every one with a phrase of fewer than seven words (a crucial component of billboard design he learned during the process to keep the text readable and uncluttered). "I really wanted to make them in English and Spanish, just because it's my daily existence and it's the existence of so many people," says Sosa. "There's a lot of uncertainty and a lot to be afraid of, needless to say. I thought of how I can offer comfort, so I thought about these really short, simple messages." The artist also made careful design decisions to complement his impactful words: The bold and eye-catching font is based on the first Bauhaus catalog, while his pastel palette inspired by a box of Necco Sweethearts candies he found at home adds a touch of local color.
"The world is full of so many problems and challenges, and art isn't going to save anybody. But it can at least offer a space for reflection or a space for comfort, for togetherness."

Gabriel Sosa
Public art already fosters a sense of accessibility and connection as it's able to be enjoyed by all regardless of race or status, but Sosa takes that thread of universal togetherness one step further. He is planning to organize a group of writing workshops led by himself and local guest instructors to complement his project. Community members can participate in the digital classes through January and learn how to craft creative and powerful turns of phrase that speak to the expressions included in Sosa's project. At the end of the series, a selection of the work produced will be made into a collection of postcards.
As the world waits for this era of upheaval to come to a close, the work of Sosa and his fellow Now + There artists can promote a moment of healing and serve as a valuable reminder of our shared humanity. "The world is full of so many problems and challenges, and art isn't going to save anybody," Sosa says. "But it can at least offer a space for reflection or a space for comfort, for togetherness."