A Temporary Bump In Unemployment Funds May Not Be Enough For Some Mass. Residents
This article is more than 2 years old.
When Jeanne Lecuyer's unemployment assistance payments suddenly dropped by $600 per week, she was forced to do something she had been afraid to do since the pandemic began: reopen for business.
For years, Lecuyer said she has been running a day care center at her home in Townsend. And even though she has asthma and her husband has a heart condition — health issues that could put them in a high-risk category for COVID-19 — reopening the business suddenly seemed like the only option.
Lecuyer had shut down in late March, when the coronavirus was starting to surge in Massachusetts, and she began receiving wage assistance payments shortly after. For a few months, she received an extra $600 per week that came from the federal CARES Act. That aid, however, expired in late July, and federal lawmakers have yet to pass a plan to replace it.
For the past few weeks, "I was only receiving $260 from the state for unemployment," she said. Even with her husband working overtime, and the family being frugal, that amount wouldn't cover their mortgage, car payments, food and utility bills.
That's why it was of some relief to hear that additional, if temporary, assistance would be coming. Individuals who were receiving assistance during the weeks of Aug. 1, Aug. 8, and Aug. 15 will be getting an extra $300 for each of those weeks — for a total of up to $900.
Lecuyer is among some 700,000 Massachusetts residents who are eligible for the temporary benefit, which was made possible after President Trump issued an executive order on Aug. 8 directing the Federal Emergency Management Agency (FEMA) to make up to $44 billion available to states for additional unemployment assistance.
A spokesperson for the state's Executive Office of Labor and Workforce Development said the extra Loan Wage Assistance (LWA) payments will be made available on or before Sept. 15.
Still, that won't change Lecuyer's decision to reopen her child care business.
"Financially, I have to," she said. "I can't live off of $260 a week."
She and her husband are still worried about the virus. "I'm not thrilled about having a bunch of small children in my home," she said. Yet, at the same time, she misses them: "They need me. And I need them, too."
In July, the unemployment rate did improve slightly from the month before, ticking down from 17.7% to 16.1%. But Massachusetts still has the highest unemployment rate of any state. Additionally, state data show that initial claims for Unemployment Insurance increased during the second and third weeks of August, suggesting that the job market continues to lag, and that cities with more people of color are seeing disproportionate job losses.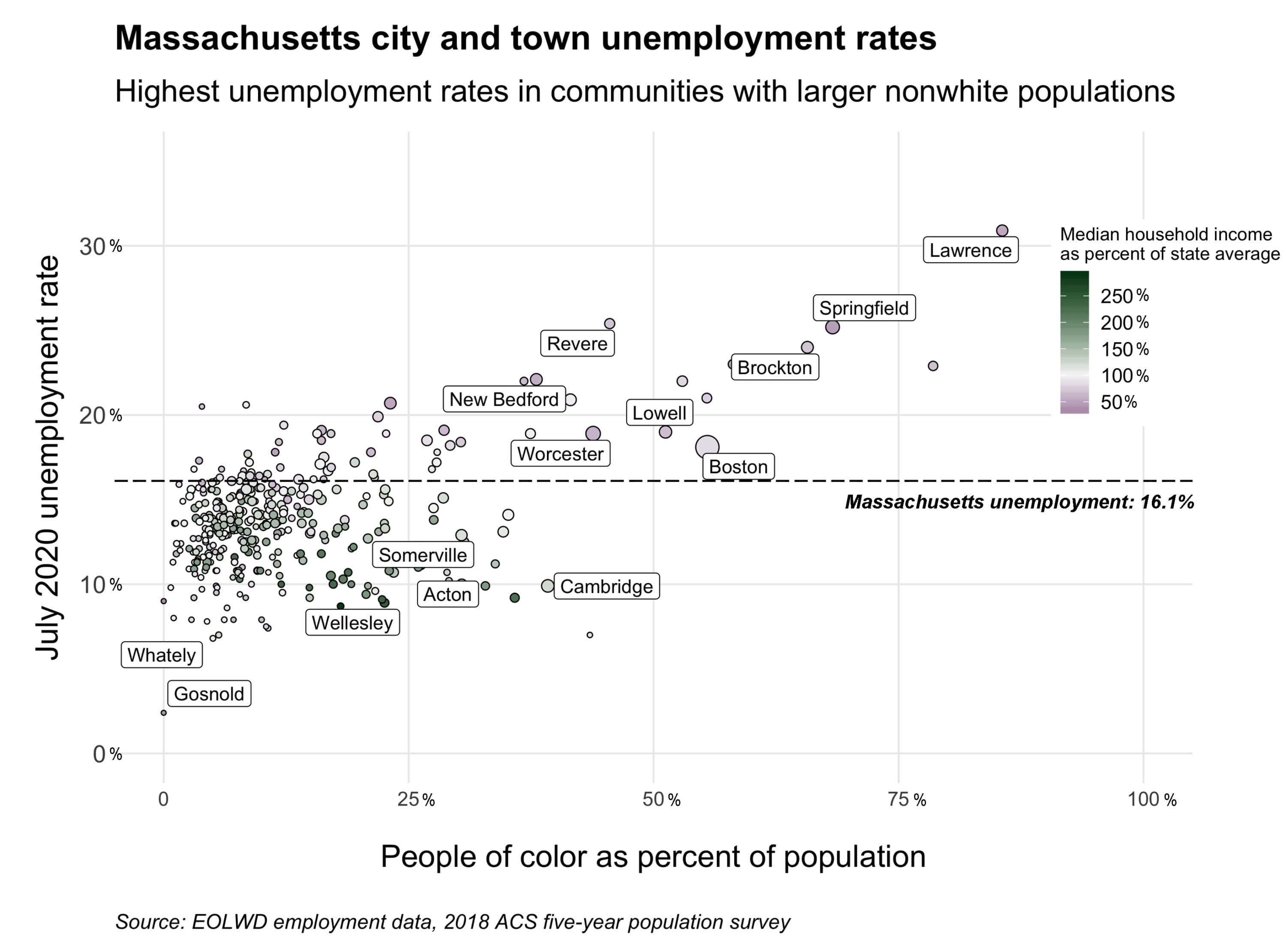 Elhadi Bakhit, who was driving for Uber and Lyft when the pandemic hit, said fear of the coronavirus has kept him off the road and stopped him from seeking other work.
"I don't think any work is safe to do right now," said Bakhit, who lives in Boston's Dorchester neighborhood with his wife and 12-year-old son.
He said the extra $600 "helped a lot." But the past few weeks, his assistance checks have been around $250.
"I can't survive," he said. The extra $900 the state expects to provide retroactively for those three weeks in August doesn't come close to making up for his lost wages, Bakhit said. Like Lecuyer, he is contemplating going back to work, despite the potential health risks.
While things are difficult now, Bakhit said he has hope things will get better.
"You never know what tomorrow's going to bring," he said.
The economic hardship has continued to be felt at places like Friendly House, a social services provider that serves families and children in Worcester.
"In July, the number of people coming for food pantry alone is above and beyond what we have seen before," said Susan Daly, who works at Friendly House.
Although a moratorium on evictions has been extended through mid-October, Daly worries that if — or when — it ends, many tenants will be in trouble.
"I tell my clients all the time, pay your rent before anything else," Daly said. "Once you get evicted, it is so hard to get another apartment."
This article was originally published on August 31, 2020.