Andover Teachers' Union, School Committee At Odds Over Reopening Measures
03:01
Play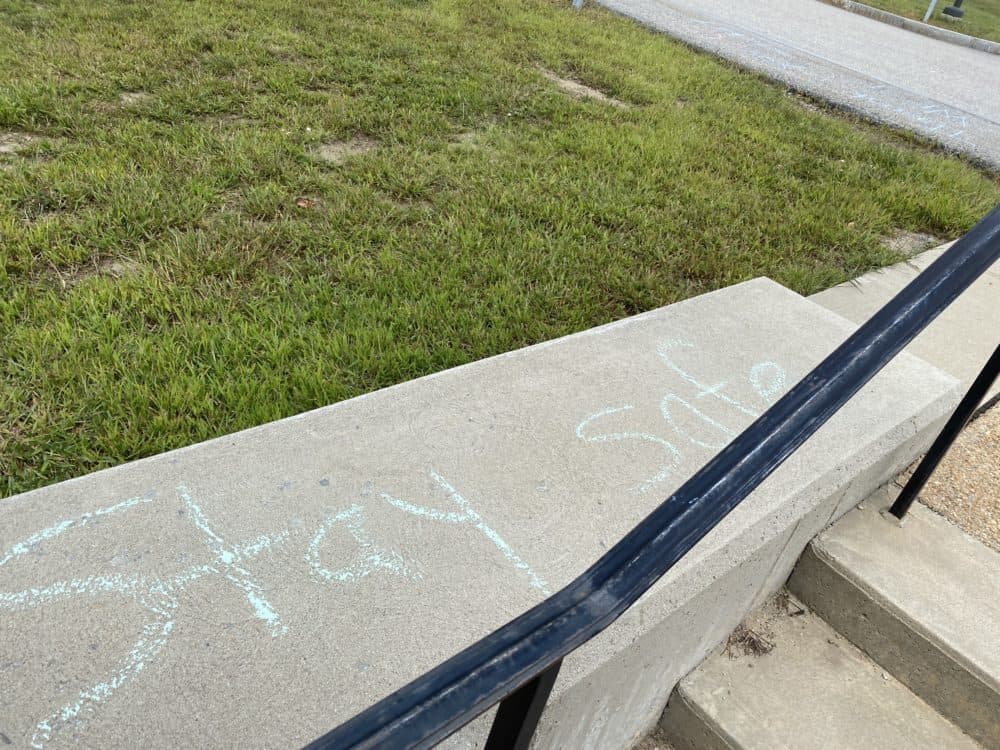 This article is more than 1 year old.
The Andover School Committee has filed a petition with the state, arguing that the teachers conducted an illegal strike on Monday, one of the first districts to do so as teachers prepare for the start of a new school year.
Teachers were supposed to report to their classrooms for the first day of in-person learning on Monday. The first day of school was pushed back 10 days to allow for more preparation time for a hybrid year, where students would be learning in-person some days and remotely on others.
District officials said overall, 45% of teachers did not come into the schools. Instead, dozens of teachers sat outside.
Near the entrance of Andover High School educators sat next to tennis courts in lawn chairs on laptops. There were teachers near the baseball field, some working in the dugout, others set up under trees and tents using Wi-Fi hotspots as they prepared to begin teaching in the midst of a global pandemic.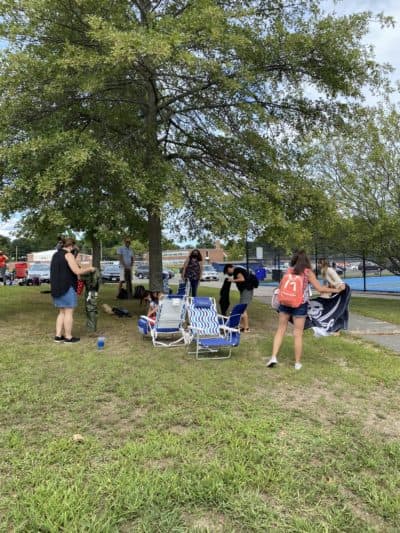 "We don't believe that the district has prepared the buildings for a return to in-person learning," said Matt Bach, president of the Andover Teachers Union. "We didn't want to go into the building if we didn't have to."
Teachers approached by a WBUR reporter declined to comment, and appeared to be working. The union tried to have port-a-potties delivered outside the high school.
"They refused to let us bring them on grounds," Bach said. "And when people tried to just go in to use the bathroom, they were locked out and told: you cannot enter the building unless you come into the building for the full day."
A district spokesperson said the union did not ask permission to bring port-a-potties on the school grounds. Bach said some teachers were docked a day's worth of pay. The district did not comment on the pay, but has said that the buildings are safe.
"There's no evidence at all that the buildings are unsafe," School Committee Chair Shannon Scully said during a committee meeting Monday night. "Over the last five years, the town of Andover's invested over $3.8 million dollars in HVAC upgrades."
The school committee voted unanimously to petition the state Department of Labor Relations about the unions' decision to work outside, calling it an illegal work stoppage. Public employees are prohibited from going on strike in Massachusetts. The district's attorney said the state could begin its investigation this week.
But Bach called it a "work safety action" and not a strike.
"We came to the school buildings today with the best intentions to work a full school day outside of the buildings and fulfill our obligations and do our professional development work," Bach said.
Still, Assistant Superintendent Sandy Trach said the limited attendance hampered their schools' abilities to set up classrooms, help teachers understand health protocols and other new safety measures before the new hybrid school year begins.
"We will do all that we can to recoup and recover this day," said Trach. "From my perspective, it's very difficult. We lost the equivalent of a work day for many of our staff."
On Monday evening, members of the Andover Education Association voted no confidence in Superintendent Berman.
"Superintendent Berman has shown persistent disregard for educators. He does not respect our professionalism and fails to take a cooperative approach in addressing the many challenges that face the district," said a statement the union released Tuesday morning.
They voted to suspend the workplace safety action and would reluctantly enter school buildings on Tuesday "under duress and hope that the School Committee will begin to negotiate reasonable health and safety benchmarks with us in good faith."
The deadline to get their schools organized is looming. Students are expected back in the buildings on Sept. 16.
This article was originally published on September 01, 2020.
This segment aired on September 1, 2020.