9 Current And Former Boston Police Officers Charged In Overtime Fraud Scheme
For almost three years, Boston police officers assigned to work in the department's evidence warehouse in Hyde Park routinely filed for overtime they didn't work, federal prosecutors say, racking up more than $200,000 in fraudulent pay.
The officers were caught in part by the building's own time-coded alarm system, according to an indictment unsealed Wednesday.
Six of the nine officers, who are all charged with one count of conspiracy to commit theft concerning programs receiving federal funds and one count of embezzlement from an agency receiving federal funds, have since retired from the department. Three others were put on unpaid leave after they were charged.
U.S. Attorney Andrew Lelling, whose office is prosecuting the case, said while he's a strong supporter of police, all must be treated equally under the law.
"These officers are charged with stealing taxpayer money, year after year, through fraud," he said. "Beyond the theft of funds, this kind of official misconduct also erodes trust in public institutions, at a time when that trust is most needed."
The officers charged are: Lt. Timothy Torigian, 54, of Walpole; Sgt. Gerard O'Brien (retired), 62, of Braintree; Sgt. Robert Twitchell (retired), 58, of Norton; Officer Henry Doherty (retired), 62, of Dorchester; Officer Diana Lopez (retired), 58, of Milton; Officer James Carnes (retired), 57, of Canton; Officer Michael Murphy, 60, of Hyde Park; Officer Ronald Nelson (retired), 63, of Jamaica Plain; and Officer Kendra Conway, 49, of Boston.
All nine made their initial appearances in federal court Wednesday via videoconference after being arrested earlier in the day. They were released without bond, on the condition that they hand over their passports and firearms, and stay away from any witnesses in the case.
O'Brien, Doherty, Nelson, Torigian, Twitchell and Carnes were also arraigned Wednesday and pleaded not guilty. Conway, Murphy and Lopez will be arraigned next week, because they hadn't yet reviewed the indictment against them.
Of the three officers who were still employed by Boston police, only Conway was still an active officer, a Boston police spokesperson said. Torrigan was on administrative leave and Murphy was also on leave. O'Brien was on administrative leave prior to retiring.
Nearly all earned more than $119,000 in 2018, the last full year before the alleged fraud was discovered.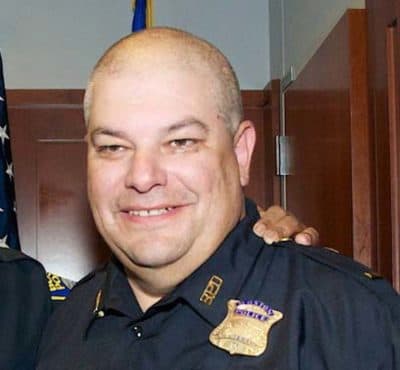 Torigian, the commanding officer of the warehouse, earned more than $246,000 in 2018. Prosecutors say he stole the most overtime pay — almost $43,000 from May 2016 to February 2019. The other eight officers each are accused of stealing between $25,930 and $16,479 over the same time period.
Torigian's attorney, Robert Goldstein, said in a statement that the 34-year veteran is "a great man who has dedicated his entire life to serving and protecting the Boston community."
Goldstein said the alleged theft amounts to less than $15,000 a year, "a tiny sliver of the overall time Tim has dedicated to the citizens of Boston over the course of a thirty-plus year career, but they are nonetheless very serious, and we look forward to proving the government wrong."
An attorney for Nelson declined to comment. Attorneys for the other defendants did not immediately return requests for comment.
The Boston Police Patrolmen's Association, which represents officers, declined to comment. A message left with the Boston Police Superior Officers Federation, the union representing uniformed sergeants, lieutenants and captains, was not returned.
Boston police Commissioner William Gross said in a statement Wednesday that the allegations are "very troubling and in no way reflect the attitudes of the hard-working employees of the Boston Police Department."
"I hold my officers to the highest standards and expect them to obey all the laws that they have taken an oath to uphold," he said. "News of these indictments send a strong message that this type of behavior will not be tolerated or ignored and can damage the trust my officers have worked so hard to build with the communities we serve."
Boston Mayor Marty Walsh said in a statement that he was outraged by the charges.
"These allegations are an affront to the thousands of police officers who do their jobs every day with honesty, integrity, and bravery," he said. "I am outraged and, quite frankly, outright disgusted at the utter breach of trust by these nine individuals at the Boston Police Department. I commend Commissioner Gross and our federal partners for bringing these actions to light."
City Councilor Andrea Campbell, who chairs the city council's public safety and criminal justice committee, told WBUR the indictments show the need for a citywide inspector general to investigate any potential corruption.
She called on Walsh's office to address the city's "exorbitant" overtime budget — a planned $60 million this fiscal year.
"What oversight and accountability can we provide for our department so this never happens again?" Campbell asked. "If we don't do that, it will happen again. There's always that possibility. And so I think there are ways for us to be more proactive."
The alleged fraud at the evidence warehouse went undetected for almost three years, until February 2019.
Officers could earn time-and-a-half pay for regular overtime shifts, according to the indictment. One such shift — referred to as "purge" overtime — was after the regular workday, from 4 to 8 p.m., and was dedicated to reducing the warehouse's inventory.
The other regular overtime shift was one Saturday a month from 6 a.m. to 2:30 p.m., and focused on collecting unused prescription drugs from kiosks around the city and bringing them to an incinerator in Saugus.
At least 72 times over the course of three years, the officers put in for the full shift worth of overtime — either four or eight-and-a-half hours of overtime — even though they didn't work it, prosecutors allege.
Timestamps from the warehouse alarm show repeatedly that officers actually left the building at least two hours earlier than what their time card said.
In one case, in November 2016, Torigian allegedly closed up the warehouse before the end of the regular workday — at 3:42 p.m. — and still put in for four hours of overtime that night.
Supervisors signed off on their subordinates' fake time cards, and submitted their own, according to prosecutors.
Boston police say a captain is now in charge of the evidence warehouse, and the scheduled overtime shifts have been reduced.
The Boston Globe first reported on grand jury investigation into the overtime fraud in November 2019. At the time, Gross ordered a review of each district's payroll data. It's unclear if that review is still ongoing.
BPD's anti-corruption unit assisted with the investigation, the prosecutor's office said.
Massachusetts State Police has also been embroiled in an overtime scandal, in which more than 40 of its officers have been charged in connection with collecting overtime pay for hours they did not work. Fourteen of the troopers retired amid the investigation.
Correction: Due to incorrect information provided by the U.S Attorney's Office, an earlier version of this article incorrectly stated ages for Nelson and Doherty.
This article was originally published on September 02, 2020.