At The Arnold Arboretum, Actors Explore 'The Nature Of Shakespeare'
By the bonsai trees at the Arnold Arboretum, the cast and crew of Actors' Shakespeare Project (ASP) break for lunch. They had been shooting for hours under the summer sun, striving to convey the resplendence of Shakespeare's poetry and plays while moving among the park's most glorious parts, from Hemlock Hill to the Japanese maple grove.
The small group of actors, four of whom are artists of color, tackled a mix of sonnets, monologues and scenes. Threads of the natural environment — references of flower buds, mountaintops and temperate days — are woven into the works that will make up "The Nature of Shakespeare" video project. The project will consist of two video episodes that will livestream in October on the Arboretum and ASP's websites.
The idea for "The Nature of Shakespeare" came from ASP artistic director Christopher Edwards' desire to "get back to something simpler." During these months at home, he, like many of us, took time to reflect. While reading Shakespeare's work, Edwards found "he tends to talk about nature as a place of a filter or witness to simplicity and getting back to something truthful." So, it feels logical to "tie Shakespeare specifically to the natural environment," he tells me.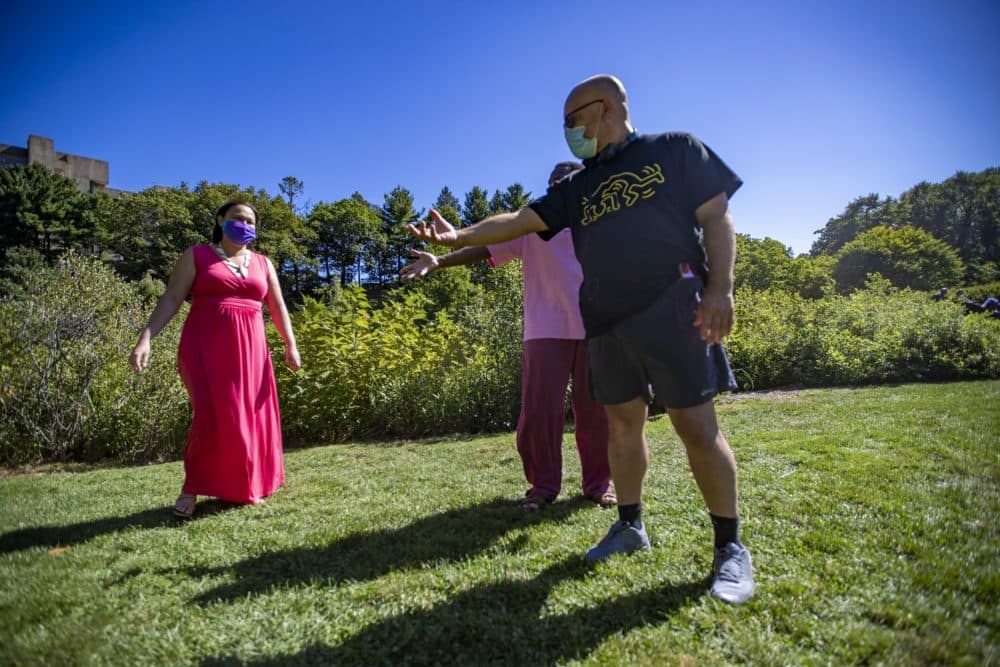 This isn't the first time ASP mounted shows at the Arboretum. In 2018, ASP — with the help of Sheryl White, coordinator of visitor engagement and exhibitions — staged "Macbeth" among the fog sculptures of Fujiko Nakaya. ASP returned to the park last year for "Pride and Prejudice."
But this time, it's different. Due to the pandemic, no major crowds of onlookers are allowed for a live performance, and even the cast and crew are small in number. As the team wraps up lunch and moves to the pond, the mood is light and energetic. It's the second time this group of a dozen or so have come together in person in months and everyone seems happy, masks and all.
"It's lovely. I think I'm weirded out about how comfortable I am. This is family and it's almost like we didn't skip a day," says actor Omar Robinson. Robinson portrays Edmund in the "King Lear" monologue, and also recites a scene from "The Tempest" and "As You Like It."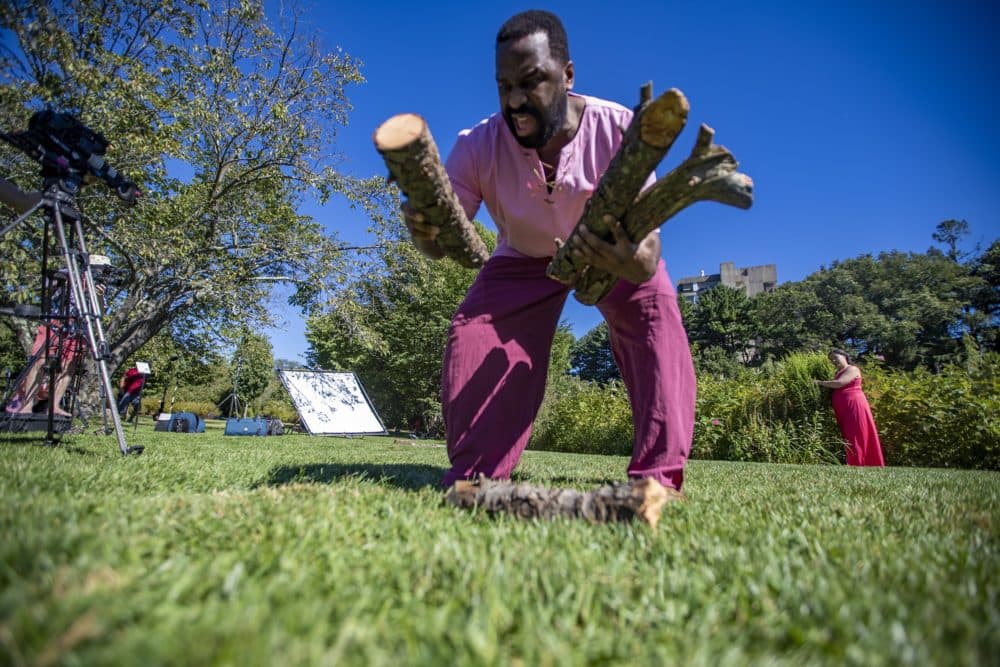 Though the cast and crew chat excitedly, that doesn't mean the cloud of COVID concerns or the state of America's race relations aren't in the background. Actress and theater teacher Paige Clark ponders how the school year will start safely and Robinson's thinking about "how this country deals with people who look like me, like us." It's "weighing very heavily on my mind," he says. But today, Robinson channels that energy into his work.
He's noted some similarities with his character Edmund from "King Lear." "There's a lot of language about being the other. Edmund and Edgar are brothers and Edmund is looked down upon, at least in his eyes," Robinson explains. "I definitely resonate with that, especially right now. So, I get to bite into this in a way that I didn't expect, which is really fun," he says.
Beneath a large tree with branches that seem to mimic arms that bend and embrace the actors, Doug Lockwood and Jade Guerra relay their lines from "A Midsummer Night's Dream." In the scene, there's a bit of a subversive twist. Clad in blues, golds and greens, Guerra becomes Oberon and Lockwood becomes Titania. Lockwood also portrays Edgar in "King Lear." It's hard to hear the thespians' verbal sparring, but everyone pays rapt attention from across the concrete path more than six feet away. Passersby stop to watch for a little.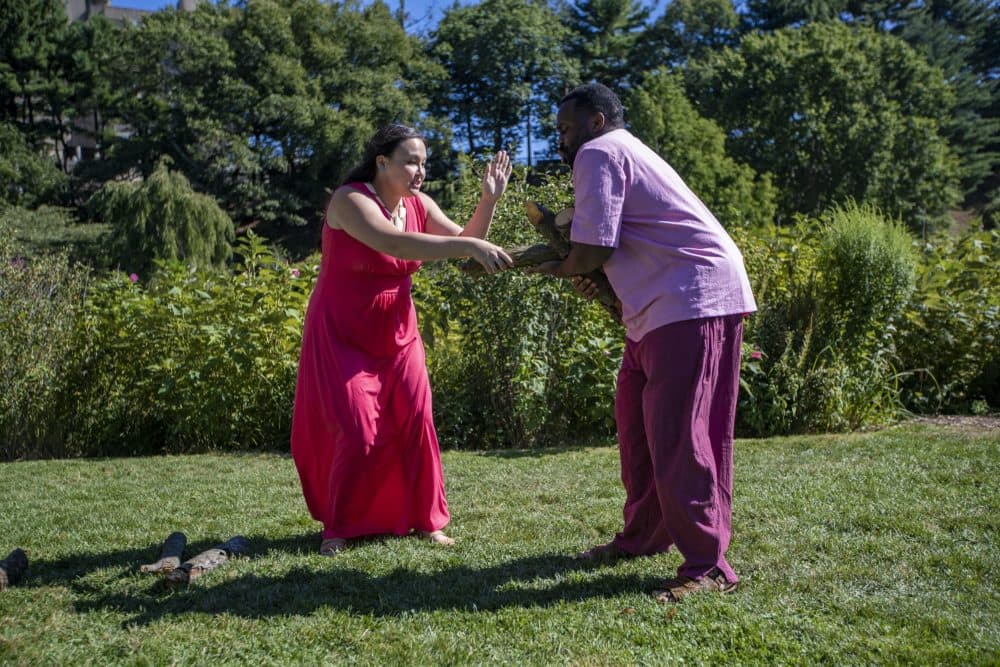 It's not a loud or showy performance. It's quiet and moving, forcing listeners to tune in. "I'm normally a theater actor. It's really interesting to translate Shakespeare to screen acting because my instinct is to be big enough to be seen on the back row [in a theater]," says Clark, who plays Lady Macbeth. Clark says Edwards encourages them to internalize if they want to. "We can be quiet [because] the camera will get right up to me." It's nice to "be quiet and still in nature," Clark says. "I got to shoot in this beautiful meadow full of yellow flowers and the breeze was blowing them."
Filming Shakespeare's work, some of which was written and shaped by pandemic, outside in the Arboretum feels fitting. Casting actors of color too, appears to be a special kind of kismet considering the recent protests calling for a more equitable future.
As a person of color producing Shakespeare, Edwards battles with how to best tell these stories. Often, he says, the thinking is you have to go to Shakespeare because he "makes you better. You need to read or watch Shakespeare…because it's the epitome of culture."
Maybe now's the time to see what happens when we bring "Shakespeare to the Latinx actor or the immigrant or African American actor, Afro Caribbean actor, or the East Asian actor and how they speak through Shakespeare based on who they are culturally," Edwards says. Doing that, he explains, "is how I get to see what makes Shakespeare better."
---
Actors' Shakespeare Project's "The Nature of Shakespeare" will air in October and feature commentary on the different areas of the park featured, a discussion about how the language and environments speak to one another, plus a live Q&A.